Traditionally when hardware manufacturers are planning their next-generation console launches, there is always a systemtic market lull as consumers wait for the next generation to arrive. 2005 was no different than previous industry lulls (the last one being 1999-2000, right before the end of Nintendo 64's life cycle and before PlayStation 2's debut.), and like other industry lull, it was a time where innovative software took the lead as developers have mastered the platform and attempted to sqeeze every bit of extra power from the aging systems. The end of 2005 also saw the first entrance into the Next Generation Console group with Microsoft's Xbox 360. Although the system suffered from major supply shortage, it still managed to become 2005's must have gift.
However, in contrast to the diminished home console segment, the Handheld arena overachieved beyond all expectations. After Nintendo DS's worldwide launch in 2004 (which was described as mediocre Japan or even abysmal North America) and Sony PlayStation Portable's "Paper Launch" in Japan, both handheld manage to perform better than expected, carrying the game market through 2005 with innovative titles and pinnacle franchises. What was even more surprising was the performance of Game Boy Advance and it's two redesign iterations: Game Boy Advance SP and Game Boy micro, which manage to outsell the combine sales of the Nintendo DS and PlayStation Portable.
On the PC side, hardware news was dominated by two major announcement/product releases: Ageia's dedicated physics card PhysX; and the ongoing battle for video card supremacy between nVidia's GeForce 7 Series video cards and ATI's Radeon X1000 Series video cards.
Ageia's announcement of their PhysX Dedicated physics processing card created a stir as industry observers debated on the viability of a dedicated physics card in gaming machines, and how well the adoption rate of such technology will be. Although the product won't be released until 2006, many PC developers have expressed interest in the card and have pledge support of such an expansion card when it arrives.
In contrast, PC Software can be described by one video game: World of Warcraft, which remains the talk of the industry, breaking 5 Million suscribers worldwide, becoming the biggest MMORPG and drawing in newbies to the genre who have never played a MMORPG before. The emphesis of highly detailed, rich graphics and atmosphere created by First-person shooters in 2004 like Doom 3 and Half-Life 2 fell wayside as many players have yet to upgrade to the latest video cards by nVidia or ATI (hardware shortage again is the culprit). Some were also wary of the continuous flood of first-person shooter video games, even though there has been numerous AAA titles such as F.E.A.R., Battlefield 2, and Quake 4.
Duke Nukem Forever is now in its 8th year of production, and now slated for a 2006 release.
Console Hardware Releases
[
]
GamePark Holdings

[

]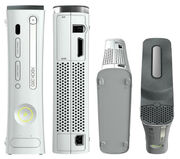 The Xbox 360 arrived towards the end of the year becoming one of this years most sought after Christmas gifts. The 360 quickly sold out in the western world leaving only those who were willing to pay exorbitant amounts of money on eBay able to get one. It was, however, a different story altogether in Japan where new consoles sat on shelves quietly waiting for buyers that never arrived. The 360 is what could be called the next logical step for Microsoft to take in the home console market. It takes a leap in computing power that all next gen consoles take and features a removable hard drive, an upgraded Live service that would feature downloadable content and would create a new virtual marketplace, as well as what could be described as a more refined Controller S.
The launch titles for the 360 were diverse, if you exclude RPG's, with some lacking in quality and some in features. Perfect Dark Zero for example, the much anticipated FPS released by Rare, was met with less than stellar criticism. This coming from a developer that many gamers held dear from the N64 days. Rare redeemed themselves with the release of Kameo: Elements of Power, an action game for the 360 which was met with positive reviews and praise among gamers. Call of Duty 2 by EA also hit the street at launch and was applauded for its immersive single player campaign but criticized for lacking a lobby system, among other issues with online play, that Xbox Live players are so accustomed to. Another title during the launch came from left field, Gun, released by Neversoft who are known for their Tony Hawk games, set in the wild west. The game based on the remake of King Kong titled Peter Jackson's King Kong came out a shook some of the stereotype that all movie inspired games are horrible.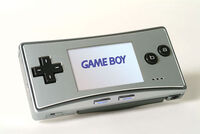 At this year's Electronic Entertainment Expo, Nintendo shocked the audience with the announcement of Game Boy micro, another revision of the Game Boy Advance hardware. Riding on the wave of portable electronic miniaturization, the Game Boy micro is roughly the size of three Game Boy Advance cartridges. The new portable system has a brighter screen, longer battery life than the Game Boy Advance SP, and a new digital volume control buttons (doubles as Start/Select button during gameplay) that replace the volume slider control in previous Game Boys. However, these upgrades are at the expense of a smaller screen and lack of Original Game Boy and Game Boy Color compatibility.
Game Boy Advance SP ver2

(GBASP2)
On the day of Game Boy micro's launch, some stores also received a new batch of Game Boy Advance SPs with a different packaging, stating that it has a brighter screen. The official packaging has the words, "Now with a Brighter Screen" and a whiter highlight glowing out of the Game Boy Advance SP. It was officially revealed that Nintendo has phased out the Game Boy Advance SP and is replacing them with a brighter screen, the same ones found on the Game Boy micro. Beyond the brightness functionality, it is no different than existing Game Boy Advance SP.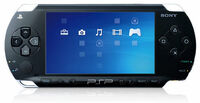 Tiger Telematics

[

]
Notable Software Releases (Jan-June)
[
]
Critically acclaimed title met with underwhelming sales, Oddworld Inhabitants's decision for making this title

platform exclusive

is often pointed as the source of failure.

Lorne Lanning

, co-founder and president, has since announced his departure from the gaming world.
The first big killer app for the Nintendo DS, this game demonstrates the full potential of the touch screen and microphone with it's large variety of microgames.
Largely considered the best

Tekken

yet, at the time of it's release.
A highly difficult action game that brought the

Devil May Cry series

back to its roots.
Innovative, violent, Game of the Year candidate by designer David Jaffe.
Coinciding the launch of the

North American

PlayStation Portable,

Tetsuya Mizuguchi

's first title under his Q Entertainment label was considered one of the big three killer app for the PlayStation Portable.
One of the PSP's launch titles and the first PSP game to feature downloadable content.
Original release by BioWare following up their Star Wars: Knights of the Old Republic success.
The first game developed by Double Fine Productions, this game from Tim Schafer featured stunning art direction and a unique story. It was met with horrible sales. Some gamers have said it would have faired better on the GameCube, the one platform it was not released on.
The 2nd Fire Emblem game released in North America, first in series to allow replaying maps.
This GBA game came in a cartridge with a built in gyro sensor that allowed for all new crazy microgames.
First in wave of critically acclaimed DS games after post-launch drought.
Critically acclaimed sequal to hit multiplayer craze,

Battlefield: 1942

.
A popular puzzle game by developer Q Entertainment.
Notable Software Releases (July-Dec)
[
]
Another entry in the best-selling

Madden series

.
Japanese sleeper-hit that got 40/40 in Famitsu reaches western shores, to see if it would meet the same level of success.
Sequal to the critically acclaimed Black & White, this
Third entry in the famous

Age of Empires series

in over 5 years.
First game by the development team since the cult hit ICO.
After numerous delays and three

platform

moves (This game began life as a Nintendo 64 title, then moved to GameCube and eventually

XBox

), the long awaited game makes it debut as a launch title on the Xbox 360.
This title marks Nintendo's first online enabled game on the Nintendo DS and the launch of the Nintendo WiFi service.
Shadow's first starring role in a game.
The 2nd Nintendo WiFi Connection game for the DS.
Key Events
[
]
March 6 — The television show 60 Minutes tackles issues within

video game controversy

. This segment of 60 Minutes has been criticized by

video game players

for encouraging video game censorship.
March 7–March 11 — Game Developers Conference:

Nintendo keynote speech: "The Heart of the Gamer" by Satoru Iwata, president of Nintendo.
Microsoft keynote speech: "The Future of Games: Unlocking the Opportunity" by

J Allard

, corporate vice president and chief

XNA

architect.

May 11 — The global version of Maplestory is launched.
May 12 — The Xbox 360 was officially announced on

MTV

in a special hosted by

Elijah Wood

.
May 16 — The PlayStation 3 was unveiled by Sony during a pre-

E3

press conference, at 21:25 GMT. At the same time, the press release was released through the Japanese PlayStation website.
June 1 — IBM held the first virtual video game on-demand conference in which game developers and manufacturers were able to come together to discuss issues with online games, including management and distribution.
July -

IEMA

(Interactive Entertainment Merchants Association) hosts 6th annual Executive Summit.
September 16 — September 18 — Tokyo Game Show takes place at Makuhari Messe. One hundred-thirty companies are expected to show with 1,429 booths.

Nintendo keynote speech by Satoru Iwata, president of Nintendo.

During Iwata's keynote speech, the Wii controller is unveiled.

November 14 — Nintendo's first mainstream online service (Nintendo Wi-Fi Connection) is launched with Mario Kart DS and

Tony Hawk's American Sk8land

.
November 22 — Microsoft's Xbox 360 is released.
December 16 — The

Family Entertainment Protection Act

(FEPA) is introduced by Senators

Hillary Clinton

, Joe Lieberman and

Evan Bayh

. The

bill

calls for a federal mandate enforcement of the Entertainment Software Rating Board (ESRB) ratings system for video games in order to protect children from inappropriate content.
Business
[
]
January 6 — French publisher

Titus Interactive

, owner of Interplay Entertainment, is declared

bankrupt

after being in receivership since October 2004.
January 12 — Video game companies and players worldwide donate money to the UNICEF South Asian Tsunami Relief Fund for rescue and reconstruction efforts upon the South Asian tsunami disaster. Electronic Arts pledges to donate $250,000 to the UNICEF South Asian Tsunami Relief Fund. CCP, the publisher of EVE Online, establishes a fund that video game players can contribute to.
January 17 — Electronic Arts and

ESPN

announced a 15-year partnership that would give EA access to ESPN's broadcast, print and online content.
January 20 — Activision announced that it acquired developer Vicarious Visions known best as a developer of Game Boy games as well as for their middleware program, Alchemy.
January 24 — Major League Baseball and Take-Two Interactive sign exclusive seven year deal that gives Take-Two the rights among third-party publishers to develop games based on the MLB license.
January 25 — Take-Two Interactive announced that it acquired developer Visual Concepts and their wholly owned subsidiary Kush Games from Sega for $24 million. Additionally, Take-Two also announced the start of another publishing label named 2K Games.
February — Troika Games defunct after being unable to get contracts for development work.
March 2 — The Entertainment Software Rating Board or ESRB added the rating of "E10+" to its ratings system. E10+ was created in order to divide E ratings for younger and older children.
March 7 —

Sammy Studios

breaks away from

Sega Sammy Holdings

and renames itself High Moon Studios.
March 9 — Sega acquires

Creative Assembly

.
March 23 — Vivendi Universal Games buys developer Radical Entertainment. Radical is best known for developing The Simpsons Hit & Run.
April 2 —

Keiji Inafune

, the creator of Mega Man series, was promoted from corporate officer to senior corporate officer.
May — Buena Vista Games announces that it had bought the rights to the Turok video game franchise and will be publishing new games. The rights were originally held by bankrupt Acclaim Entertainment.
July 20 — After coming under heavy fire from many politicians, most notably

Hillary Clinton

, the Entertainment Software Rating Board re-rated Rockstar Games' Grand Theft Auto: San Andreas Adults Only 18+ (AO) due to the sexually explicit minigame

mod

"

Hot Coffee

". Additionally, Rockstar Games ceased production of the game and has announced plans to offer a new version of the game that can't be affected by the mod, and plans to patch the PC version.
July 27 — Sony Computer Entertainment released the first major update in Japan for their

video game handheld

, the PlayStation Portable. Version 2.00 includes an

web browser

, A-B repeat mode,

Wi-Fi

picture sending, as well as additional audio & video support among other features.
August 8— Abandon Mobile announces its formation through a partnership between Abandon Entertainment, Inc. and GF Capital Management and Advisors, LLC.
August 22 — Square Enix acquires Taito Corporation. That leads to Square Enix entering the arcade sector of the electronic game industry.
November — Pandemic Studios and BioWare partner to create

BioWare/Pandemic Studios

.
November 7 — Take-Two Interactive acquires Firaxis Games.
November 30 — Sony Computer Entertainment announce that PlayStation 2 breaks a record: the fastest console to reach cumulative shipment of 100 million units, beating the previous record holder, the PlayStation, by three years and nine months. The PS platform has until the present year the biggest sales of all times of video games history, with 120 million consoles shipped.
December 12 —

Working Designs

closes down.
Video game releases
[
]
Name
Release Date
Category
Region(s)
Platform(s)
007: From Russia with Love
November 1, 2005
Video Game
North America
GameCube, PlayStation 2, Xbox
187 Ride or Die
August 26, 2005
Video Game
Europe
Xbox, PlayStation 2
187 Ride or Die
August 23, 2005
Video Game
North America
Xbox, PlayStation 2
1944: Battle of the Bulge
August 8, 2005
Video Game
United States
Microsoft Windows
1944: Battle of the Bulge
April 1, 2005
Video Game
United Kingdom
Microsoft Windows
50 Cent: Bulletproof
November 18, 2005
Video Game
North America
PlayStation 2, Xbox
50 Cent: Bulletproof
November 25, 2005
Video Game
Europe
PlayStation 2
7 Sins
May 27, 2005
Video Game
Europe
Microsoft Windows, PlayStation 2
80 Days
2005
Video Game
North America
Microsoft Windows
A Boy and His Blob
October 20, 2005
Video Game
International
Nintendo DS
A Sound of Thunder
February 1, 2005
Video Game
North America
Game Boy Advance
Ace Combat 5: The Unsung War
February 18, 2005
Video Game
Europe
PlayStation 2
Act of War: Direct Action
March 18, 2005
Video Game
Europe
Microsoft Windows
Act of War: Direct Action
March 15, 2005
Video Game
North America
Microsoft Windows
Action Girlz Racing
July 23, 2005
Video Game
Europe
Microsoft Windows
Activision Anthology
December 31, 2005
Bundle
Europe

DigiBlast

Advance Guardian Heroes
February 18, 2005
Video Game
Europe
Game Boy Advance
Advance Wars: Dual Strike
August 22, 2005
Video Game
North America
Nintendo DS
Advent Rising
June 30, 2005
Video Game
Europe

Undefined

Advent Rising
May 31, 2005
Video Game
North America

Undefined

Aero Fighters
July 21, 2005
Video Game
Japan
PlayStation 2
Age of Empires III
November 4, 2005
Video Game
Europe
Microsoft Windows
Age of Empires III
October 18, 2005
Video Game
North America
Microsoft Windows
Alarm für Cobra 11: Police Pursuit
June, 2005
Video Game
Japan
PlayStation 2
Alfa Romeo Racing Italiano
June 24, 2005
Video Game
Europe
Xbox
Alien Hominid
May 27, 2005
Video Game
Europe
PlayStation 2
Allied Force
2005
Video Game
North America
Microsoft Windows
America's Army: Rise of a Soldier
November 17, 2005
Video Game
North America
Xbox, PlayStation 2
American Chopper
February 25, 2005
Video Game
Europe
Xbox
American Chopper 2: Full Throttle
November 17, 2005
Video Game
North America
Xbox
Amped 3
December 2, 2005
Video Game
Europe
Xbox 360
Amped 3
November 22, 2005
Video Game
North America
Xbox 360
Angel Type
March 25, 2005
Video Game
Japan
Microsoft Windows
Animal Crossing: Wild World
December 5, 2005
Video Game
North America
Nintendo DS
Animal Crossing: Wild World
December 8, 2005
Video Game
Australia
Nintendo DS
Animal Crossing: Wild World
November 23, 2005
Video Game
Japan
Nintendo DS
Animaniacs: The Great Edgar Hunt
May 27, 2005
Video Game
Europe
GameCube
Animaniacs: The Great Edgar Hunt
September 18, 2005
Video Game
North America

Undefined

Ankh
November 4, 2005
Video Game
International

Undefined

Anubis II
July 14, 2005
Video Game
Europe
PlayStation 2
Ape Escape
March 22, 2005
Video Game
North America
PlayStation Portable
Ape Escape
March 17, 2005
Video Game
Japan
PlayStation Portable
Ape Escape 3
July 14, 2005
Video Game
Japan
PlayStation 2
Area 51 (2005)
May 27, 2005
Video Game
Europe
PlayStation 2, Xbox
Area 51 (2005)
April 25, 2005
Video Game
North America
PlayStation 2, Xbox
Area 51 (2005)
May 26, 2005
Video Game
Australia
PlayStation 2, Xbox
Armored Core: Formula Front
December 15, 2005
Video Game
North America
PlayStation Portable, PlayStation 2
Asphalt: Urban GT
March 11, 2005
Video Game
Europe
Nintendo DS
Asphalt: Urban GT
February 24, 2005
Video Game
Australia
Nintendo DS
Asphalt: Urban GT 2
2005
Video Game

Undefined

Undefined

Asterix & Obelix XXL 2: Mission: Las Vegum
October 16, 2005
Video Game
Europe

Undefined

Astro Boy: Omega Factor
February 18, 2005
Video Game
Europe
Game Boy Advance
Atelier Iris 2: The Azoth of Destiny
May 26, 2005
Video Game
Japan
PlayStation 2
Atelier Iris: Eternal Mana
June 28, 2005
Video Game
North America
PlayStation 2
Backyard Wrestling 2: There Goes the Neighborhood
April 7, 2005
Video Game
Japan
PlayStation 2
Banjo-Pilot
February 1, 2005
Video Game
Europe
Game Boy Advance
Banjo-Pilot
January 12, 2005
Video Game
North America
Game Boy Advance
Bankshot Billiards 2
November 22, 2005
Video Game
North America
Xbox Live Arcade
Barbie and the Magic of Pegasus
September 15, 2005
Video Game
North America
Game Boy Advance, PC
Baten Kaitos: Eternal Wings and the Lost Ocean
April 1, 2005
Video Game
Europe
GameCube
Batman Begins
June 17, 2005
Video Game
International
Game Boy Advance, GameCube, PlayStation 2, Xbox
Batman Begins
June 14, 2005
Video Game
North America
Game Boy Advance, GameCube, PlayStation 2, Xbox
Battalion Wars
December 9, 2005
Video Game
Europe
GameCube
Battalion Wars
September 19, 2005
Video Game
North America
GameCube
Battalion Wars
October 27, 2005
Video Game
Japan
GameCube
Battle Gear 4
July, 2005
Video Game
Japan
Arcade
Battle of Britain II: Wings of Victory
August 26, 2005
Video Game
Europe
Microsoft Windows
Battle of Britain II: Wings of Victory
September 12, 2005
Video Game
North America
Microsoft Windows
Battle Raper 2
April 22, 2005
Video Game
Japan
Microsoft Windows
Battlefield 2
June 24, 2005
Video Game
Europe
Microsoft Windows
Battlefield 2
June 21, 2005
Video Game
North America
Microsoft Windows
Battlefield 2
July 7, 2005
Video Game
Australia
Microsoft Windows
Battlefield 2: Modern Combat
November 18, 2005
Video Game
Europe
PlayStation 2, Xbox
Battlefield 2: Modern Combat
October 24, 2005
Video Game
North America
PlayStation 2, Xbox
Battlefield 2: Special Forces
November 25, 2005
Video Game
Europe
Microsoft Windows
Battlefield 2: Special Forces
November 22, 2005
Video Game
North America
Microsoft Windows
Battlefield 2: Special Forces
November 25, 2005
Video Game
Australia
Microsoft Windows
Battlefield 2: Special Forces
November 24, 2005
Video Game
Japan
Microsoft Windows
Battlefield 2: Special Forces
November 21, 2005
Video Game

Singapore

Microsoft Windows
Battlefield Vietnam: Redux
March 15, 2005
Video Game
North America
Microsoft Windows
Beat Down: Fists of Vengeance
September 30, 2005
Video Game
Europe
PlayStation 2, Xbox
Beat Down: Fists of Vengeance
August 23, 2005
Video Game
North America
PlayStation 2, Xbox
Beat Down: Fists of Vengeance
November 2, 2005
Video Game
Japan
PlayStation 2
Beatmania IIDX 10th Style
November 17, 2005
Video Game
Japan
PlayStation 2
Beatmania IIDX 12: Happy Sky
July 13, 2005
Video Game
Japan
Arcade
Beatmania IIDX 9th Style
March 21, 2005
Video Game
Japan
PlayStation 2
Bejeweled 2
November 22, 2005
Video Game
North America
Xbox Live Arcade
Bet On Soldier: Blood Sport
September 30, 2005
Video Game
Europe
Microsoft Windows
Bet On Soldier: Blood Sport
September 26, 2005
Video Game
North America
Microsoft Windows
Big Brain Academy
June 30, 2005
Video Game
Japan
Nintendo DS
Big Kahuna Reef
November, 2005
Video Game
North America
Mac OS
Big Mutha Truckers
December 2, 2005
Video Game
Europe
Nintendo DS
Big Mutha Truckers
October 19, 2005
Video Game
North America
Nintendo DS
Big Mutha Truckers
December 2, 2005
Video Game
Australia
Nintendo DS
Big Mutha Truckers 2
August 28, 2005
Video Game
North America

Undefined

Big Mutha Truckers 2
June 24, 2005
Video Game
United Kingdom

Undefined

Biniax
2005
Video Game

Undefined

Undefined

Black & White 2
October 7, 2005
Video Game
Europe
Microsoft Windows
Black & White 2
October 4, 2005
Video Game
North America
Microsoft Windows
Bleach GC: Tasogare Ni Mamieru Shinigami
December 8, 2005
Video Game
Japan
GameCube
Bliss
November 10, 2005
Video Game
North America
Microsoft Windows
Blitz: The League
October 17, 2005
Video Game
International
PlayStation 2, Xbox
Blitzkrieg 2
October 2, 2005
Video Game
Europe
Microsoft Windows
BloodRayne
May, 2005
Video Game
Europe
Microsoft Windows
BloodRayne 2
August 2, 2005
Video Game
North America
Microsoft Windows
Blue's Clues Kindergarten
2005
Video Game

Undefined

Undefined

Board Game Classics
August 26, 2005
Video Game
Europe
Game Boy Advance
Board Game Classics
November 3, 2005
Video Game
North America
Game Boy Advance
Bobobo-bo Bo-bobo Dasshutsu! Hajike Royale
March 17, 2005
Video Game
Japan
GameCube
Boiling Point: Road to Hell
May 20, 2005
Video Game
Europe
Microsoft Windows
Boiling Point: Road to Hell
June 6, 2005
Video Game
North America
Microsoft Windows
Boiling Point: Road to Hell
May 20, 2005
Video Game
Australia
Microsoft Windows
Boktai 2: Solar Boy Django
June 10, 2005
Video Game
Europe
Game Boy Advance
Bomberman DS
July 8, 2005
Video Game
Europe
Nintendo DS
Bomberman DS
June 21, 2005
Video Game
North America
Nintendo DS
Bomberman DS
May 19, 2005
Video Game
Japan
Nintendo DS
Bomberman Hardball
July 1, 2005
Video Game
Europe
PlayStation 2
Bomberman Land 3
August 4, 2005
Video Game
Japan
PlayStation
Bone: Out from Boneville
September 15, 2005
Video Game
North America
Microsoft Windows
Bonnie's Bookstore
November 28, 2005
Video Game
North America

Undefined

Boppin'
June 19, 2005
Video Game
North America
Microsoft Windows
Brain Age: Train Your Brain in Minutes a Day!
May 19, 2005
Video Game
Japan
DS
Bratz: Rock Angelz
October 14, 2005
Video Game
Europe
Microsoft Windows, PlayStation 2, GameCube, Game Boy Advance
Bratz: Rock Angelz
October 4, 2005
Video Game
North America
Game Boy Advance, GameCube, PlayStation 2
Brightia Plus
August 5, 2005
Video Game
Japan
Microsoft Windows
Brothers in Arms: Earned in Blood
October 4, 2005
Video Game
International
Steam for Windows
Brothers in Arms: Earned in Blood
October 7, 2005
Video Game
Europe
Microsoft Windows, Mac OS X, Xbox
Brothers in Arms: Earned in Blood
October, 2005
Video Game
North America

Mobile Phone

Brothers in Arms: Road to Hill 30
March 18, 2005
Video Game
Europe

Undefined

Brothers in Arms: Road to Hill 30
March 1, 2005
Video Game
North America
Xbox
Brothers in Arms: Road to Hill 30
September 15, 2005
Video Game

Undefined

Undefined

Burnout Legends
September 15, 2005
Video Game
Europe
PlayStation Portable
Burnout Legends
September 13, 2005
Video Game
North America
PlayStation Portable
Burnout Legends
October 20, 2005
Video Game
Japan
PlayStation Portable
Burnout Revenge
September 23, 2005
Video Game
Europe
PlayStation 2, Xbox
Burnout Revenge
September 13, 2005
Video Game
North America
PlayStation 2, Xbox
Burnout Revenge
September 26, 2005
Video Game
Australia
PlayStation 2, Xbox
Cabela's Big Game Hunter 2005 Adventures
October 14, 2005
Video Game
Europe
Xbox
Cabela's Big Game Hunter 2006 Trophy Season
September 27, 2005
Video Game
North America
Microsoft Windows
Cabela's Dangerous Hunts 2
November 16, 2005
Video Game
North America
GameCube, PlayStation 2, Xbox
Cabela's Outdoor Adventures
September 13, 2005
Video Game
North America
GameCube
Call of Cthulhu: Dark Corners of the Earth
October 28, 2005
Video Game
Europe
Xbox
Call of Cthulhu: Dark Corners of the Earth
October 24, 2005
Video Game
North America
Xbox
Call of Duty 2
October 25, 2005
Video Game
North America
Microsoft Windows
Call of Duty 2
October 25, 2005
Video Game
Europe
Microsoft Windows
Call of Duty 2: Big Red One
November 18, 2005
Video Game
Europe
GameCube, PlayStation 2, Xbox
Call of Duty 2: Big Red One
November 1, 2005
Video Game
North America
GameCube, PlayStation 2, Xbox
Call of Duty: Finest Hour
October 27, 2005
Video Game
Japan
PlayStation 2, Xbox
Candy Crisis
November, 2005
Video Game
North America
Microsoft Windows, Mac OS X
Capcom Fighting Evolution
February 12, 2005
Video Game
Europe
PlayStation
Capcom Fighting Evolution
June 14, 2005
Video Game
North America
Xbox
Capcom Fighting Evolution
June 16, 2005
Video Game
Japan
Xbox
Castle Shikigami 2
October 7, 2005
Video Game
Europe
PlayStation 2
Castlevania: Curse of Darkness
November 5, 2005
Video Game
North America
Xbox, PlayStation 2
Castlevania: Curse of Darkness
November 24, 2005
Video Game
Japan
Xbox, PlayStation 2
Castlevania: Dawn of Sorrow
September 30, 2005
Video Game
Europe
Nintendo DS
Castlevania: Dawn of Sorrow
October 4, 2005
Video Game
North America
Nintendo DS
Castlevania: Dawn of Sorrow
August 25, 2005
Video Game
Japan
Nintendo DS
Centipede/Breakout/Warlords
September 9, 2005
Bundle
Europe
Game Boy Advance
Centipede/Breakout/Warlords
August 21, 2005
Bundle
North America
Game Boy Advance
Champions: Return to Arms
March 18, 2005
Video Game
Europe
PlayStation 2
Champions: Return to Arms
February 7, 2005
Video Game
North America
PlayStation 2
Championship Manager 5
March 18, 2005
Video Game
International
Microsoft Windows
Championship Manager 5
May 13, 2005
Video Game
Europe
PlayStation 2, Xbox
Championship Manager 5
May 16, 2005
Video Game
Australia
PlayStation 2, Xbox
Chaos Field
December 20, 2005
Video Game
North America
GameCube
Chaos Field
February 24, 2005
Video Game
Japan
GameCube
Chaos League
March 8, 2005
Video Game
North America
Microsoft Windows
Charlie and the Chocolate Factory (2005)
July 22, 2005
Video Game
Europe
Microsoft Windows, GameCube, PlayStation 2, Game Boy Advance, Xbox
Charlie and the Chocolate Factory (2005)
July 11, 2005
Video Game
North America
Microsoft Windows
Chibi-Robo!
June 23, 2005
Video Game
Japan
GameCube
Chibi-Robo: Plug Into Adventure
June 23, 2005
Video Game
Japan
GameCube
Chicago Enforcer
February 23, 2005
Video Game
North America
Xbox
Chicken Little
October 18, 2005
Video Game
North America

Undefined

Chicken Little
November 30, 2005
Video Game
Australia

Undefined

City of Villains
October 31, 2005
Video Game
Europe
Microsoft Windows
City of Villains
October 31, 2005
Video Game
North America
Microsoft Windows
Classic Compendium
August 9, 2005
Video Game
Europe
Gizmondo
Classic Compendium
October 22, 2005
Video Game
North America
Gizmondo
Classic Compendium 2
October 14, 2005
Video Game
Europe
Gizmondo
Classic Compendium 2
October 22, 2005
Video Game
North America
Gizmondo
Classified: The Sentinel Crisis
April 29, 2005
Video Game
Europe
Xbox
Classified: The Sentinel Crisis
May 24, 2005
Video Game
North America
Xbox
Close Combat: First to Fight
April 29, 2005
Video Game
Europe
Xbox
Close Combat: First to Fight
April 6, 2005
Video Game
North America
Xbox
Club Penguin
October 24, 2005
Video Game
International
Java
Codename: Kids Next Door – Operation: V.I.D.E.O.G.A.M.E.
December 2, 2005
Video Game
Europe
GameCube, PlayStation 2, Xbox
Codename: Kids Next Door – Operation: V.I.D.E.O.G.A.M.E.
October 11, 2005
Video Game
North America
PlayStation 2, Xbox
Codename: Panzers
February 24, 2005
Video Game
Japan
Microsoft Windows
Codename: Panzers - Phase One
February 24, 2005
Video Game
Japan
Microsoft Windows
Codename: Panzers - Phase Two
July 22, 2005
Video Game
Europe
Microsoft Windows
Codename: Panzers - Phase Two
July 25, 2005
Video Game
North America
Microsoft Windows
Coffee Tycoon
April 30, 2005
Video Game
United States
Microsoft Windows
Cold Fear
2005
Video Game
International
PlayStation 2, Xbox, Microsoft Windows
Cold War
September 27, 2005
Video Game
North America
Microsoft Windows
Cold Winter
June 3, 2005
Video Game
Europe
PlayStation 2
Cold Winter
May 11, 2005
Video Game
North America
PlayStation 2
Colin McRae Rally 2005
January, 2005
Video Game

Undefined

Undefined

College Hoops 2K6
November 21, 2005
Video Game
North America
Xbox
Combat Arms
2005
Video Game
South Korea
Microsoft Windows
Combat Elite: WWII Paratroopers
November 21, 2005
Video Game
North America
PlayStation 2, Xbox
Condemned: Criminal Origins
December 2, 2005
Video Game
Europe
Xbox 360
Condemned: Criminal Origins
November 15, 2005
Video Game
North America
Xbox 360
Conflict: Desert Storm
August 20, 2005
Video Game
Europe

Mobile

Conflict: Global Storm
September 30, 2005
Video Game
Europe
PlayStation 2
Conflict: Global Storm
October 4, 2005
Video Game
North America
PlayStation 2
Conflict: Vietnam
January 1, 2005
Video Game
International

Mobile

Conker: Live & Reloaded
June 24, 2005
Video Game
Europe
Xbox
Conker: Live & Reloaded
June 21, 2005
Video Game
North America
Xbox
Conker: Live & Reloaded
June 30, 2005
Video Game
Japan
Xbox
Constantine
February 15, 2005
Video Game
North America
Microsoft Windows, PlayStation 2, Xbox
Constantine
April 21, 2005
Video Game
Japan
Microsoft Windows, PlayStation 2, Xbox
Cossacks II: Napoleonic Wars
April 15, 2005
Video Game
North America
Microsoft Windows
Crazy Kart
2005
Video Game

Undefined

Undefined

Cricket 2005
July 1, 2005
Video Game
Australia
Microsoft Windows, PlayStation 2, Xbox
Crime Life: Gang Wars
September 1, 2005
Video Game
Europe
PlayStation 2
Crime Life: Gang Wars
November 22, 2005
Video Game
North America
Xbox
Cute Knight
October 13, 2005
Video Game
North America
Microsoft Windows, GNU/Linux,

Macintosh

Dad 'n Me
July 27, 2005
Video Game
International

Browser

Dance 86.4 Funky Radio Station
2005
Video Game

Undefined

Undefined

Dance Dance Revolution: Mario Mix
October 28, 2005
Video Game
Europe
GameCube
Dance Dance Revolution: Mario Mix
October 24, 2005
Video Game
North America
GameCube
Dance Dance Revolution: Mario Mix
July 14, 2005
Video Game
Japan
GameCube
Dance Factory
September 1, 2005
Video Game
Europe
PlayStation 2
Dance Praise
September 29, 2005
Video Game
North America
Microsoft Windows, macOS
Dancing Crazies
2005
Video Game

Undefined

Undefined

Darius Gaiden
July 28, 2005
Video Game
Japan
PlayStation 2
Dark Horizons Lore: Invasion
February 11, 2005
Video Game
International
GNU/Linux
Day of Defeat: Source
September 26, 2005
Video Game
International
Steam for Windows
Dead or Alive 4
December 29, 2005
Video Game
North America
Xbox 360
Dead or Alive 4
December 29, 2005
Video Game
Japan
Xbox 360
Dead or Alive Ultimate
February 18, 2005
Video Game
Europe
Xbox
Dead or Alive: Ultimate
February 18, 2005
Video Game
Europe
Xbox
Death by Degrees
April 15, 2005
Video Game
Europe
PlayStation 2
Death by Degrees
February 8, 2005
Video Game
North America
PlayStation 2
Death by Degrees
January 27, 2005
Video Game
Japan
PlayStation 2
Def Jam: Fight for NY
February 24, 2005
Video Game
Japan
PS2
Delta Force: Black Hawk Down
July 26, 2005
Video Game
North America
PlayStation 2, Xbox
Delta Force: Xtreme
May 6, 2005
Video Game
Europe
Microsoft Windows
Delta Force: Xtreme
April 22, 2005
Video Game
North America
Microsoft Windows
Densetsu no Quiz Ou Ketteisen
December 8, 2005
Video Game
Japan
GameCube
Destroy All Humans!
June 24, 2005
Video Game
Europe
PlayStation 2, Xbox
Destroy All Humans!
June 21, 2005
Video Game
North America
PlayStation 2, Xbox
Devil May Cry 3: Dante's Awakening
March 24, 2005
Video Game
Europe
PlayStation 2, Microsoft Windows
Devil May Cry 3: Dante's Awakening
March 1, 2005
Video Game
North America
PlayStation 2, Microsoft Windows
Devil May Cry 3: Dante's Awakening
March 22, 2005
Video Game
Australia
PlayStation 2, Microsoft Windows
Devil May Cry 3: Dante's Awakening
February 17, 2005
Video Game
Japan
PlayStation 2, Microsoft Windows
Didi & Ditto First Grade: The Wolf King
2005
Video Game

Undefined

Undefined

Digimon World 4
September 2, 2005
Video Game
Europe
PlayStation 2
Digimon World 4
June 1, 2005
Video Game
North America
Nintendo GameCube
Digimon World 4
January 5, 2005
Video Game
Japan
PlayStation 2, Xbox
Dino Master
May 24, 2005
Video Game
North America
Nintendo DS
Disney Golf
August 19, 2005
Video Game
Europe
PlayStation 2
Disney's Kim Possible 3: Team Possible
July 25, 2005
Video Game
North America
Game Boy Advance
DoDonPachi
February 5, 2005
Video Game
Japan
Arcade
Dog's Life
2005
Video Game
Japan
PlayStation 2
Domination
June 24, 2005
Video Game
Europe
Microsoft Windows
Domination
March 3, 2005
Video Game
North America
Microsoft Windows
Donkey Kong Country 3: Dixie Kong's Double Trouble!
November 4, 2005
Video Game
Europe
Game Boy Advance
Donkey Kong Country 3: Dixie Kong's Double Trouble!
November 7, 2005
Video Game
North America
Game Boy Advance
Donkey Kong Country 3: Dixie Kong's Double Trouble!
December 1, 2005
Video Game
Japan
Game Boy Advance
Donkey Kong Jungle Beat
February 4, 2005
Video Game
Europe
GameCube
Donkey Kong Jungle Beat
March 14, 2005
Video Game
North America
GameCube
Donkey Kong Jungle Beat
March 17, 2005
Video Game
Australia
GameCube
Donkey Konga 2
May 10, 2005
Video Game
North America
GameCube
Donkey Konga 3: All You Can Eat! Spring 50 Song Mix
March 17, 2005
Video Game
Japan
GameCube
DOOM 3
2005
Video Game
North America
Xbox
DOOM 3: Resurrection of Evil
April 8, 2005
Expansion
Europe
Microsoft Windows
DOOM 3: Resurrection of Evil
April 3, 2005
Expansion
North America
Microsoft Windows
DOOM 64 TC: The Outcast Levels
July 9, 2005
Mod, DLC
International
Microsoft Windows
DOOM RPG
September 13, 2005
Video Game
North America

Mobile Phone

Double Dragon Advance
March 5, 2005
Video Game
Japan
Game Boy Advance
Dr. Mario
January 7, 2005
Video Game
Europe
Game Boy Advance
Dragon Ball Z: Budokai Tenkaichi
October 21, 2005
Video Game
Europe
PlayStation 2
Dragon Ball Z: Budokai Tenkaichi
October 18, 2005
Video Game
North America
PlayStation 2
Dragon Ball Z: Budokai Tenkaichi
October 6, 2005
Video Game
Japan
PlayStation 2
Dragon Force
August 18, 2005
Video Game
Japan
PlayStation 2
Dragon Quest VIII: Journey of the Cursed King
November 15, 2005
Video Game
North America
PlayStation 2
Drakengard 2
June 16, 2005
Video Game
Japan
PlayStation 2
DreamStripper
May, 2005
Video Game
North America
Microsoft Windows
Drill Dozer
September 2, 2005
Video Game
Japan
Game Boy Advance
Driv3r
March 18, 2005
Video Game
Europe
Microsoft Windows
Driv3r
March 15, 2005
Video Game
North America
Microsoft Windows
Dungeon Fighter Online
August, 2005
Video Game
South Korea
Microsoft Windows
Dungeon Siege II
August 16, 2005
Video Game
North America
Microsoft Windows
Dynasty Warriors 4
April 1, 2005
Video Game
International
Microsoft Windows
Dynasty Warriors 5
March 29, 2005
Video Game
North America
PlayStation 2
Dynasty Warriors 5
February 24, 2005
Video Game
Japan
PlayStation 2
Dynasty Warriors Advance
December 2, 2005
Video Game
Europe
Game Boy Advance
Dynasty Warriors Advance
August 29, 2005
Video Game
North America
Game Boy Advance
Dynasty Warriors Advance
March 24, 2005
Video Game
Japan
Game Boy Advance
Earth 2160
September, 2005
Video Game
Europe
Microsoft Windows
Earth 2160
November, 2005
Video Game
North America
Microsoft Windows
Earth 2160
June, 2005
Video Game
Germany
Microsoft Windows
Earth 2160
June, 2005
Video Game
Poland
Microsoft Windows
Earth 2160
June, 2005
Video Game
Russia
Microsoft Windows
Ed, Edd n Eddy: The Mis-Edventures
September 30, 2005
Video Game
Europe
Game Boy Advance
Ed, Edd n Eddy: The Mis-Edventures
November 3, 2005
Video Game
North America
Game Boy Advance, PlayStation 2, Xbox
Ed, Edd n Eddy: The Mis-Edventures
November 25, 2005
Video Game
Australia
Microsoft Windows
Electroplankton
April 7, 2005
Video Game
Japan
Nintendo DS
Elite Warriors: Vietnam
March 25, 2005
Video Game
North America
Microsoft Windows
Empire Earth II
April 26, 2005
Video Game
North America
Microsoft Windows
Enthusia Professional Racing
May 6, 2005
Video Game
Europe
PlayStation 2
Enthusia Professional Racing
May 3, 2005
Video Game
North America
PlayStation 2
Enthusia Professional Racing
May 7, 2005
Video Game
United Kingdom
PlayStation 2
Enthusia Professional Racing
March 17, 2005
Video Game
Japan
PlayStation 2
Espgaluda II
November 25, 2005
Video Game
International
Arcade
ESPN NFL 2K5
February 4, 2005
Video Game
Europe
PlayStation 2, Xbox
ESPN NHL 2K5
February 4, 2005
Video Game
Europe
PlayStation 2, Xbox
Europa Barbarorum
December 27, 2005
Mod
International
Microsoft Windows
Ever 17: The Out of Infinity
December, 2005
Video Game
North America
Dreamcast, PlayStation 2
EverQuest II: Desert of Flames
September 13, 2005
Expansion
International
Microsoft Windows
EverQuest II: East
2005
Video Game

Undefined

Undefined

EverQuest II: Echoes of Faydwer
November 14, 2005
Expansion
Europe
Microsoft Windows
EverQuest II: Echoes of Faydwer
November 13, 2005
Expansion
North America
Microsoft Windows
EverQuest: Depths of Darkhollow
September 13, 2005
Video Game
International
Microsoft Windows
EverQuest: Dragons of Norrath
February 15, 2005
Expansion
International
Microsoft Windows
Every Party
December 10, 2005
Video Game
Japan
Xbox 360
Evil Dead: Regeneration
September 30, 2005
Video Game
Europe
Microsoft Windows, PlayStation 2, Xbox
Evil Dead: Regeneration
September 13, 2005
Video Game
North America
Microsoft Windows, PlayStation 2, Xbox
Ex Zeus
2005
Video Game
Japan
Arcade
Exit
December 15, 2005
Video Game
Japan
PlayStation Portable
EyeToy: Play 2
August, 2005
Video Game

Undefined

Undefined

F.E.A.R.
October 17, 2005
Video Game
Europe
Microsoft Windows
F.E.A.R.
October 18, 2005
Video Game
North America
Microsoft Windows
Fable
March 17, 2005
Video Game
Japan
Xbox
Fable: The Lost Chapters
October 21, 2005
Video Game
Europe
Xbox
Fable: The Lost Chapters
October 18, 2005
Video Game
North America
Xbox
Façade
July 5, 2005
Video Game
International
Microsoft Windows, macOS
Fahrenheit
September 16, 2005
Video Game
Europe
Microsoft Windows, PlayStation 2, Xbox
Fallout: Brotherhood of Steel
April 28, 2005
Video Game
Japan

Undefined

Fantastic Four (2005)
July 15, 2005
Video Game
Europe
PlayStation 2, Xbox, GameCube, Microsoft Windows, Game Boy Advance
Fantastic Four (2005)
June 27, 2005
Video Game
North America
PlayStation 2, Xbox, GameCube, Microsoft Windows, Game Boy Advance
Far Cry Instincts
September 27, 2005
Video Game
North America
Xbox, Xbox 360
Feel the Magic: XY/XX
March 11, 2005
Video Game
Europe
Nintendo DS
FIFA 06
September 30, 2005
Video Game
Europe
Nintendo DS, GameCube, PlayStation 2, Xbox, Microsoft Windows, Game Boy Advance
FIFA 06
December 22, 2005
Video Game
Japan
PlayStation Portable
FIFA 06: Road to FIFA World Cup
December 2, 2005
Video Game
Europe
Xbox 360
FIFA 06: Road to FIFA World Cup
November 16, 2005
Video Game
North America
Xbox 360
FIFA 06: Road to FIFA World Cup
December 10, 2005
Video Game
Japan
Xbox 360
FIFA Football 2005
September 30, 2005
Video Game
North America
PlayStation Portable
FIFA Manager 06
October 7, 2005
Video Game
Europe
Microsoft Windows
FIFA Soccer 06
October 4, 2005
Video Game
North America
Nintendo DS, GameCube, PlayStation 2, Xbox, Microsoft Windows
FIFA Soccer 2005
October 22, 2005
Video Game
North America
Gizmondo
FIFA Street
March 11, 2005
Video Game
North America
GameCube, PlayStation 2, Xbox
Fight Night: Round 2
March 18, 2005
Video Game
Europe

Undefined

Fight Night: Round 2
February 28, 2005
Video Game
North America

Undefined

Fight Night: Round 2
September 1, 2005
Video Game
Japan

Undefined

Figures of Happiness
March 28, 2005
Video Game
North America
Microsoft Windows
Final Fantasy IV Advance
December 12, 2005
Video Game
North America
Game Boy Advance
Final Fantasy IV Advance
December 15, 2005
Video Game
Japan
Game Boy Advance
Final Fantasy VII (2005) (NES)
2005
Video Game
China
Nintendo Entertainment System
Final Fantasy X-2 International + Last Mission
January 25, 2005
Video Game
Japan
PlayStation 2
Final Fantasy XI: Entry Disc 2005
March 3, 2005
Bundle
Japan
Microsoft Windows, PlayStation 2
Final Fantasy XI: The Vana'diel Collection
August 16, 2005
Bundle
North America
Microsoft Windows
Fire Emblem: Path of Radiance
November 4, 2005
Video Game
Europe
GameCube
Fire Emblem: Path of Radiance
October 17, 2005
Video Game
North America
GameCube
Fire Emblem: Path of Radiance
December 1, 2005
Video Game
Australia
GameCube
Fire Emblem: Path of Radiance
April 20, 2005
Video Game
Japan
GameCube
Fire Emblem: The Sacred Stones
November, 2005
Video Game
Europe
Game Boy Advance
Fire Emblem: The Sacred Stones
May 23, 2005
Video Game
North America
Game Boy Advance
First of the North Star
December, 2005
Video Game
Japan
Arcade
Football Manager 2006
October 21, 2005
Video Game
International
Microsoft Windows, macOS
Ford vs. Chevy
November 9, 2005
Video Game
North America
Xbox, PlayStation 2
Formula 1 05
July 1, 2005
Video Game
Europe
PlayStation 2
Formula 1 05
2005
Video Game

Undefined

Undefined

Formula 1 05
September 22, 2005
Video Game
Japan
PlayStation 2
Forza Motorsport
February 1, 2005
Video Game
North America
Xbox
Frogger: Ancient Shadow
September 27, 2005
Video Game
North America
Xbox, PlayStation 2, GameCube
Frogger: Ancient Shadow
December 31, 2005
Video Game
Europe
Xbox, PlayStation 2, GameCube
From Russia with Love
November 18, 2005
Video Game
Europe
GameCube, PlayStation 2, Xbox
From Russia with Love
November 1, 2005
Video Game
North America
PlayStation 2, Xbox
From Russia with Love
November 18, 2005
Video Game
Australia
GameCube, PlayStation 2, Xbox
Front Mission 5: Scars of the War
December 29, 2005
Video Game
Japan
PlayStation 2
Full Spectrum Warrior
April 1, 2005
Video Game
Europe
PlayStation 2
Full Spectrum Warrior
March 23, 2005
Video Game
North America
PlayStation 2
Gauntlet: Seven Sorrows
December 12, 2005
Video Game
North America
PlayStation 2, Xbox
Geist
August 15, 2005
Video Game
North America
GC
Geometry Wars: Retro Evolved
November 22, 2005
Video Game
North America
Xbox Live Arcade
Goblin Commander: Unleash the Horde
March 11, 2005
Video Game
North America
Xbox
God of War
March 22, 2005
Video Game
North America
PlayStation 2
God of War
July 8, 2005
Video Game
Europe
PlayStation 2
God of War
November 17, 2005
Video Game
Japan
PlayStation 2
GoldenEye: Rogue Agent
July 1, 2005
Video Game
Europe
Nintendo DS
GoldenEye: Rogue Agent
June 13, 2005
Video Game
North America
Nintendo DS
GoldenEye: Rogue Agent
January 13, 2005
Video Game
Japan
PlayStation 2, GameCube
Gran Turismo 4
March 9, 2005
Video Game
Europe
PlayStation 2
Gran Turismo 4
February 22, 2005
Video Game
North America
PlayStation 2
Grand Theft Auto: Liberty City Stories
October 28, 2005
Video Game
Europe
PlayStation Portable
Grand Theft Auto: Liberty City Stories
October 24, 2005
Video Game
North America
PlayStation Portable
Grand Theft Auto: Liberty City Stories
December 2, 2005
Video Game
Australia
PlayStation Portable
Grand Theft Auto: San Andreas
June 10, 2005
Video Game
Europe
Microsoft Windows, Xbox
Grand Theft Auto: San Andreas
June 7, 2005
Video Game
North America
Microsoft Windows, Xbox
Grand Theft Auto: The Trilogy
October 17, 2005
Bundle
International
Xbox
Grandia III
August 4, 2005
Video Game
Japan
PlayStation 2
Greg Hastings Tournament Paintball
March 24, 2005
Video Game
Europe
Xbox
GripShift
November 11, 2005
Video Game
Europe
PlayStation Portable
GripShift
September 13, 2005
Video Game
North America
PlayStation Portable
GripShift
November 7, 2005
Video Game
Australia
PlayStation Portable
Groove Adventure Rave: Fighting Live
March 8, 2005
Video Game
North America
GameCube
GT Legends
October 15, 2005
Video Game
Europe
Windows 2000, Windows XP
GT Legends
November 4, 2005
Video Game
United Kingdom
Windows 2000, Windows XP
Guild Wars
April 28, 2005
Video Game
Europe
Microsoft Windows
Guild Wars
April 26, 2005
Video Game
North America
Microsoft Windows
Guild Wars Prophecies
April 28, 2005
Video Game
North America
Microsoft Windows
Guilty Gear Isuka
June 16, 2005
Video Game
Europe
PlayStation 2
Guilty Gear Isuka
November 28, 2005
Video Game
Japan
Microsoft Windows
Guitar Hero
November 8, 2005
Video Game
North America
PlayStation 2
GUN
November 17, 2005
Video Game
International
Steam for Windows
GUN
November 11, 2005
Video Game
Europe
PlayStation 2, Xbox
GUN
November 8, 2005
Video Game
North America
PlayStation 2, Xbox, GameCube
GUN
November 5, 2005
Video Game
Australia
PlayStation 2, Xbox, GameCube
Gundam Seed: Rengou vs. Z.A.F.T.
November 17, 2005
Video Game
Japan
PlayStation 2
Gunstar Super Heroes
November 4, 2005
Video Game
Europe
Game Boy Advance
Gunstar Super Heroes
October 6, 2005
Video Game
Japan
Game Boy Advance
Gunz The Duel
June, 2005
Video Game

Undefined

Undefined

Half-Life 2
November 15, 2005
Video Game
North America
Xbox
Half-Life 2: Capture the Flag
February 12, 2005
Mod
International
Microsoft Windows
Half-Life 2: Lost Coast
October 27, 2005
Video Game
International
Steam for Windows
Hammer & Sickle
December 5, 2005
Video Game
North America
Microsoft Windows
Hammer & Sickle
April 29, 2005
Video Game
Russia
Microsoft Windows
Hamster Heroes
July 15, 2005
Video Game
Europe
PlayStation 2
Harry Potter and the Goblet of Fire
November 11, 2005
Video Game
Europe
Game Boy Advance, GameCube, Microsoft Windows, Nintendo DS, PlayStation 2, Xbox
Harry Potter and the Goblet of Fire
November 8, 2005
Video Game
North America
Game Boy Advance, GameCube, Microsoft Windows, Nintendo DS, PlayStation 2, Xbox
Harukanaru Toki no Naka de 2
June 30, 2005
Video Game
Japan
PlayStation Portable
Harvest Moon DS
March 17, 2005
Video Game
Japan
Nintendo DS
Harvest Moon DS: The Tale of Two Towns
March 17, 2005
Video Game
Japan
Nintendo DS
Harvest Moon: A Wonderful Life
October 28, 2005
Video Game
North America
PlayStation 2
Harvest Moon: A Wonderful Life
November 16, 2005
Video Game
Europe
PlayStation 2
Harvest Moon: Another Wonderful Life
July 26, 2005
Video Game
North America
GameCube
Harvest Moon: Magical Melody
November 10, 2005
Video Game
Japan
GameCube
Harvest Moon: More Friends of Mineral Town
July 26, 2005
Video Game
North America
Game Boy Advance
He-Man: Defender of Grayskull
February 25, 2005
Video Game
Europe
PlayStation 2
Hearts of Iron II
January 4, 2005
Video Game
North America
Microsoft Windows, Steam
Heat Project
July 18, 2005
Video Game

Hong Kong

Microsoft Windows
Heaven: Death Game
August 26, 2005
Video Game
Japan
Microsoft Windows
Hello Kitty: Roller Rescue
September 9, 2005
Video Game
Europe
Xbox, GameCube, PlayStation 2, Microsoft Windows
Hello Kitty: Roller Rescue
August 16, 2005
Video Game
North America
GameCube
Hello Kitty: Roller Rescue
April 28, 2005
Video Game
Japan
PlayStation 2
Heroes of the Pacific
September 23, 2005
Video Game
Europe
PlayStation 2, Xbox, Microsoft Windows
Heroes of the Pacific
September 28, 2005
Video Game
North America
PlayStation 2, Xbox
Heroes of the Pacific
September 23, 2005
Video Game
Australia
PlayStation 2, Xbox, Microsoft Windows
Hexic
November 16, 2005
Video Game
International
Xbox Live Arcade
Hockey Rage 2005
April 4, 2005
Video Game
Europe
Gizmondo, N-Gage
Hockey Rage 2005
October 12, 2005
Video Game
North America
Gizmondo, N-Gage
I Spy Spooky Mansion Deluxe
March 2, 2005
Video Game
North America
Microsoft Windows, Mac OS
Ibara
July 15, 2005
Video Game
Japan
Arcade
Immortal Cities: Children of the Nile
February, 2005
Video Game
Europe
Windows
Immortal Cities: Children of the Nile
February, 2005
Video Game
Australia
Windows
Imperial Glory
May 17, 2005
Video Game
North America
Microsoft Windows
Imperivm III: Great Battles of Rome
May 10, 2005
Video Game
Spain
Microsoft Windows
In the Groove
June 17, 2005
Video Game
North America
PlayStation 2
In the Groove 2
June 18, 2005
Video Game
International
Arcade
Indigo Prophecy
September 2, 2005
Video Game
North America
Microsoft Windows, PlayStation 2, Xbox
Invadazoid
July 5, 2005
Video Game
International
Windows
İstanbul Efsaneleri: Lale Savaşçıları
2005
Video Game

TR

GNU/Linux
Jade Empire
April 22, 2005
Video Game
Europe
Microsoft Windows, Xbox
Jade Empire
April 12, 2005
Video Game
North America
Microsoft Windows, Xbox
Jade Empire
June 30, 2005
Video Game
Australia
Microsoft Windows, Xbox
Jade Empire
June 16, 2005
Video Game
Japan
Microsoft Windows, Xbox
Jak X: Combat Racing
November 4, 2005
Video Game
Europe
PlayStation 2
Jak X: Combat Racing
October 18, 2005
Video Game
North America
PlayStation 2
Jak X: Combat Racing
October 26, 2005
Video Game
Australia
PlayStation 2
Jingai Makyō
June 24, 2005
Video Game
Japan
Microsoft Windows
Journey to Rooted Hold
April 1, 2005
Video Game
International
Microsoft Windows
Judge Dredd: Dredd Vs. Death
February 24, 2005
Video Game
North America
PlayStation 2
Juiced
June 17, 2005
Video Game
Europe

Undefined

Juiced
June 13, 2005
Video Game
North America

Undefined

Jump Super Stars
August 8, 2005
Video Game
Japan
Nintendo DS
Kameo: Elements of Power
December 2, 2005
Video Game
Europe
Xbox 360
Kameo: Elements of Power
November 22, 2005
Video Game
North America
Xbox 360
Killer7
July 15, 2005
Video Game
International
GameCube, PlayStation 2
Killer7
July 7, 2005
Video Game
North America
GameCube, PlayStation 2
Killer7
June 9, 2005
Video Game
Japan
GameCube, PlayStation 2
Killzone
October 10, 2005
Video Game
Japan
PlayStation 2
Kingdom Hearts II
December 22, 2005
Video Game
Japan
PlayStation 2
Kingdom Hearts: Chain of Memories
May 6, 2005
Video Game
Europe
Game Boy Advance
Kingdom of Paradise
November 15, 2005
Video Game
North America
PlayStation Portable
Kingdom of Paradise
July 21, 2005
Video Game
Japan
PlayStation Portable
Kingdom Under Fire: Heroes
October 7, 2005
Video Game
Europe
Xbox
Kingdom Under Fire: Heroes
September 20, 2005
Video Game
North America
Xbox
Kirby: Canvas Curse
November 25, 2005
Video Game
Europe
Nintendo DS
Kirby: Canvas Curse
June 13, 2005
Video Game
North America
Nintendo DS
Kirby: Canvas Curse
October 6, 2005
Video Game
Australia
Nintendo DS
Kirby: Canvas Curse
March 24, 2005
Video Game
Japan
Nintendo DS
Knights of Honor
May 10, 2005
Video Game
North America
Microsoft Windows
Knights of Honor
August 3, 2005
Video Game
Australia
Microsoft Windows
Knights of the Temple II
2005
Video Game

Undefined

Undefined

KOF: Maximum Impact
March 4, 2005
Video Game
Europe
PlayStation 2, Xbox
Kult: Heretic Kingdoms
April, 2005
Video Game

Undefined

Undefined

Kusari
September 22, 2005
Video Game
Japan
Microsoft Windows
Kya: Dark Lineage
May 28, 2005
Video Game
Australia
PlayStation 2
L.A. Rush
October 21, 2005
Video Game
Europe
PlayStation 2, Xbox
L.A. Rush
October 10, 2005
Video Game
North America
PlayStation 2, Xbox
La-Mulana
May 27, 2005
Video Game
Japan
Microsoft Windows
Land of the Dead: Road to Fiddler's Green
October 18, 2005
Video Game
North America
Microsoft Windows, Xbox
Langrisser III
October 27, 2005
Video Game
Japan
PlayStation 2
Last Train to Blue Moon Canyon
September 16, 2005
Video Game
Europe
Microsoft Windows
Last Train to Blue Moon Canyon
October 18, 2005
Video Game
North America
Microsoft Windows
Legion Arena
2005
Video Game

Undefined

Undefined

LEGO Star Wars: The Video Game
April 22, 2005
Video Game
International
Game Boy Advance, Microsoft Windows, PlayStation 2, Xbox
LEGO Star Wars: The Video Game
March 29, 2005
Video Game
North America
Game Boy Advance
LEGO Star Wars: The Video Game
July 7, 2005
Video Game
Japan
Game Boy Advance, PlayStation 2
Lemonade Tycoon
April 13, 2005
Video Game
International
macOS
Lethal Enforcers 3
April 15, 2005
Video Game
North America
Arcade
Lineage II
February 23, 2005
Video Game

TH

Microsoft Windows
Lizzie McGuire 3: Homecoming Havoc
August 21, 2005
Video Game
North America
Game Boy Advance
Lost in Blue
November 15, 2005
Video Game
Europe
Nintendo DS
Lost in Blue
September 27, 2005
Video Game
North America
Nintendo DS
Lost in Blue
August 25, 2005
Video Game
Japan
Nintendo DS
Love Death: Realtime Lovers
April 28, 2005
Video Game
Japan
Microsoft Windows
Lumines
March 22, 2005
Video Game
North America
PlayStation Portable
Luxor
May 30, 2005
Video Game
North America

Undefined

Madagascar (2005)
May 24, 2005
Video Game
North America
Microsoft Windows, PlayStation 2, Xbox, Nintendo DS, Game Boy Advance, GameCube
Madagascar (2005)
August 11, 2005
Video Game
Japan
Microsoft Windows, PlayStation 2, Xbox, Nintendo DS, Game Boy Advance, GameCube
Madden NFL 06
September 16, 2005
Video Game
Europe
Xbox, PlayStation 2, GameCube
Madden NFL 06
August 8, 2005
Video Game
North America
Xbox, PlayStation 2, GameCube, Nintendo DS, Game Boy Advance
Makai Kingdom: Chronicles of the Sacred Tome
July 26, 2005
Video Game
North America
PlayStation 2
Makai Kingdom: Chronicles of the Sacred Tome
March 18, 2005
Video Game
Japan
PlayStation 2
Mall Tycoon 3
October 26, 2005
Video Game
North America
Microsoft Windows
Maple Story
May 11, 2005
Video Game
International
Microsoft Windows
Maple Story
June 23, 2005
Video Game

MY

Microsoft Windows
Maple Story
June 23, 2005
Video Game

Singapore

Microsoft Windows
Maple Story
July 4, 2005
Video Game
Taiwan
Microsoft Windows
Maple Story
August 16, 2005
Video Game

TH

Microsoft Windows
Mario & Luigi: Partners in Time
November 25, 2005
Video Game
North America
Nintendo DS
Mario & Luigi: Partners in Time
December 29, 2005
Video Game
Japan
Nintendo DS
Mario Kart Arcade GP
2005
Video Game

Undefined

Undefined

Mario Kart DS
November 25, 2005
Video Game
Europe
Nintendo DS
Mario Kart DS
November 14, 2005
Video Game
North America
Nintendo DS
Mario Kart DS
November 17, 2005
Video Game
Australia
Nintendo DS
Mario Kart DS
December 8, 2005
Video Game
Japan
Nintendo DS
Mario Party 6
March 18, 2005
Video Game
Europe
GameCube
Mario Party 6
September 15, 2005
Video Game
Australia
GameCube
Mario Party 7
November 7, 2005
Video Game
North America
GameCube
Mario Party 7
November 10, 2005
Video Game
Japan
GameCube
Mario Party Advance
June 10, 2005
Video Game
Europe
Game Boy Advance
Mario Party Advance
March 28, 2005
Video Game
North America
Game Boy Advance
Mario Party Advance
September 15, 2005
Video Game
Australia
Game Boy Advance
Mario Party Advance
January 13, 2005
Video Game
Japan
Game Boy Advance
Mario Power Tennis
February 25, 2005
Video Game
Europe
GameCube
Mario Superstar Baseball
November 11, 2005
Video Game
Europe
GameCube
Mario Superstar Baseball
August 29, 2005
Video Game
North America
GameCube
Mario Superstar Baseball
July 21, 2005
Video Game
Japan
GameCube
Martin Mystère: Operation Dorian Gray
May 20, 2005
Video Game
Europe
Microsoft Windows
Marvel Nemesis: Rise of the Imperfects
October 14, 2005
Video Game
Europe
PlayStation 2, GameCube, Xbox
Marvel Nemesis: Rise of the Imperfects
September 20, 2005
Video Game
North America
PlayStation 2, GameCube, Xbox
Mech Crusaders
2005
Video Game

Undefined

Undefined

MechAssault 2: Lone Wolf
February 4, 2005
Video Game
Europe
Xbox
MechAssault 2: Lone Wolf
January 1, 2005
Video Game
Japan
Xbox
Medal of Honor: European Assault
June 17, 2005
Video Game
Europe
GameCube, PlayStation 2, Xbox
Medal of Honor: European Assault
June 7, 2005
Video Game
North America
GameCube, PlayStation 2, Xbox
MediEvil: Resurrection
September 1, 2005
Video Game
Europe
PlayStation Portable
MediEvil: Resurrection
September 13, 2005
Video Game
North America
PlayStation Portable
Mega Man Anniversary Collection
March 15, 2005

gc

North America
Xbox
Mega Man Battle Network 6 CyBeast Falzar
November 23, 2005
Video Game
Japan
Game Boy Advance
Mega Man Battle Network 6 CyBeast Gregar
November 23, 2005
Video Game
Japan
Game Boy Advance
Mega Man Legends
August 4, 2005
Video Game
Japan
PlayStation Portable
Mega Man Legends 2
September 8, 2005
Video Game
Japan
PlayStation Portable
Mega Man Zero 4
September 16, 2005
Video Game
Europe
Game Boy Advance
Mega Man Zero 4
October 4, 2005
Video Game
North America
Game Boy Advance
Mega Man Zero 4
April 21, 2005
Video Game
Japan
Game Boy Advance
Mercenaries: Playground of Destruction
February 18, 2005
Video Game
Europe
PlayStation 2, Xbox
Mercenaries: Playground of Destruction
January 11, 2005
Video Game
North America
PlayStation 2, Xbox
Mercenaries: Playground of Destruction
April 28, 2005
Video Game
Japan
PlayStation 2, Xbox
Metal Gear Acid
2005
Video Game
Europe
PlayStation Portable
Metal Gear Acid
2005
Video Game
North America
PlayStation Portable
Metal Gear Solid 3: Snake Eater
March 4, 2005
Video Game
Europe
PlayStation 2
Metal Gear Solid 3: Subsistence
December 22, 2005
Video Game
Japan
PlayStation 2
Meteos
September 23, 2005
Video Game
Europe
Nintendo DS
Meteos
June 28, 2005
Video Game
North America
Nintendo DS
Meteos
March 10, 2005
Video Game
Japan
Nintendo DS
Metroid Prime 2: Echoes
May 26, 2005
Video Game
Japan
GameCube
Metroid Prime Pinball
October 24, 2005
Video Game
North America
Nintendo DS
Metroid Prime Pinball
December 1, 2005
Video Game
Australia
Nintendo DS
Midnight Club 3: DUB Edition
April 15, 2005
Video Game
Europe
PlayStation 2, Xbox
Midnight Club 3: DUB Edition
April 11, 2005
Video Game
North America
PlayStation 2, Xbox
Midway Arcade Treasures 3
October 14, 2005
Video Game
Europe
PlayStation 2, Xbox
Midway Arcade Treasures 3
September 26, 2005
Video Game
North America
PlayStation 2, Xbox
Mono (2005)
December 22, 2005
Video Game
International
Microsoft Windows
Monster Hunter
May 27, 2005
Video Game
Europe
PlayStation 2
Monster Hunter
June 1, 2005
Video Game
Australia
PlayStation 2
Monster Trux Extreme: Offroad Edition
July 3, 2005
Video Game
Europe
PlayStation 2, Windows
Mortal Kombat: Deception
March 1, 2005
Video Game
North America
GameCube
Mortal Kombat: Shaolin Monks
September 30, 2005
Video Game
Europe
PlayStation 2, Xbox
Mortal Kombat: Shaolin Monks
September 16, 2005
Video Game
North America
PlayStation 2, Xbox
Mutant Storm Reloaded
November 22, 2005
Video Game
North America
Xbox Live Arcade
MVP Baseball 2005
February 22, 2005
Video Game
North America
PlayStation 2
MVP Baseball 2005
July 7, 2005
Video Game
Japan
PlayStation 2
MX vs. ATV Unleashed
June 24, 2005
Video Game
Europe
PlayStation 2, Xbox
MX vs. ATV Unleashed
March 16, 2005
Video Game
North America
PlayStation 2
Myst IV: Revelation
March 29, 2005
Video Game
North America
Xbox
Myst V: End of Ages
September 23, 2005
Video Game
Europe
Microsoft Windows, macOS
Myst V: End of Ages
September 20, 2005
Video Game
North America
Microsoft Windows, macOS
N
May 16, 2005
Video Game
International
Microsoft Windows
Namco × Capcom
May 26, 2005
Video Game
Japan
PlayStation 2
Nangoku Dominion
February 18, 2005
Video Game
Japan
Microsoft Windows
Nanostray
November 11, 2005
Video Game
Europe
Nintendo DS
Nanostray
July 19, 2005
Video Game
North America
Nintendo DS
Narbacular Drop
2005
Video Game

Undefined

Undefined

NARC (2005)
March 21, 2005
Video Game
North America

Undefined

Naruto: Gekitou Ninja Taisen! 4
November 21, 2005
Video Game
Japan
GameCube
NASCAR 06: Total Team Control
October 21, 2005
Video Game
Europe
PlayStation 2, Xbox
NASCAR 06: Total Team Control
August 30, 2005
Video Game
North America
PlayStation 2, Xbox
NASCAR SimRacing
February 15, 2005
Video Game
North America
Microsoft Windows
NBA 2K6
September 26, 2005
Video Game
North America
Xbox, PlayStation 2
Nba Live 2006
October 7, 2005
Video Game
Europe
GameCube, PlayStation 2, Xbox
Nba Live 2006
September 26, 2005
Video Game
North America
GameCube, Microsoft Windows, PlayStation 2, Xbox
Nba Live 2006
December 15, 2005
Video Game
Japan
PlayStation Portable
NBA Street V3
February 18, 2005
Video Game
Europe
PlayStation 2, Xbox, GameCube
NBA Street V3
February 8, 2005
Video Game
North America
PlayStation 2, Xbox, GameCube
NBA Street V3
May 26, 2005
Video Game
Japan
GameCube
NCAA Football 06
July 11, 2005
Video Game
North America
PlayStation 2, Xbox
NCAA March Madness 06
October 11, 2005
Video Game
North America
PlayStation 2, Xbox
Need for Speed: Most Wanted
November 25, 2005
Video Game
Europe
Game Boy Advance, GameCube, Microsoft Windows, PlayStation 2, PlayStation Portable, Xbox
Need for Speed: Most Wanted
November 15, 2005
Video Game
North America
Nintendo DS
Need for Speed: Most Wanted
November 25, 2005
Video Game
Australia
PlayStation 2
Need for Speed: Most Wanted
December 22, 2005
Video Game
Japan
Nintendo DS, Microsoft Windows, PlayStation 2, PlayStation Portable, GameCube, Game Boy Advance
NeoGeo Battle Coliseum
July 27, 2005
Video Game
International
Arcade
NeoGeo Battle Coliseum
December 22, 2005
Video Game
Japan
PlayStation 2
Neon Genesis Evangelion: Girlfriend of Steel 2nd
January 20, 2005
Video Game
Japan
PlayStation 2, macOS, Microsoft Windows, PlayStation Portable
New Rally-X
September, 2005
Video Game
North America

Mobile

NFL Street 2
January 28, 2005
Video Game
Europe
PlayStation 2, Xbox, GameCube
NFL Street 2
March 21, 2005
Video Game
North America
PlayStation Portable
NFL Street 2
January 28, 2005
Video Game
Australia
PlayStation 2, Xbox, GameCube
NHL 06
September 16, 2005
Video Game
Europe
PlayStation 2, Xbox, Microsoft Windows
NHL 06
September 6, 2005
Video Game
North America
GameCube, PlayStation 2, Xbox, Microsoft Windows
NHL 2K6
September 6, 2005
Video Game
North America
Xbox, PlayStation 2
NHL Eastside Hockey Manager 2005
May 27, 2005
Video Game
Europe
Microsoft Windows, macOS
Nicktoons Unite!
October 26, 2005
Video Game
North America
PlayStation 2
Ninjabread Man
July 13, 2005
Video Game
Europe
PlayStation 2
Nymphomania
October 28, 2005
Video Game
Japan
Microsoft Windows
Oasis
April 12, 2005
Video Game
International
Microsoft Windows
ObsCure
April 6, 2005
Video Game
North America
Microsoft Windows, PlayStation 2, Xbox
Oddworld: Stranger's Wrath
January 25, 2005
Video Game
North America
Xbox
Oddworld: Stranger's Wrath
March 5, 2005
Video Game
Australia
Xbox
Onimusha 3: Demon Siege
December 8, 2005
Video Game
Japan
Microsoft Windows
Operation Flashpoint: Cold War Crisis
October 28, 2005
Video Game
Europe
Xbox
Operation Flashpoint: Cold War Crisis
November 8, 2005
Video Game
North America
Xbox
Oppai Slider 2
November 25, 2005
Video Game
Japan
Microsoft Windows
Osu! Tatakae! Ouendan
July 28, 2005
Video Game
Japan
Nintendo DS
Otogi 2: Immortal Warriors
February 11, 2005
Video Game
Europe
Xbox
Outlaw Golf 2
February 4, 2005
Video Game
Europe
PlayStation 2, Xbox
Outlaw Golf 2
February 4, 2005
Video Game
Australia
PlayStation 2, Xbox
Outlaw Tennis
July 29, 2005
Video Game
Europe
Xbox
Outlaw Tennis
July 26, 2005
Video Game
North America
PlayStation 2, Xbox
Outlaw Volleyball
May 17, 2005
Video Game
North America
PlayStation 2
Pac-Man World 2
October 9, 2005
Video Game
Europe
Game Boy Advance
Pac-Man World 2
August 19, 2005
Video Game
North America
Game Boy Advance
Pac-Man World 2
October 9, 2005
Video Game
Australia
Game Boy Advance
Paradise
April 25, 2005
Video Game
North America
Microsoft Windows
Pathologic
June 9, 2005
Video Game
Europe
Microsoft Windows
Perfect Dark Zero
December 2, 2005
Video Game
International
Xbox 360
Perfect Dark Zero
November 17, 2005
Video Game
North America
Xbox 360
Peropero Candy
February 25, 2005
Video Game
Japan
Microsoft Windows
Peter Jackson's King Kong: The Official Game of the Movie
November 21, 2005
Video Game
Europe

Undefined

Peter Jackson's King Kong: The Official Game of the Movie
November 21, 2005
Video Game
North America

Undefined

Phantom Dust
March 15, 2005
Video Game
North America
Xbox
Phoenix Wright: Ace Attorney
October 12, 2005
Video Game
North America
Nintendo DS
Phoenix Wright: Ace Attorney
September 15, 2005
Video Game
Japan
Nintendo DS
Ping Pals
March 11, 2005
Video Game
Europe
Nintendo DS
Ping Pals
February 24, 2005
Video Game
Australia
Nintendo DS
Pizza Frenzy
February 2, 2005
Video Game
North America
Microsoft Windows
Playboy: The Mansion
March 4, 2005
Video Game
Europe
Microsoft Windows, PlayStation 2, Xbox
Playboy: The Mansion
January 25, 2005
Video Game
United States
Microsoft Windows, PlayStation 2, Xbox
Pocket Ping Pong 2005
May 18, 2005
Video Game
Europe
Gizmondo
Pokémon Dash
March 11, 2005
Video Game
Europe
Nintendo DS
Pokémon Dash
March 13, 2005
Video Game
North America
Nintendo DS
Pokémon Dash
April 7, 2005
Video Game
Australia
Nintendo DS
Pokémon Emerald Version
October 21, 2005
Video Game
Europe
Game Boy Advance
Pokémon Emerald Version
May 1, 2005
Video Game
North America
Game Boy Advance
Pokémon Emerald Version
June 9, 2005
Video Game
Australia
Game Boy Advance
Pokémon Mystery Dungeon: Blue Rescue Team
November 17, 2005
Video Game
Japan
Nintendo DS
Pokémon Mystery Dungeon: Red Rescue Team
November 17, 2005
Video Game
Japan
Game Boy Advance
Pokémon Trozei
October 20, 2005
Video Game
Japan
Nintendo DS
Pokémon XD: Gale of Darkness
November 11, 2005
Video Game
Europe
GameCube
Pokémon XD: Gale of Darkness
September 28, 2005
Video Game
North America
GameCube
Pokémon XD: Gale of Darkness
August 4, 2005
Video Game
Japan
GameCube
Polarium
March 11, 2005
Video Game
Europe
Nintendo DS
Polarium
April 18, 2005
Video Game
North America
Nintendo DS
Polarium
March 24, 2005
Video Game
Australia
Nintendo DS
Polarium Advance
October 13, 2005
Video Game
Japan
Game Boy Advance
Pong / Asteroids / Yars' Revenge
September 23, 2005
Bundle
Europe
Game Boy Advance
Pong / Asteroids / Yars' Revenge
August 21, 2005
Bundle
North America
Game Boy Advance
POSTAL 2
April 15, 2005
Video Game
North America
GNU/Linux
Power Rangers: S.P.D.
2005
Video Game

Undefined

Undefined

Prince of Persia: The Two Thrones
December 2, 2005
Video Game
International
PlayStation 2
Prince of Persia: The Two Thrones
December 1, 2005
Video Game
North America
PlayStation 2, Xbox, GameCube, Microsoft Windows, macOS
Prince of Persia: Warrior Within
October 13, 2005
Video Game
Japan
PlayStation 2, Xbox
Prison Tycoon
July 21, 2005
Video Game
North America
Microsoft Windows
Pro Evolution Soccer 4
February 1, 2005
Video Game
North America
PlayStation 2
Pro Evolution Soccer 4
March 24, 2005
Video Game
South Korea
Microsoft Windows
Pro Evolution Soccer 5
October 21, 2005
Video Game
Europe
PlayStation 2, Xbox
Pro Evolution Soccer 5
August 4, 2005
Video Game
Japan
Microsoft Windows, PlayStation 2
Pro Evolution Soccer 5
October 6, 2005
Video Game
South Korea
PlayStation Portable
Project Gotham Racing 3
December 2, 2005
Video Game
Europe
Xbox 360
Project Gotham Racing 3
November 22, 2005
Video Game
North America
Xbox 360
Project Snowblind
March 4, 2005
Video Game
Europe
PlayStation 2
Project Snowblind
February 23, 2005
Video Game
North America
PlayStation 2, Xbox
Psychonauts
April 19, 2005
Video Game
North America
Microsoft Windows
Pure Pure Mimi to Shippo no Monogatari
January 27, 2005
Video Game
Japan
PlayStation 2
Quake 4
November, 2005
Video Game
North America
Microsoft Windows, Xbox 360
Quarth
2005
Video Game
Europe

i-mode

Quest of Persia: The End of Innocence
September 25, 2005
Video Game
North America
Microsoft Windows
Radirgy
October 13, 2005
Video Game
Japan
Arcade
Rag Doll Kung Fu
October 12, 2005
Video Game
International
Microsoft Windows
Ragnarok Online
February, 2005
Video Game
Brazil
Microsoft Windows
RalliSport Challenge 2
May 21, 2005
Video Game
Europe
Xbox
Ratchet: Deadlocked
November 18, 2005
Video Game
Europe
PlayStation 2
Ratchet: Deadlocked
October 25, 2005
Video Game
North America
PlayStation 2
Ratchet: Deadlocked
November 24, 2005
Video Game
Australia
PlayStation 2
Ratchet: Deadlocked
November 23, 2005
Video Game
Japan
PlayStation 2
Rayman DS
March 11, 2005
Video Game
Europe
Nintendo DS
Rayman DS
March 24, 2005
Video Game
North America
Nintendo DS
Rayman DS
March, 2005
Video Game
Japan
Nintendo DS
Rayman: Hoodlum's Revenge
March 18, 2005
Video Game
Europe
Game Boy Advance
Rayman: Hoodlum's Revenge
March 15, 2005
Video Game
North America
Game Boy Advance
Raze's Hell
April 21, 2005
Video Game
North America
Xbox
Rebelstar: Tactical Command
September 6, 2005
Video Game
North America
Game Boy Advance
Resident Evil 4
March 18, 2005
Video Game
Europe
GameCube
Resident Evil 4
January 11, 2005
Video Game
North America
GameCube
Resident Evil 4
March 24, 2005
Video Game
Australia
GameCube
Resident Evil 4
January 27, 2005
Video Game
Japan
GameCube
Retro Atari Classics
March 11, 2005
Bundle
Europe
Nintendo DS
Retro Atari Classics
March 16, 2005
Bundle
North America
Nintendo DS
Retro Atari Classics
June 30, 2005
Bundle
Japan
Nintendo DS
Ricochet Lost Worlds
November, 2005
Video Game
International
macOS
Ridge Racer 6
November 22, 2005
Video Game
North America
Xbox 360
Ridge Racer 6
December 10, 2005
Video Game
Japan
Xbox 360
Riven
December 20, 2005
Video Game
North America

Pocket PC

Riviera: The Promised Land
June 28, 2005
Video Game
North America
WonderSwan Color, Game Boy Advance, PlayStation Portable
Rockman EXE The Medal Operation
2005
Video Game

Undefined

Undefined

Rocky (2002)
February 10, 2005
Video Game
Europe
Game Boy Advance
RPM Tuning
June 3, 2005
Video Game
Europe
Xbox
RPM Tuning
February 16, 2005
Video Game
North America
Xbox
Rugby 2005
March 18, 2005
Video Game
Europe
PlayStation 2, Xbox, Microsoft Windows
Rugby 2005
March 8, 2005
Video Game
North America
PlayStation 2, Xbox
Rugby League 2
December 9, 2005
Video Game
Australia
PlayStation 2, Xbox, Microsoft Windows
Sakura Wars: So Long, My Love
July 7, 2005
Video Game
Japan
PlayStation 2
Samurai Shodown VI
2005
Video Game

Undefined

Undefined

SAS Anti-Terror Force
October 4, 2005
Video Game
Europe

Undefined

SAS Anti-Terror Force
November, 2005
Video Game
North America

Undefined

Save Mary
July 24, 2005
Video Game
North America
Atari Flashback 2
Scaler
January 28, 2005
Video Game
Europe
GameCube
Scarface: The World is Yours
November, 2005
Video Game
North America
Microsoft Windows, PlayStation 2, Xbox
Scooby-Doo! Unmasked
September 16, 2005
Video Game
Europe
Xbox
Scooby-Doo! Unmasked
September 12, 2005
Video Game
North America
Game Boy Advance, GameCube, PlayStation 2, Xbox
Serious Sam II
October 11, 2005
Video Game
North America
Microsoft Windows
Seven: Sympathy for the Fairies
June 3, 2005
Video Game
Japan
Microsoft Windows
Shadow Hearts: Covenant
March 11, 2005
Video Game
Europe
PlayStation 2
Shadow Hearts: Covenant
March 15, 2005
Video Game
Australia
PlayStation 2
Shadow of the Colossus
October 18, 2005
Video Game
North America
PlayStation 2
Shadow of the Colossus
October 27, 2005
Video Game
Japan
PlayStation 2
Shadow the Hedgehog
November 18, 2005
Video Game
Europe
GameCube, PlayStation 2, Xbox
Shadow the Hedgehog
November 15, 2005
Video Game
North America
GameCube, PlayStation 2, Xbox
Shadow the Hedgehog
December 15, 2005
Video Game
Japan
GameCube, PlayStation 2, Xbox
Shadow Warrior: Wanton Destruction
September 9, 2005
Expansion
North America
DOS
Shaman King: Legacy of the Spirits - Soaring Hawk
February 8, 2005
Video Game
North America
Game Boy Advance
Shaman King: Legacy of the Spirits - Sprinting Wolf
February 8, 2005
Video Game
North America
Game Boy Advance
Sharin no Kuni, Himawari no Shōjo
November 25, 2005
Video Game
Japan
Microsoft Windows
Shattered Union
October 21, 2005
Video Game
Europe
Microsoft Windows, Xbox
Shattered Union
October 17, 2005
Video Game
North America
Microsoft Windows, Xbox
Shin Megami Tensei: NINE
December 5, 2005
Video Game
Japan
Xbox
Shin Megami Tensei: Nocturne
July 1, 2005
Video Game
Europe
PlayStation 2
Shoot the Bullet
December 30, 2005
Video Game
International
Microsoft Windows
Shrek SuperSlam
November 18, 2005
Video Game
Europe
PlayStation 2, Xbox, GameCube, Nintendo DS, Game Boy Advance, Microsoft Windows
Shrek SuperSlam
October 25, 2005
Video Game
North America
PlayStation 2, Xbox, GameCube, Nintendo DS, Game Boy Advance
Sid Meier's Civilization IV
November 4, 2005
Video Game
Europe
Microsoft Windows, macOS
Sid Meier's Civilization IV
October 25, 2005
Video Game
North America
Microsoft Windows, macOS
Sid Meier's Pirates! (2004)
July 11, 2005
Video Game
International
Steam, Xbox
Sigma Star Saga
August 16, 2005
Video Game
North America
Game Boy Advance
Silent Hunter III
March 18, 2005
Video Game
Europe
Microsoft Windows
Silent Hunter III
March 15, 2005
Video Game
North America
Microsoft Windows
Sly 2: Band of Thieves
June 16, 2005
Video Game
Japan
PlayStation 2
Sly 3: Honor Among Thieves
September 26, 2005
Video Game
North America
PlayStation 2, PlayStation 3
Sly 3: Honor Among Thieves
November 18, 2005
Video Game
Europe
PlayStation 2, PlayStation 3
Sniper Elite
September 30, 2005
Video Game
Europe
Microsoft Windows, PlayStation 2, Xbox
Sniper Elite
October 18, 2005
Video Game
North America
Microsoft Windows, PlayStation 2, Xbox
Snowboard Kids DS
November 22, 2005
Video Game
North America
Nintendo DS
Snowboard Kids DS
November 24, 2005
Video Game
Japan
Nintendo DS
SOCOM 3: U.S. Navy SEALs
April 21, 2005
Video Game
Europe
PlayStation 2
SOCOM 3: U.S. Navy SEALs
October 11, 2005
Video Game
North America
PlayStation 2
SOCOM: U.S. Navy SEALs Fireteam Bravo
November 8, 2005
Video Game
North America
PlayStation Portable
Soldier Elite
August 5, 2005
Video Game
North America
Windows
Sonic Gems Collection
September 30, 2005
Video Game
Europe
GameCube, PlayStation 2
Sonic Gems Collection
August 16, 2005
Video Game
North America
GameCube
Sonic Gems Collection
August 11, 2005
Video Game
Japan
GameCube, PlayStation 2
Sonic Mega Collection Plus
February 4, 2005
Video Game
Europe
PlayStation 2, Xbox
Sonic Mega Collection Plus
March 20, 2005
Video Game
Australia
PlayStation 2, Xbox
Sonic Rush
November 18, 2005
Video Game
Europe
Nintendo DS
Sonic Rush
November 15, 2005
Video Game
North America
Nintendo DS
Sonic Rush
November 23, 2005
Video Game
Japan
Nintendo DS
Spartan: Total Warrior
October 27, 2005
Video Game
Europe
PlayStation 2, Xbox, GameCube
Spartan: Total Warrior
October 7, 2005
Video Game
North America
PlayStation 2, Xbox, GameCube
Spectral Souls: Resurrection of the Ethereal Empires
October 22, 2005
Video Game
Japan
PSP
Spider-Man 2
March 11, 2005
Video Game
Europe
Nintendo DS
Spider-Man 2
March 23, 2005
Video Game
North America
PlayStation Portable
Spider-Man 2
February 24, 2005
Video Game
Australia
Nintendo DS
Spider-Man and Friends
2005
Video Game

Undefined

Undefined

Spikeout: Battle Street
March 24, 2005
Video Game
Japan
Xbox
Spikeout: Battle Street
March 29, 2005
Video Game
North America
Xbox
Spikeout: Battle Street
April 22, 2005
Video Game
Europe
Xbox
Splat Magazine Renegade Paintball
October 11, 2005
Video Game
Europe
Xbox
Splat Magazine Renegade Paintball
October 11, 2005
Video Game
North America
Xbox
Splat Magazine Renegade Paintball
October 11, 2005
Video Game
United Kingdom
Xbox
Sprung
March 11, 2005
Video Game
Europe
Nintendo DS
Spyro: Shadow Legacy
November 4, 2005
Video Game
Europe
Nintendo DS
Spyro: Shadow Legacy
October 14, 2005
Video Game
North America
Nintendo DS
Spyro: Shadow Legacy
November 18, 2005
Video Game
Australia
Nintendo DS
SSX On Tour
October 21, 2005
Video Game
Europe
PlayStation 2, Xbox, GameCube
SSX On Tour
October 11, 2005
Video Game
North America
PlayStation 2, PlayStation Portable, Xbox, GameCube
SSX On Tour
November 17, 2005
Video Game
Japan
GameCube
Stalingrad
March, 2005
Video Game

Undefined

Undefined

Star Fox Assault
April 29, 2005
Video Game
Europe
GameCube
Star Fox Assault
February 14, 2005
Video Game
North America
GameCube
Star Fox Assault
June 16, 2005
Video Game
Australia
GameCube
Star Fox Assault
February 24, 2005
Video Game
Japan
GameCube
Star Wars Episode III: Revenge of the Sith
May 4, 2005
Video Game
International
PlayStation 2, Xbox, Game Boy Advance, Nintendo DS,

Mobile

, PlayStation
Star Wars: Battlefront
2005
Video Game
North America
macOS
Star Wars: Battlefront II
October 31, 2005
Video Game
Europe
PlayStation 2, PlayStation Portable, Microsoft Windows, Xbox
Star Wars: Battlefront II
November 1, 2005
Video Game
North America
PlayStation 2, PlayStation Portable, Microsoft Windows, Xbox
Star Wars: Knights of the Old Republic II - The Sith Lords
February 11, 2005
Video Game
Europe
Xbox
Star Wars: Knights of the Old Republic II - The Sith Lords
February 8, 2005
Video Game
North America
Microsoft Windows
Star Wars: Knights of the Old Republic II - The Sith Lords
February 15, 2005
Video Game
Australia
Xbox
Star Wars: Republic Commando
March 1, 2005
Video Game
North America

Undefined

Stella Deus: The Gate of Eternity
April 26, 2005
Video Game
North America
PlayStation 2
Sticky Balls
May 24, 2005
Video Game
Europe
Gizmondo
Sticky Balls
October 22, 2005
Video Game
North America
Gizmondo
Still Life
June 3, 2005
Video Game
Europe
Microsoft Windows, Xbox
Still Life
April 15, 2005
Video Game
North America
Microsoft Windows
Strike Force Bowling
March 25, 2005
Video Game
Europe
PlayStation 2
Strike Force Bowling
March 20, 2005
Video Game
North America
GameCube
Stronghold 2
April 28, 2005
Video Game
North America
Windows
Submachine 1: The Basement
2005
Video Game

Undefined

Undefined

Sudeki
July 14, 2005
Video Game
Japan

Undefined

Suikoden Tactics
November 8, 2005
Video Game
North America
PlayStation 2
Suikoden Tactics
September 22, 2005
Video Game
Japan
PlayStation 2
Super Mario 64 DS
March 11, 2005
Video Game
Europe
Nintendo DS
Super Mario 64 DS
February 24, 2005
Video Game
Australia
Nintendo DS
Super Mario Strikers
November 18, 2005
Video Game
Europe
GameCube
Super Mario Strikers
December 5, 2005
Video Game
North America
GameCube
Super Monkey Ball Deluxe
March 15, 2005
Video Game
North America
Xbox, PlayStation 2
Super Princess Peach
October 20, 2005
Video Game
Japan
Nintendo DS
Super Robot Taisen: Original Generation 2
February 3, 2005
Video Game
Japan
Game Boy Advance
Super Robot Wars Alpha 3
July 28, 2005
Video Game
Japan
PlayStation 2
Super Robot Wars Judgement
2005
Video Game

Undefined

Undefined

Sword of Jade: Parallel Dreams
July 30, 2005
Video Game
North America
Microsoft Windows
Tabloid Tycoon
April 25, 2005
Video Game
North America
Microsoft Windows
Taito Legends
October 14, 2005
Video Game
Europe
PlayStation 2, Xbox, Microsoft Windows
Taito Legends
October 25, 2005
Video Game
North America
PlayStation 2, Xbox
Tak 2: The Staff of Dreams
March 24, 2005
Video Game
Europe
GameCube, Xbox, PlayStation 2, Game Boy Advance
Tak 2: The Staff of Dreams
March 24, 2005
Video Game
Australia
PlayStation 2, Game Boy Advance
Tak and the Power of Juju
March 12, 2005
Video Game
Europe

Undefined

Tao's Adventure: Curse of the Demon Seal
December 22, 2005
Video Game
Japan
Nintendo DS
Tecmo Classic Arcade
October 21, 2005
Video Game
Europe
Xbox
Tecmo Classic Arcade
September 14, 2005
Video Game
North America
Xbox
Tecmo Classic Arcade
October 27, 2005
Video Game
Japan
Xbox
Teenage Mutant Ninja Turtles 2: Battle Nexus
March 4, 2005
Video Game
Europe
PlayStation 2, Microsoft Windows
Teenage Mutant Ninja Turtles 2: Battle Nexus
March 4, 2005
Video Game
Australia
Microsoft Windows
Teenage Mutant Ninja Turtles: Mutant Melee
October 14, 2005
Video Game
Europe
PlayStation 2
Teenage Mutant Ninja Turtles: Mutant Melee
March 15, 2005
Video Game
North America
Xbox
Teenage Mutant Ninja Turtles: Mutant Melee
October 14, 2005
Video Game
Australia
PlayStation 2
Tekken 5
June 24, 2005
Video Game
Europe
PlayStation 2
Tekken 5
February 24, 2005
Video Game
North America
PlayStation 2
Tekken 5
March 31, 2005
Video Game
Japan
PlayStation 2
Tekken 5: Dark Resurrection
December, 2005
Video Game
Japan
Arcade
That's So Raven 2: Supernatural Style
August 21, 2005
Video Game
North America
Game Boy Advance
The Adventures of Jimmy Neutron Boy Genius: Attack of the Twonkies
February 4, 2005
Video Game
Europe
Game Boy Advance
The Bard's Tale (2004)
March 24, 2005
Video Game
Europe
PlayStation 2, Xbox
The Bard's Tale (2004)
June 27, 2005
Video Game
North America
Microsoft Windows
The Bible Game
October 23, 2005
Video Game
North America
PlayStation 2, Xbox
The Chronicles of Narnia: The Lion, The Witch and The Wardrobe
November 25, 2005
Video Game
Europe
PlayStation 2
The Chronicles of Narnia: The Lion, The Witch and The Wardrobe
November 14, 2005
Video Game
North America
PlayStation 2
The Fairly OddParents: Shadow Showdown
April 8, 2005
Video Game
Europe
GameCube, Game Boy Advance
The House of the Dead 4
October 30, 2005
Video Game
Japan
Arcade
The House of the Dead III
February 11, 2005
Video Game
Europe
Microsoft Windows
The Incredibles
June 17, 2005
Video Game
Australia
GameCube
The Incredibles: Rise of the Underminer
November 11, 2005
Video Game
Europe
Game Boy Advance, Microsoft Windows, macOS, PlayStation 2, Xbox
The Incredibles: Rise of the Underminer
October 24, 2005
Video Game
North America
Microsoft Windows, macOS
The King of Fighters Neowave
July 21, 2005
Video Game
Japan
PlayStation 2
The Legend of Zelda: Four Swords Adventures
January 7, 2005
Video Game
Europe
GameCube
The Legend of Zelda: The Minish Cap
January 10, 2005
Video Game
North America
Game Boy Advance
The Legend of Zelda: The Minish Cap
April 7, 2005
Video Game
Australia
Game Boy Advance
The Lord of the Rings: Tactics
November 8, 2005
Video Game
North America
PlayStation Portable
The Matrix Online
April 15, 2005
Video Game
Europe
Microsoft Windows
The Matrix Online
March 22, 2005
Video Game
North America
Microsoft Windows
The Matrix: Path of Neo
November 11, 2005
Video Game
Europe
PlayStation 2, Xbox
The Matrix: Path of Neo
November 7, 2005
Video Game
North America
Microsoft Windows, PlayStation 2, Xbox
The Movies
November 11, 2005
Video Game
Europe
Microsoft Windows
The Movies
November 8, 2005
Video Game
North America
Microsoft Windows
The Nightmare Before Christmas: Oogie's Revenge
September 30, 2005
Video Game
Europe
PlayStation 2, Xbox
The Nightmare Before Christmas: Oogie's Revenge
October 10, 2005
Video Game
North America
PlayStation 2, Xbox
The Punisher
March 4, 2005
Video Game
Europe
PlayStation 2, Xbox, Microsoft Windows
The Punisher
January 16, 2005
Video Game
North America
PlayStation 2, Xbox, Microsoft Windows
The Rub Rabbits!
October 20, 2005
Video Game
Japan
Nintendo DS
The Settlers: Heritage of Kings
February 18, 2005
Video Game
Europe
Microsoft Windows
The Sims 2
November 4, 2005
Video Game
Europe
Game Boy Advance, GameCube, Nintendo DS, PlayStation 2, Xbox
The Sims 2
June 17, 2005
Video Game
North America
OS X
The SpongeBob SquarePants Movie Game
July 16, 2005
Video Game
International

Mobile

The SpongeBob SquarePants Movie Game
February 6, 2005
Video Game
Europe
Microsoft Windows
The SpongeBob SquarePants Movie Game
February 6, 2005
Video Game
North America
Microsoft Windows, Game Boy Advance, GameCube, PlayStation 2, Xbox
The Urbz: Sims in the City
March 11, 2005
Video Game
Europe
Nintendo DS
The Urbz: Sims in the City
January 13, 2005
Video Game
Japan
GameCube, PlayStation 2
ThinkTanks
June 9, 2005
Video Game
International
Xbox
Tick! Tack!
October 16, 2005
Video Game
Japan
Microsoft Windows
Tiger Woods PGA Tour 06
October 7, 2005
Video Game
Europe
GameCube, Microsoft Windows, PlayStation 2, Xbox
Tiger Woods PGA Tour 06
September 20, 2005
Video Game
North America
GameCube, Microsoft Windows, PlayStation 2, Xbox
TimeSplitters: Future Perfect
March 24, 2005
Video Game
Europe
PlayStation 2, GameCube, Xbox
TimeSplitters: Future Perfect
March 21, 2005
Video Game
North America
PlayStation 2, GameCube, Xbox
TimeSplitters: Future Perfect
March 28, 2005
Video Game
Australia
PlayStation 2, GameCube, Xbox
Tom Clancy's Ghost Recon 2
March 24, 2005
Video Game
Europe
GameCube
Tom Clancy's Ghost Recon 2
March 15, 2005
Video Game
North America
GameCube
Tom Clancy's Ghost Recon 2
August 18, 2005
Video Game
Japan
PlayStation 3
Tom Clancy's Ghost Recon 2: Summit Strike
August 26, 2005
Video Game
Europe
Xbox
Tom Clancy's Ghost Recon 2: Summit Strike
August 3, 2005
Video Game
North America
Xbox
Tom Clancy's Ghost Recon: Jungle Storm
June 23, 2005
Video Game
Japan
PlayStation 2
Tom Clancy's Rainbow Six 3
March 10, 2005
Video Game
Japan
PlayStation 2
Tom Clancy's Rainbow Six 3: Iron Wrath
June 9, 2005
Expansion
North America
Windows
Tom Clancy's Rainbow Six: Lockdown
September 6, 2005
Video Game
North America
PlayStation 2, Xbox
Tomb Raider: Elixir of Life
March 31, 2005
Video Game
North America

Mobile

Tony Hawk's American Wasteland
October 28, 2005
Video Game
Europe
Xbox, PlayStation 2, GameCube, Microsoft Windows
Tony Hawk's American Wasteland
October 18, 2005
Video Game
North America
Xbox, PlayStation 2, GameCube, Microsoft Windows
Tony Hawk's American Sk8land
November 18, 2005
Video Game
Europe
Game Boy Advance, Nintendo DS
Tony Hawk's American Sk8land
October 18, 2005
Video Game
North America
Game Boy Advance
Top Spin
September 26, 2005
Video Game
North America
PlayStation 2
Tork: Prehistoric Punk
January 12, 2005
Video Game
North America
Xbox
Totally Spies!
November 15, 2005
Video Game
North America
Game Boy Advance
Tower Bloxx
2005
Video Game

Undefined

Undefined

Toy Golf
October 22, 2005
Video Game
North America
Gizmondo
TrackMania Sunrise
May, 2005
Video Game
International
Microsoft Windows
TrackMania Sunrise
April, 2005
Video Game
United Kingdom
Microsoft Windows
Trapt
November 1, 2005
Video Game
North America
PlayStation 2
Trapt
June 30, 2005
Video Game
Japan
PlayStation 2
Trauma Center: Under the Knife
October 4, 2005
Video Game
North America
Nintendo DS
Trauma Center: Under the Knife
June 30, 2005
Video Game
Japan
Nintendo DS
True Crime: New York City
November 25, 2005
Video Game
Europe
PlayStation 2, Xbox, GameCube
True Crime: New York City
November 16, 2005
Video Game
North America
PlayStation 2, Xbox, GameCube
True Crime: Streets of LA
March 1, 2005
Video Game
North America
macOS
Twisted Metal: Head-On
November 4, 2005
Video Game
Europe

Undefined

Twisted Metal: Head-On
March 24, 2005
Video Game
North America

Undefined

Ty the Tasmanian Tiger 3: Night of the Quinkan
October 11, 2005
Video Game
North America
Game Boy Advance, GameCube, PlayStation 2, Xbox
UFO: Aftershock
October 21, 2005
Video Game
Europe
Microsoft Windows, Xbox
UFO: Aftershock
November 23, 2005
Video Game
North America
Microsoft Windows, Xbox
Ultima V: Lazarus
December 22, 2005
Mod
International
Microsoft Windows, macOS
Ultimate Spider-Man
September 22, 2005
Video Game
North America
PlayStation 2, GameCube, Xbox, Game Boy Advance, Nintendo DS, Microsoft Windows
Ultimate Spider-Man
October 14, 2005
Video Game
United Kingdom
PlayStation 2, GameCube, Xbox, Game Boy Advance, Nintendo DS, Microsoft Windows
Under Defeat
October 27, 2005
Video Game
Japan
Arcade
Under Siege
2005
Video Game

Undefined

Undefined

Unreal Championship 2: The Liandri Conflict
April 18, 2005
Video Game
North America
Xbox
Vietcong 2
November 4, 2005
Video Game
Europe
Microsoft Windows
Vietcong 2
October 24, 2005
Video Game
North America
Microsoft Windows
Vietcong 2
December 22, 2005
Video Game
Japan
Microsoft Windows
Viewtiful Joe 2
April 1, 2005
Video Game
Europe
GameCube, PlayStation 2
Viewtiful Joe 2
April 15, 2005
Video Game
Australia
GameCube, PlayStation 2
Viewtiful Joe: Double Trouble
November 8, 2005
Video Game
North America
Nintendo DS
Viewtiful Joe: Double Trouble
November 2, 2005
Video Game
Japan
Nintendo DS
Viewtiful Joe: Red Hot Rumble
November 8, 2005
Video Game
North America
GameCube
Viewtiful Joe: Red Hot Rumble
September 29, 2005
Video Game
Japan
GameCube
Wallace & Gromit: The Curse of the Were-Rabbit
October 14, 2005
Video Game
Europe
PlayStation 2, Xbox
Wallace & Gromit: The Curse of the Were-Rabbit
October 7, 2005
Video Game
North America
PlayStation 2, Xbox
War World
August 2, 2005
Video Game
Europe
Windows
Warhammer 40,000: Dawn of War - Winter Assault
September 23, 2005
Expansion
North America
Microsoft Windows
WarioWare: Touched!
March 11, 2005
Video Game
Europe
Nintendo DS
WarioWare: Touched!
February 14, 2005
Video Game
North America
Nintendo DS
WarioWare: Touched!
February 24, 2005
Video Game
Australia
Nintendo DS
WarioWare: Twisted!
May 23, 2005
Video Game
North America
Game Boy Advance
WarioWare: Twisted!
May 19, 2005
Video Game
Australia
Game Boy Advance
Warriors Online
July 22, 2005
Video Game
Japan
Microsoft Windows
WarTech: Senko no Ronde
April 26, 2005
Video Game
Japan
Arcade
We ♥ Katamari
September 20, 2005
Video Game
North America
PlayStation 2
We ♥ Katamari
July 6, 2005
Video Game
Japan
PlayStation 2
We ♥ Katamari
July 28, 2005
Video Game
South Korea
PlayStation 2
Weird Worlds: Return to Infinite Space
November 4, 2005
Video Game
North America
Microsoft Windows
Wik and the Fable of Souls
December 14, 2005
Video Game
North America
Xbox Live Arcade
Without Warning
October 28, 2005
Video Game
Europe
PlayStation 2, Xbox
Without Warning
November 1, 2005
Video Game
North America
PlayStation 2, Xbox
World of Warcraft
February 11, 2005
Video Game
Europe
Microsoft Windows, macOS
Worms 3D
March 1, 2005
Video Game
North America
Xbox
WRC: Rally Evolved
October 28, 2005
Video Game
Europe
PlayStation 2
WWE Day of Reckoning
January 13, 2005
Video Game
Japan
GameCube
WWE Day of Reckoning 2
August 29, 2005
Video Game
North America
GameCube
WWE Day of Reckoning 2
January 13, 2005
Video Game
Japan
GameCube
WWE WrestleMania 21
May 27, 2005
Video Game
Europe
Xbox
WWE WrestleMania 21
April 20, 2005
Video Game
North America
Xbox
X-Men Legends II: Rise of Apocalypse
December 19, 2005
Video Game
International

Mobile

X-Men Legends II: Rise of Apocalypse
October 7, 2005
Video Game
Europe
PlayStation 2
X-Men Legends II: Rise of Apocalypse
September 20, 2005
Video Game
North America
GameCube, Microsoft Windows, PlayStation 2, Xbox
Yager
February 4, 2005
Video Game
North America
Microsoft Windows
Yogurting
November 11, 2005
Video Game
Japan
Microsoft Windows
Yogurting
May 10, 2005
Video Game
South Korea
Microsoft Windows
Yoshi Topsy-Turvy
April 22, 2005
Video Game
Europe
Game Boy Advance
Yoshi Topsy-Turvy
June 13, 2005
Video Game
North America
Game Boy Advance
Yoshi Touch & Go
May 6, 2005
Video Game
Europe
Nintendo DS
Yoshi Touch & Go
March 14, 2005
Video Game
North America
Nintendo DS
Yoshi Touch & Go
May 19, 2005
Video Game
Australia
Nintendo DS
Yoshi Touch & Go
January 27, 2005
Video Game
Japan
Nintendo DS
Ys IV: Mask of the Sun
May 26, 2005
Video Game
Japan
PlayStation 2
Ys: The Ark of Napishtim
September 16, 2005
Video Game
Europe
PlayStation 2
Ys: The Ark of Napishtim
February 22, 2005
Video Game
North America
PlayStation 2
Ys: The Ark of Napishtim
March 10, 2005
Video Game
Japan
PlayStation 2
Hardware releases
[
]
| | | | |
| --- | --- | --- | --- |
| Name | Release Date | Category | Region(s) |
| Game Boy micro | October 2, 2005 | Handheld | North America |
| Game Boy micro | September 13, 2005 | Handheld | Japan |
| Game Boy micro | November 4, 2005 | Handheld | Europe |
| Nintendo DS | March 11, 2005 | Handheld | Europe |
| Nintendo DS | February 24, 2005 | Handheld | Australia |
| Nintendo DS | February 24, 2005 | Handheld | New Zealand |
| PlayStation Portable | September 1, 2005 | Handheld Console | Asia |
| PlayStation Portable | September 1, 2005 | Handheld Console | Europe |
| PlayStation Portable | March 24, 2005 | Handheld Console | North America |
| PlayStation Portable | September 1, 2005 | Handheld Console | Australia |
| PlayStation Portable | March 24, 2005 | Handheld Console | Brazil |
| PlayStation Portable | March 24, 2005 | Handheld Console | Indonesia |
| Xbox 360 | December 10, 2005 | Home Console | Japan |
| Xbox 360 | November 22, 2005 | Home Console | North America |
| Xbox 360 | December 2, 2005 | Home Console | Europe |
| Xbox 360 Wireless Controller | December 10, 2005 | Controller | Japan |
| Xbox 360 Wireless Controller | November 22, 2005 | Controller | North America |
| Xbox 360 Wireless Controller | December 2, 2005 | Controller | Europe |