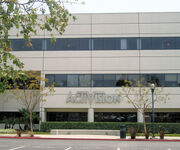 Activision Blizzard, Inc., formerly Activision, Inc. is the American holding company for Activision and Blizzard Entertainment, majority owned by French conglomerate Vivendi SA. The company is the result of a merger between Activision and Vivendi Games, announced on December 2, 2007,[8] in a deal worth USD$18.8 billion.[9] The deal closed July 9, 2008. The company believed that the merging of the two companies would create "the world's largest and most profitable pure-play video game publisher".[10] It believes that it is the only publisher that has "leading market positions across all categories" of the video game industry.[10]
History
[
]
In December 2007, Activision announced that the company and its assets would merge with fellow games developer and publisher, Vivendi Games. René Penisson, formerly a member of the Management Board of Vivendi and Chairman of Vivendi Games, would serve as Chairman of Activision Blizzard. Bobby Kotick, once head of Activision, was announced to become President and CEO of Activision Blizzard.
In April 2008, the European Commission permitted the merger to take place. The Commission essentially needed to approve that there weren't any antitrust issues in the merger deal.[11] On July 8, 2008, Activision announced that stockholders had agreed to merge. The deal closed on July 9, 2008, and the total transaction was an estimated $18.9 billion.[2] Vivendi was the majority shareholder, with a 52% stake in the company.[2] The rest of the shares were held by institutional and private investors and continue to be traded on the NASDAQ stock market, for the first 10 trading days post closing as ATVID, and subsequently as ATVI. Jean-Bernard Levy will replace René Penisson as chairman of Activision Blizzard.[12]
Activision and Blizzard Entertainment still exist as separate entities.[13] The holding company does not publish games under its central name and instead uses its subsidiaries to publish games, similar to how Vivendi Games operated before the merger.[14] The merger makes Activision parent company of Vivendi Games former divisions.
While Blizzard retained its autonomy and corporate leadership, other Vivendi Games divisions did not. For example, long-time label Sierra ceased operation. With the merger, there was a rumor that if a Sierra product did not meet Activision's requirements, they "won't likely be retained."[15] Some of Sierra's games such as Crash Bandicoot, Spyro the Dragon and Prototype have been retained and are now published by Activision.[16] Also, due to the closure of Sierra, the Sierra Community Forums servers have been shut down as of the 1st of November 2008.[17]
Results of the merger
[
]
Shortly after the conclusion of the merger, Thomas Tippl, CFO, alluded to future layoffs, stating that the company "will exterminate some of our overlap through redundancy – but we will treat people fairly and respectfully in that process."[18] Also, games such as Brütal Legend, Ghostbusters: The Video Game, The Chronicles of Riddick: Assault on Dark Athena, World in Conflict: Soviet Assault, 50 Cent: Blood on the Sand, Zombie Wranglers, Leisure Suit Larry: Box Office Bust and Wet were all dropped from the publisher to be picked up by other companies.
Studios
[
]
Current
[
]
Activision in

Santa Monica, California

, founded on October 1, 1979, merged with Vivendi Games on July 9, 2008.
Beenox in

Quebec, Canada

, founded in May 2000, acquired on May 25, 2005.
Bizarre Creations in

Liverpool, England

,[19] founded as

Raising Hell Productions

in 1987 and changed name in 1994, acquired on September 26, 2007.
Blizzard Entertainment in

Irvine, California

, founded in February 1991 as Silicon & Synapse, acquired in 1998 by

Vivendi

, merged with Activision on July 9, 2008.
Budcat Creations in

Iowa City, IA

, founded September 2000 in

Las Vegas, Nevada

, acquired on November 10, 2008.
DemonWare in both

Dublin, Republic of Ireland

, and

Vancouver, British Columbia, Canada

, founded in 2003, acquired on May 2007.
FreeStyleGames in

Leamington, England, United Kingdom

, founded in 2002, acquired September 12, 2008.
High Moon Studios in

San Diego, California

, founded as

Sammy Entertainment

in April 2001, acquired by Vivendi Games in January 2006.
Neversoft in

Los Angeles, California

, founded in July 1994, acquired October 1999.
Radical Entertainment in

Vancouver, Canada

, founded in 1991, acquired in 2005.
Raven Software in

Madison, Wisconsin

, founded in 1990, acquired in 1997.

Seven Studios

in

Los Angeles, California

, founded in 1999, acquired in April 2009.
Sledgehammer Games in

Foster City, California

, founded November 17, 2009
Toys For Bob in

Novato, California

, founded in 1989, acquired May 3, 2005.
Treyarch in

Santa Monica, California

, founded in 1996, acquired 2001.
Vicarious Visions in

Albany, New York

, founded in 1990, acquired January 2005.
Defunct
[
]
Sold
[
]
References
[
]
External Links
[
]