Assassin's Creed Brotherhood is a third person action-adventure video game in development by Ubisoft for Microsoft Windows, PlayStation 3 and Xbox 360. The game is set to be released in November 2010 and is a direct-sequel to Assassin's Creed II with Ezio Auditore returning as the main protagonist.
It is the first game in the series to feature multiplayer mode.
Gameplay
[
]
Assassin's Creed Brotherhood will keep its sandbox style gameplay in an open world of Rome. Like the previous instalments, the gameplay's core mechanics are based on Parkour movements, crowd-blending stealth, assassinations and melee fighting system. However for the first time in the series, the game offers a multiplayer mode alongside 15 hours of singleplayer campaign.[2]
Single-player
[
]
The player once again controls Ezio Auditore through the genetic memory of Desmond Miles using the Animus 2.0 (which is the game's memory interface). It's been confirmed there will be more modern day sequences featuring Desmond.[2] As a Master Assassin, Ezio will have to reorganize his Brotherhood in Rome to fight against the Templars. Hence the new management system: the player can recruit new members by completing missions around the city, send them to assignments around Europe or call them for support during missions (if they are not already occupied). Tasking the novice Assassins is essential to make them gain experience, and the player will be able to customize their appearance, skills and weapon training by spending the skill points they've earned. Although Ezio is a Master Assassin in this episode, his progression is not over and he will also have to master new gadgets, such as Leonardo da Vinci's parachute, which can be used when jumping from tall buildings.[2]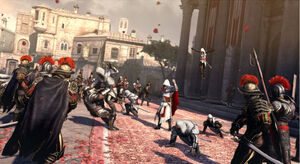 The player will have to rebuild Rome, fallen into ruins due to the corrupted ruling of the Templars over the Papal States and concentrating all the wealth in the Vatican. Just like the village of Monteriggioni in Assassin's Creed II, the player will be able to invest in the city to witness its evolution and unlock rewards.[3] The player will have to conquer and destroy Borgia's towers to free city zones from the family's influence.[2] Completing this unlocks new missions and opportunities. Rome is the biggest city ever created after the first two installments (Rome is three times bigger than Florence from Assassin's Creed II[2]) and includes five varied districts: Vatican, Downtown, Tiber, Country and Antique. No other cities or locations other than Rome have currently been announced as explorable, although Monteriggioni will appear at the beginning of the game, and Florence has been seen in multiplayer screen-shots.
The combat system has been upgraded to be faster and more dynamic. Striking first and offensive actions will be more deadly in Brotherhood than previous games where counter-attacks were the most efficient. This made the player wait until the AI strikes which slowed down the pace of fighting. The AI in this game is thus more aggressive and enemies can attack simultaneously. To dispatch them, Ezio can use melee and ranged weapons at the same time as well, introducing the hidden pistol in combat. It has been shown that Ezio can throw axes and spears toward his enemies. There are new enemy archetypes in addition to those seen in Assassin's Creed II such as horsemen, arquebusiers, papal guards and others. New ways to kill have been added, one technique shown has been where Ezio stabs his enemy with his sword then shoots another enemy standing right beside him at the same time.
Horses play a larger role in Brotherhood, not only used as a means of transport (inside the city for the first time) but as a component of acrobatic sequences and advanced combat as well, allowing ranged weapons to be used while riding them. Brotherhood also introduced various types of horse-related assassinations, featuring horse-to-horse assassinations. There will be environmental objects like the flower pot in Assassin's Creed II to move faster inside the city, as well as new objects such as merchandise lifts to quickly climb up high buildings or structures.[4]
Multi-player
[
]
The multi-player experience will be available on all platforms. The multiplayer beta will be exclusive for PlayStation 3 users[5] and it's slated to begin on 4 October 2010.[6] Three maps have been confirmed for the beta: Rome, Castel Gandolfo and Siena.[7][8] The unique multiplayer mode was heralded by many at E3 2010 where it was showcased. It even received recognition from GameTrailers when they awarded it the Best Multiplayer Game of the show.[6] The players are Templars in training at the Abstergo facility. They use the animi (plural for animus) seen at the beginning of Assassin's Creed II to access memories of Assassins and then to acquire their skills using the "bleeding effect". There will be various game modes.
Game modes
[
]
In Wanted, up to eight players are dropped on a map of medium size where they must find and assassinate each other. However, the rule is not the one of a standard deathmatch but rather a cat-and-mouse game. Each player is given another player as a target. The goal is to find and kill a target without being seen or killed by the player's own predator. If the player breaks cover, the target will be warned and will run away, starting a chase sequence. Players earn points by completing each assassination in various styles. The player with the highest score wins.
In Alliance, eight players are put in to teams of two and working in a co-op esque mode and work together to fulfill various contracts whilst being hunted by other teams.[8]
Characters
[
]
Players will be able to choose one of the available characters: Courtesan, Hunter, Barber, Priest, Banker, Executioner, Doctor, Merchant, Blacksmith and Soldier.[9] Two special characters will be also playable: Harlequin and Officer. These characters are only available in the selected pre-order editions of the game. Each character will have unique assassination moves and signature weapons.[10]
Plot
[
]
The game begins shortly after the events of Assassin's Creed II in the year 1499. Monteriggioni is besieged by the Borgia's forces led by Rodrigo's son, Cesare Borgia. During the battle, Ezio's uncle Mario is killed and the Apple of Eden is taken by Cesare. The game then jumps to the year 1500 where Ezio, now a Master Assassin, seeks revenge and heads to Rome.
Development
[
]
A new Assassin's Creed episode featuring multiplayer was announced during Ubisoft's 2009 fiscal third quarter results while not revealing its name. In early May 2010, a GameStop employee published on Internet some images of a pre-order box featuring the Assassin's Creed: Brotherhood title while Ubisoft was teasing the game on Facebook and Twitter. Ubisoft then confirmed the authenticity of these pictures.[11]
Brotherhood has not been numbered unlike Assassin's Creed II because players, and even developers themselves would have expected a new setting and a new ancestor while this is only the continuation of Ezio's story.[12]
While still in development, Creative Director Patrice Désilets left before the game's presentation at the E3 2010. Ubisoft and Production Manager Jean-Francois Boivin stated that he only took a "creative break" after completing his task on Brotherhood.[13]
A teaser trailer of the multiplayer mode was released on the official site before the E3. A cinematic debut trailer was diffused during Ubisoft's E3 2010 press conference along a walkthrough of the game's beginning.
The game is being developed by five Ubisoft studios with Ubisoft Montreal as the lead, and four other developers: Annecy, Singapore, Bucharest and Québec City. The multiplayer mode is mainly developed by Ubisoft Annecy, the studio responsible for creating multiplayer mode in Splinter Cell Chaos Theory.[14][15] Ubisoft also announced plans for DLC after the game's launch, but its content hasn't been detailed yet.[2]
Retail Editions
[
]
Each special retail edition of Assassin's Creed: Brotherhood coincides with the launch date(s) of the game in respective areas. Depending on retailers, pre-ordering may guarantee access to multiplayer beta on the Sony Playstation 3 system.[16]
Limited Codex Edition
[
]
The Assassin's Creed: Brotherhood [Limited Codex Edition], exclusive to Europe,[17] Australia [18] and New Zealand,[19] contains Assassin's Creed: Brotherhood in a Renaissance themed Collector's Chest packaging, as well as:
Map of in-game Rome
Exclusive Codex hardback
Bonus DVD including the game's soundtrack
Collectible multi-player character cards
Exclusive in-game content:

Single player maps: Aqua Gear & Trajan Market
Multi-player characters: Harlequin & Officer
"Additional bonus to be discovered..."
The European Limited Codex Edition additionally includes the Assassin's Creed: Lineage DVD.[20]
Collector's Edition
[
]
As detailed on the official Assassin's Creed: Brotherhood website,[21] the Assassin's Creed: Brotherhood [Collector's Edition] retails at USD99.99 and is exclusive to North America.[22] It contains Assassin's Creed: Brotherhood in a black, fold-out cardboard box, as well as:
Bonus Disc, including:

Exclusive making of Assassin's Creed: Brotherhood video
Digital sneak-peek at the Assassin's Creed Comic
Trailers and developer diary
Game soundtrack

Hard copy strategy map of in-game Rome
Exclusive hardback art book
Exclusive in-game content - single player maps: Aqua Gear & Trajan Market
Collectible "The Doctor"

Jack-in-the-box

/"The Harlequin" Jack-in-the-box (latter exclusive to GameStop)
Auditore Edition
[
]
The Assassin's Creed Brotherhood: Auditore Edition, exclusive to Europe [23] and New Zealand,[24] contains Assassin's Creed: Brotherhood in a transparency box with 3D thermoformed portrait of Ezio Auditore and "Animus" effect, as well as:
Assassin's Creed: Lineage

DVD
Collectible multi-player character cards
Exclusive in-game content:

Single player map: Aqua Gear
"Additional bonus to be discovered..."
Special Edition
[
]
Assassin's Creed Brotherhood: Special Edition was available at selected retailers in Europe; it contained the game in a special packaging, as well as:[25]
Exclusive in-game content:

Single-player map: Trajan Market
Multi-player characters: Officer
Music
[
]
The music in the game is composed by Jesper Kyd, who created the scores to previous Assassin's Creed games. A physical release of the soundtrack will accompany selected retail editions.
Additional licensed music
[
]
References
[
]
External Links
[
]