Bowser Jr.
クッパJr.(Koopa Jr.)
Basic Information

Also Known As...

Bowser Junior
Mario

Status

Alive

Actor(s)

Caety Sagoian

First
Appearance

Super Mario Sunshine
Biographical Information

Family

Bowser (father)

Gender

Male

Rank(s)

Prince of the Koopas

Species

Koopa
Bowser Jr. is the son of Bowser and a supporting antagonist in the Super Mario series. First introduced in Super Mario Sunshine, Bowser Jr. has since appeared in several games, including games in the greater Mario franchise.
Other Appearances
[
]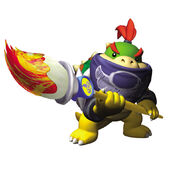 Bowser makes an appearance in Mario Kart: Double Dash!! racing with his dear old dad. His racecar is known as the Bullet Blaster and his special weapon in this game is the Bowser Shell. He also appears (with mask on) in Mario Golf: Toadstool Tour and in Mario Power Tennis. He brings along the Gaddbrush to the tennis court to allow him to decimate the competition.
Bowser Jr. appears as a playable fighter in Super Smash Bros. for Wii U/3DS, however, he is in the Koopa Clown Car a majority of the time. His final smash shows him turning into Shadow Mario and paint a giant "X" across the screen, damaging players who touch it, and is followed up by an explosion. Bowser Jr.'s alt costumes consist of all seven Koopalings.
Bowser Jr.'s Starring Roles
[
]
External links
[
]