Child's Play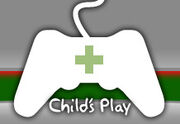 Child's Play is a charity organization started by Gabe and Tycho of Penny Arcade. The organization raises funds from the gaming community and uses it to purchase games, toys and movies for sick children on Christmas.
The charity was started for two reasons. The first and most obvious reason is to help the kids out, because, you know, it's gotta really suck to be stuck in a hospital on Christmas.
The second reason is to reverse the negative way gamers are portrayed in the media. The gaming community is a powerful force, and the guys at PA believe that that force is ultimately benevolent. Year after year Child's Play has raised millions of dollars for sick children. This is real genuine compassion coming from a demographic that is stereotyped as selfish and psychotic.
The organization starts taking donations around early November each year and sends millions of dollars in toys and gifts to hospitals around the world.
To learn more, or make a donation please visit the official website, ChildsPlayCharity.org.