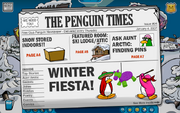 Club Penguin Times is an online newspaper in the massively multiplayer online game Club Penguin. New issues are created every Thursday, written by the Club Penguin team. The newspaper has been an integral part of the game since launch, and it intended to help players keep up-to-date with the events and new features of the game. It is written in a casual, fictitious style, as it is a part of the game rather than a separate blog.
From time to time, special features are included such as a poll, 'fundraiser', or 'mission' — the latter two resulted in a free item of clothing or pin when accomplished.
The six most recent issues are archived in a secret room on the game, known as the Boiler Room.
A competition, ending on the 12th of April, was for players to write a story based on one of six subjects and the 3 winners' stories to be published in the Book Room Library.
Features of the newspaper
[
]
The newspaper has several features which appear in each issue/very frequently:
Cover stories portray the release of new/upcoming features or events in a fun manner, illustrated with colorful cartoon images.
A featured game/featured room section draws attention to often long-time features of the game.
A list of upcoming new features and events such as parties
The Secret of the week describes well known in-game secrets such as in-game easter egg
Tip of the week
An advertisement for upcoming parties
Jokes, riddles, and poetry sent in by users
Fan comics drawn either by hand or on computer by users
Note: Bolded features are not included in every issue
Aunt Arctic
[
]
Aunt Arctic is a fictional character featured in the newspaper as a reporter with a role similar to that of real-life agony aunts, giving advice (in this case, queries regarding the game and game etiquette). The Club Penguin team responds to players' questions using Aunt Arctic as an alias, and such questions can be submitted using an in-game form. Aunt Arctic cannot be seen waddling around club penguin because she supposedly spends too much time writing.
The character is also featured in the first of three Secret Agent Missions (The Case of the Missing Puffles) — the 'missions' are essentially minigames available to users who have the status of Secret Agent within the game.
References
[
]