Codex Gamicus
Welcome to Codex Gamicus!


Codex Gamicus is a database devoted to all games and video games and their respective franchises, gaming hardware, and the companies involved.
We are currently working on 32,387 articles and 43,264 files on this Wiki; see what's new here. We currently have 11,933 video games documented using Cargo.
This is a free resource that anyone is free to edit and contribute to! Discussion is also available using this invite for Discord, available for

,

,

,

and

.
You can also like us on Facebook, watch our live streams on Twitch, or check out our videos on YouTube.
About · Tutorial · Forum
If you're looking for somewhere to contribute, click here!.
If you can't find the game you're looking for, create the game's page by entering the title below.
PC & Mobile Platforms
Console Platforms
Handheld Platforms
Peripheral Platforms
Hardware Generations
Portals
Free game(s) on Epic Games*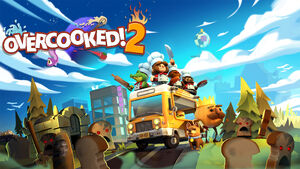 Overcooked! 2 is a co-op cooking simulation game developed by Ghost Town Games and published by Team 17. It is the sequel to Overcooked! and was released on the Nintendo Switch and on Steam on August 7, 2018.
Read article
Visit the full wiki
* = Games that are on 100% sale, not permanently free