This is an

outdated

page that references or contains outdated information.
This page should be edited to include more recent information.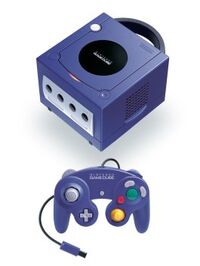 Console is a term used to describe a home video game playing device. What separates a console from an arcade machine is that a console has interchangeable games (usually stored on a type of cartridge or optical disc) and a much smaller size. They can also be handheld consoles, like the Game Boy Advance and Nintendo DS.
Often the output device is a separate television or a computer monitor. Once, video game consoles were easily distinguishable from personal computers: consoles used a standard television for display, and did not support standard PC accessories such as keyboards or modems. However, as consoles have become more enhanced, the distinction has blurred: some consoles can have full Linux operating systems running with hard drives and keyboards (like the Sega Dreamcast) (one university has even created a Beowulf cluster of PlayStation 2 consoles), and Microsoft's Xbox is basically a stripped down PC running a version of Microsoft Windows.
Many older video game consoles live on in the form of emulators, since the original hardware is no longer produced and can be very hard to find.
Generations
[
]
First generation: Discrete logic consoles (1972-1980)
[
]
Although the first computer games appeared in the 1950s, they were based around vector displays, not analog videos. It was not until 1972 that Magnavox released the first home video game console which could be connected to a TV set—the Magnavox Odyssey, invented by Ralph H.Baer. The Odyssey was initially only moderately successful, and it was not until Atari's arcade game Pong popularized video games, that the public began to take more notice of the emerging industry. By the autumn of 1975 Magnavox, bowing to the popularity of Pong, cancelled the Odyssey and released a scaled down console that only played Pong and hockey, the Odyssey 100. A second "higher end" console, the Odyssey 200, was released with the 100 and added onscreen scoring, up to four players, and a third game—Smash. Almost simultaneously released with Atari's own home Pong console through Sears, these consoles jump-started the consumer market. As with the arcade market, the home market was soon flooded by dedicated consoles that played simple Pong and Pong-derived games. The best-selling first-generation console was the Nintendo Color TV Game, which was released in 1977 and had hardware updates up until 1980.
Second generation: Early 8-bit consoles (1976-1983)
[
]
See also:

1970s

 and

1980s
Fairchild released the Fairchild Video Entertainment System (VES) in 1976. While there had been previous game consoles that used cartridges, either the cartridges had no information and served the same function as flipping switches (the Odyssey) or the console itself was empty and the cartridge contained all of the game components. The VES, however, contained a programmable microprocessor so its cartridges only needed a single ROM chip to store microprocessor instructions.
RCA and Atari soon released their own cartridge-based consoles. The Atari VCS, later renamed the Atari 2600, became the best-selling console of this generation. However, the second generation came to an abrupt end with the video game industry crash of 1983 (see Video Game Crash of 1983).
Third generation: Late 8-bit consoles 

(1983-1998)

[

]
In 1983, Nintendo released the Family Computer (or Famicom) in Japan. The Famicom supported high-resolution sprites, scrolling tiled backgrounds, and more colors. This allowed Famicom games to be longer and have more detailed graphics. Nintendo brought their Famicom over to the US in the form of the Nintendo Entertainment System (NES) in 1985. In the US, video games were seen as a fad that had already passed. To distinguish its product from older video game consoles, Nintendo used a front-loading cartridge port similar to a VCR on the NES, packaged the NES with a Super Mario Brothers game and a light gun (the Zapper), and originally advertised it as a toy. The plastic "robot" (R.O.B.) was also sold as an individual purchase item and in some cases packaged with the NES system.
Like Space Invaders for the 2600, Nintendo found its breakout hit game in Super Mario Bros. Nintendo's success revived the video game industry and new consoles were soon introduced in the following years to compete with the NES.
Sega's Master System released in 1983 and was intended to compete with the NES, but never gained any significant market share in the US and was barely profitable. It fared notably better in PAL territories, especially Europe and Brazil, regions where it sold significantly better than the NES. While the NES sold more units worldwide, despite the Master System's lead in PAL regions, the Master System out-lasted the NES; the Master System still had games released in PAL regions up until 1998, thirteen years after it released and fifteen years after the third generation began.
Fourth generation: 16-bit consoles (1987-2004)
[
]
See also:

1980s

 and

1990s
The fourth generation began with the release of NEC's PC Engine/TurboGrafx-16 in 1987. Sega gained significant market share in North America by releasing its next-generation console, the Mega Drive/Genesis, which was released in Japan on October 29, 1988, in the U.S. in August 1989 (renamed as the Sega Genesis) and in Europe in 1990, two years before Nintendo could release the Super Nintendo Entertainment System (SNES).
Sega extended the Mega Drive with the Mega CD/Sega CD, to provide increased storage space for multimedia-based games that were then in vogue among the development community. Later, Sega released the 32X, which added some of the polygon-processing functionality common in fifth-generation machines. However, the peripheral was a commercial failure due to lack of software support, with developers more keen to concentrate on more powerful machines, with a wider user base, such as the Saturn that followed shortly after.
The other major console was SNK's Neo Geo, the most powerful console of this generation. Despite selling less units than the SNES, Mega Drive, and PC Engine, the Neo Geo out-lasted them all, still having games released up until 2004, fourteen years after it began and seventeen years after the generation began. This makes the Neo Geo the longest-lasting console of all time and the fourth generation the longest-lasting console generation.
Fifth generation: 32/64-bit consoles (1993-2006)
[
]
The first fifth generation consoles were the FM Towns Marty, 3DO and Atari Jaguar. These systems were much more powerful than the Super Nintendo Entertainment System (SNES) or Mega Drive (known as Genesis in North America); they were better at rendering polygons, could display more onscreen colors, and the 3DO used discs that contained far more information than cartridges and were cheaper to produce. Neither of these consoles were serious threats to Sega or Nintendo, though. The 3DO cost more than the SNES and Genesis combined, and the Jaguar was extremely difficult to program for, leading to a lack of games that used its extra power. Both consoles would be discontinued in 1996. Bandai introduced an Apple Macintosh based console called the Pippin that was more like a low cost computer than a high end console, but did poorly in the market.
Nintendo released games like Donkey Kong Country that could display a wide range of tones (something common in fifth generation games) by limiting the number of hues onscreen, and games like Star Fox that used an extra chip inside of the cartridge to display polygon graphics. Sega followed suit, releasing Vectorman and Virtua Racing (the latter of which used the Sega Virtua Processor).
It was not until Sega's Saturn, Sony's PlayStation, and the Nintendo 64 were released that fifth generation consoles started to become popular. The Saturn and PlayStation used CDs to store games, while the N64 used cartridges. All three cost far less than the 3DO, and were easier to program than the Jaguar. The Saturn also had 2D sprite handling power on par with the Neo-Geo.
Sixth generation: 64/128-bit consoles (1998-2013)
[
]
See also:

1990s

 and

2000s
This generation saw a move towards arcade and PC like architectures in gaming consoles, as well as a shift towards using DVDs for game media. This brought games that were both longer and more visually appealing. Furthermore, this generation also saw experimentation with online console gaming and implementing both flash and hard drive storage for game data.
Seventh generation: Early HD consoles (2005-2014)
[
]
The features introduced in this generation include the support of new disc formats: Blu-ray Disc, utilized by the PlayStation 3, and HD DVD supported by the Xbox 360 via an optional $200 internal accessory addition, that was later discontinued as the format war closed. Another new technology is the use of motion as input, and IR tracking (as implemented on the Wii). Also, all seventh generation consoles support wireless controllers.
Eigth generation: Contemporary consoles (2012-present)
[
]
Main article:
Eighth-Generation Consoles
On November 18, 2012, Nintendo released the Wii U, the first home console of the 8th generation. Sony and Microsoft later released their console successors in 2013, the PS4 and Xbox One, respectively.
See also
[
]