Counter-Strike: Global Offensive is a multiplayer first-person shooter developed by Valve Software and Hidden Path Entertainment, and is the fourth game in the Counter-Strike series. It was released on August 21, 2012, for Steam, Xbox Live Marketplace and PlayStation Store (only in North America).
Classic
[
]
The "classic" mode uses a similar play-style to the previous games in the series. In the game, there are two types of scenarios: Bomb Scenario (with map prefix de_) and Hostage Scenario (with map prefix cs_). These maps can be played either Competitively (players are matched with players of a similar skill level, along with other parameters changing) or Casually (players are randomly matched, with looser parameters).
Bomb Scenarios
[
]
Players are split up into Terrorists and Counter-Terrorists. The Terrorists can win two ways: by eliminating the Counter-Terrorists and by planting and successfully detonating the bomb. Whereas, Counter-Terrorists can win three ways: by eliminating the enemy team, successfully defusing the bomb, or waiting out the timer.
Hostage Scenario
[
]
Players are again split up into Terrorists and Counter-Terrorists. The Terrorists' aim is to guard the hostage, and Counter-Terrorists must rescue the hostage, and bring them back to their zone, to win the round. Terrorists can win by eliminating the enemy team, or by waiting out the timer.
Differences between Casual and Competitive
[
]
Casual
[
]
15 rounds, first to 8 wins
10v10
Random maps out of a group (the current operation, Active Duty or Reserves)
Free to switch sides
No penalty for leaving early (see cooldowns)
No half-time
Armor and defuse kit automatically purchased
Money capped at $10000
Friendly fire disabled
Team collision disabled
Competitive
[
]
30 rounds, first to 16 wins (can draw 15-15)
5v5
Random maps out of a user-defined selection
The Player must stay on the team assigned.
Penalties for leaving early, and for several other reasons (see cooldowns)
Half-time and side-switch (CT to T, T to CT, etc.)
Armor and defuse kit have to be purchased by the player
Money capped at $16000
Friendly fire enabled
Team collision enabled
Skill groups
[
]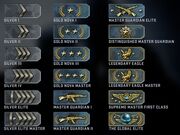 Depending on the player's competitive performance, the player will be placed in a skill group, ranging from Silver 1 to Global Elite. Players will then be matched up with other players of a similar skill group. However, players will begin unranked, requiring 10 competitive wins before being ranked. (special cooldowns can apply)
Operations
[
]
Operations are a form of DLC, with each operation lasting 2-3 months. Every operation, a group of user-created maps are placed into official circulation (typically the most popular from Steam Workshop). Occasionally, some maps become permanent additions to the game, depending on popularity.
Players have the choice to purchase an Operation "Pass", which gives the player a coin that will start as bronze but will later progress to gold after completing various tasks. Players with the pass have the choice to take up missions, various challenges which the player can complete in public matches (with specified parameters). Completing these missions will give XP bonuses, and additionally drops.
Anti-Cheat and Cooldowns
[
]
The game incorporates Valve Anti-Cheat, which actively scans for tools and modifications that may give the player an unfair advantage. On top of this, there are also competitive cooldowns that can be assigned for various reasons:
Abandoning a match (disconnecting and not reconnecting in the required time)
Being inactive
Excessive suiciding
Excessive kicking
Team-killing (i.e. friendly fire)
Winning two competitive matches before being ranked *
Through matchmaking error **
* - Not intended as a user punishment, rather is intended to "synchronize" player performance
** - Short cooldown occasionally assigned when an error occurs.
Cooldowns may last between 30 minutes and 7 days, depending on how many cooldowns the player has received in a week.
Overwatch
[
]
Overwatch is a system in which players can report those who are suspected of using external assistance tools. These cases are forwarded to a group of experienced players, who will review a clip of gameplay and will then judge if the player is guilty. If the player is guilty, they will receive a permanent cooldown labeled "Convicted By Overwatch - <reason>".
External Links
[
]