DeSmuME (also known as YopYop DS) is a freeware emulator for the Nintendo DS created by YopYop156. DeSmuME is written in C++ for Microsoft Windows and Android, and can play Nintendo DS homebrew and commercial ROMs.
The emulator itself is in French (with user translations to English and other languages). It supports many homebrew Nintendo DS ROM demos as well as a handful of Wireless Multiboot demo ROMs. DeSmuME can also emulate some commercial ROM titles which other DS emulators like iDeaS and Dualis cannot.
YopYop has stopped development on DeSmuME due to a change of laws of emulation in France. However, the source code has been released and two different programmers, thoduv and Guillaume have continued to work on this emulator.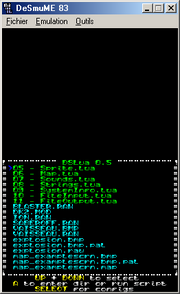 This emulator is packed on the WinDS emulator on an English translation and probably upgraded and equipped with some new stuff like screen separation, editing, re-sizing, etc. Not only modifications on the screen but also on the gameplay.
Keys
[
]
Z = A
X = B
A = Y
S = X
Q = L
W = R
ENTER = START
SPACE = SELECT?
MOUSE = TOUCHSCREEN
Nintendo Hardware Emulators
Handhelds

Consoles

Mednafen

·

r3Ddragon

·

Planet Virtual Boy

Mobile

BasicBoy

·

BGB

·

binjgb

·

BizHawk

·

Emulicious

·

Gambattle

·

GBE+

·

Gearboy

·

GiiBiiAdvance

·

gnuboy

·

hhugboy

·

higan

·

KiGB

·

MAME

·

Mednafen

·

Metroboy

·

mGBA

·

NO$GMB

·

Pantheon

·

RetroArch

·

SameBoy

·

TGB Dual

·

UGB

·

Planet Virtual Boy

·

RAVBA

·

Reality Boy

·

Red Dragon

·

RetroArch

·

Rustual Boy

·

VBjin

·

VGB

·

Virtual-E

·

VisualBoyAdvance

·

VisualBoyAdvance-M

·

zBOY

Consoles

Mobile

GambattleDroid

·

GBA.emu

·

GBA4iOS

·

GBC.emu

·

John GBC

·

mGBA

·

My OldBoy!

3dmoo

·

Citra

·

Corgi3DS

·

LemonLime

·

TronDS

Mobile

Consoles

Consoles

FCE Ultra GX

·

imbNES

·

NESBox

·

NesterJ

·

Nestopia

·

Switch Online

·

Virtual Console

·

VirtuaNES for 3DS

Mobile

GPFCE

·

Jnes

·

Nestopia

·

Nostalgia/NES

Consoles

FCE Ultra GX

·

NesterJ

·

Nestopia

·

Switch Online

·

Virtual Console

·

VirtuaNES for 3DS

Mobile

GPFCE

·

Jnes

·

Nestopia

·

Nostalgia/NES

Consoles

blargSNES

·

CATSFC

·

Snes9x for 3DS

·

Snes9x Next

·

Snes9xTYL Mod

·

SNES Station

·

Virtual Console

Mobile

CATSFC

·

Little John

·

OpenSnes9x

·

Snes8x

·

Snes9x EX

·

Snes9x EX+

·

Snes9x Next

·

SuperRetro16

1964

·

CEN64

·

Corn

·

Daedalus

·

MAME

·

Mupen64Plus

·

Nemu64

·

N64-X

·

Project64

·

R64Emu

·

RAP64

·

Ryu64

·

Sixtyforce

·

Surreal64

·

UltraHLE

Consoles

Mobile

MegaN64

·

Mupen64Plus FZ

·

Mupen64Plus-pandora

Dolphin

·

Dolphin (Nintendo)

·

Dolwin

·

Gekko

·

Gcube

·

GCEmu

·

Ishiiruka-Dolphin

·

SuperGCube

·

WhineCube

Mobile

CageTheUnicorn

·

Mephisto

·

NSEmu

·

Ryujinx

·

CSphiNX

·

yuzu

Mobile