| | |
| --- | --- |
| | This game, video game or software features adult themes and/or content, and this article may make reference to that content for encyclopaedic purposes. |
Des Blood Racing is a 2001 racing video game by Illusion, for the PC. It is the 4th game in the Des Blood sereis, and was release following Des Blood 3. Des Blood Racing was released exclusively in Japan.
Plot
[
]
Gameplay
[
]
There are 2 modes of play, story and race. In the story mode you are able to choose from seven female characters. Each female character has their own storyline. The storyline has characters from the same Des blood game that the character chosen was in interacting with her. The stories that interlink are Anyano, Riry, and Kikuno's storyline, Kito and Miku's storyline, and Arisa and Kerry's storyline. The stories take place from AD 2156 to 2162. In the stories, each female character starts with an introduction followed by a single races on a specific map. Some characters have the same map but must run a different length than the other. After the player wins the race there is several CG image of hentai. Theses scenes are then stored in the extra section. After the player completes all seven character storylines, he is able to play as Isys a red frog from Des Blood 2. Rather than just having one race like the other characters, Isys must race three times against females Ayano, Riri, and Kikuno. Each time she wins, Isys would lick the female's genitals. After she beats all three of them the player gets a CG of all three of the female having sex with each other and then there is a movie where Isys is eaten by a Tyrannosaurus.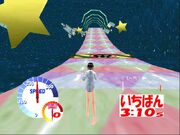 In the races you control a female character and must outrun 3 other AIs who gets a head start. The player can accelerate by pressing enter and use left or right to move their respective directions. Like all other racing games the player slow down if she bumps on the wall. But if she player touches a bump marked with a skull she will spin around and slow down. To avoid these bumps the player can use the up button to jump, but this will slow her down. The frog Isys can't jump over any bumps but compensates by having more power drinks. In this game there is no going backwards. The player can usually attain a speed of 200. But she can increase her speed by using the power drink. In races players generally will have a problem with the turning mechanism.

In the race mode you are able to use 20 characters and vehicles. Two of the vehicles, a car and a motorcycle are exclusive to the game. There are also six maps the player can choose from. After finishing a race the player is able to watch the race in replay. After winning races with the original characters the player will receive CG images which are stored in the extras section. The player can also unlock super characters which are faster than the original characters by using the female characters with different outfits. If a player uses super characters or characters not in the story mode he can get movies which are stored in the extra section.
Characters
[
]
In Des Blood racing you can choose different characters from Des blood 2 and Des blood 3. In the story mode you are able to choose from 7 characters. In the Race mode you are able to choose from 20 characters and vehicles.
Ayano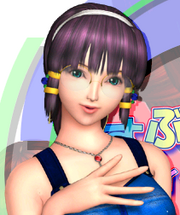 Ayano is a girl with short purple hair who wears glasses. She is from Des Blood 3. Ayano weighs 168.8 and has measurements of B92 W57 H85
Miku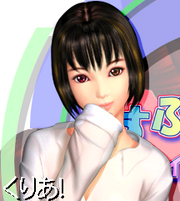 Miku is a short haired brunette girl. She appears in Des blood 3. Miku weighs 145.32 and has measurements of B68 W51 H72
Kito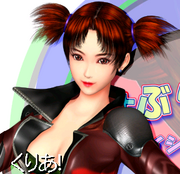 Kito is a girl with short red hair wearing a leather jacket. She appears in Des blood 3. Kito weighs 145.32 and has measurements of B86 W58 H84
Arisia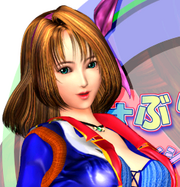 Arisia is a long hair brunette girl. She is from Des Blood 3. Arisia weighs 170.49 and has measurements of B95 W60 H87
Kerry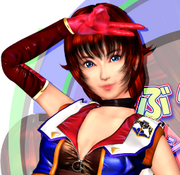 Kerry is a short red haired girl. She is from Des Blood 3. Kerry has measurements of B79 W55 H86 and weighs 160.45
Kikuno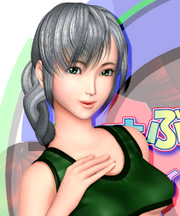 Kikuno is a girl with white braided hair wearing a green top. Kitkuno appears in Des Blood 2.
Riry
Riry is a brunette short haired girl wearing a schoolgirl outfit. Riry appears in Des Blood 2. Riry weighs 160.43 and has measurements of B80 W 56 H86
Gallery
[
]