DmC: Devil May Cry is an action video game developed by Ninja Theory and published by Capcom for the PlayStation 3 and Xbox 360 . It was the first title in the Devil May Cry series not to be developed internally at Capcom. Instead, development was handled by the English studio Ninja Theory, while the Japanese and American branches of Capcom supervised the production creatively and logistically.
DmC: Devil May Cry takes place in an alternate reality of the main Devil May Cry series, serving as both a re-imagining and origin story to Dante.
Gameplay
[
]
Plot
[
]
Limbo City is a city secretly run by powerful demons who manipulate mankind through material comforts. The demons themselves live in a parallel plane of reality called "Limbo".
Development
[
]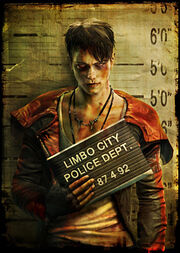 The game was officially announced by Capcom at their press conference during the 2010 Tokyo Game Show in September, confirming an earlier rumor in the May 2010 issue of Game Informer which said that the fifth Devil May Cry game would be developed by Ninja Theory. An announcement trailer was also released, giving players a taste of the new direction of the game. The title will use the Unreal Engine. In an interview published on the videogame blog Kotaku, lead producer Alex Jones explained that Capcom contacted Ninja Theory because of the good impression their previous game Heavenly Sword had on Capcom staff. Jones stated that Capcom executives appreciated the way Ninja Theory builds games around the characters and not vice-versa: in the interview he stated that "Outside of creating just amazing looking art, Ninja Theory really do embed narrative in their games in a way that is relatively sophisticated, Japanese game design also starts with a character and then builds a game out from there."
Reception
[
]
Initial reception to the new design of Dante and direction of the series was mostly negative. In an interview, Capcom revealed that they knew Dante's new look would be met with negative backlash and that they pressed forward with this in mind: DmC is an origin story.
Support
[
]
Language
[
]
PC Language Support
Platform
Interface
Full Audio
Subtitles
Steam
External Links
[
]