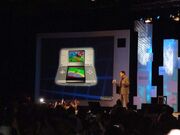 At E3 2004 Sony unveils the shiny PSP at its press conference. They also announced a price drop for its PlayStation 2 console, bringing its price to $149.99.
Reggie first appears, ingraining himself into the hearts and minds of gamers everywhere (specifically gamers who love Nintendo), by introducing himself stating, "I'm about kicking ass. I'm about taking names. We're about making games." Nintendo shows off its Nintendo DS, confusing everyone and then they proceed to make grown men cry when they show off their new non-cel-shaded Zelda game, The Legend of Zelda: Twilight Princess.
Microsoft announces that its Xbox Live service will gain some new features in the near future. Showing off one such feature, J. Allard, Peter Moore, and Jenny McCarthy use the new video chat function. This feature would arrive before the end of the year and would support six connections in one conversation. The voice mail feaure of the current Xbox Live service would also expand to include video mail and video chat. Another new feature that would soon come to the Xbox is Xbox Live Arcade. With this anyone with Xbox Live would be able to purchase and play classic arcade games, such as Galaxian and Dig Dug. The folks from Bungie displays some of Halo 2's multiplayer gameplay and in a display of his raw manliness, Peter Moore rolls up his sleeve revealing a "tatoo" - November 9, Halo 2's release date.
Notable games
[
]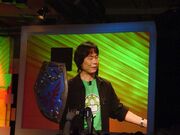 Controversy
[
]
Electronic Entertainment Exposition