Elements of Destruction is a video game developed by Frozen Codebase for the PC and Nintendo DS and was released on Xbox Live Arcade on June 18, 2008 for 800 Microsoft Points.[1]
DS Version
[
]
The storyline begins with you, a recently fired news station meteorologist arguing with your former boss about getting fired for predicting bad weather all the time. You swear to get revenge on her, your replacement, and all of the town with your new invention, a weather changing device. The game takes place in the town with an aerial view. You can summon storms such as Tornadoes, Lightning Storms, Hail, Meteors, and Earthquakes. You tap the tab on the side of your screen with your stylus to reveal the types of storms you can summon. Tap the storm and you need to slide your stylus in the direction you want the storm to go. To change the direction of your storm again put your stylus on the storm and slide it in another direction. Every day for six weeks on the game you will need to do another task with your device. The first day of the week you cause a certain amount of damage. The second day you need to destroy certain buildings to advance another day.After six weeks you are arrested by Genarl Bradley Steele.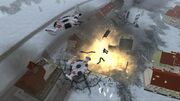 Critical reception
[
]
Elements of Destruction received a 7.9/10 rating from IGN, and a 7.8/10 rating from TeamXbox.
References
[
]
External links
[
]