Final Fantasy Tactics Advance is the 2nd game in the Final Fantasy Tactics series, though not a direct story sequel. It takes place in the world of Ivalice, as several children from a planet very much like Earth are transported there.
The game received praise for it's tactical gameplay, though in some circles, it is criticized for it's restrictive law system and relatively childlike story that acknowledges Final Fantasy as a video game series.
Gameplay
[
]
In Tactics Advance, turn-based tactical battles take place on a three-dimensional isometric field. The player takes the role of Marche, a clan leader; he must organize the clan's members and advance their status through missions that are offered in pubs. The player competes against the computer's team in turn-based play, although unlike Final Fantasy Tacticscharacters execute their actions instantly.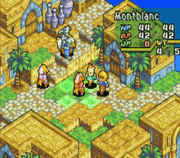 Missions are tasks undertaken by a clan. There are four types of missions: regular, encounter, dispatch, and area. In regular missions, Marche's entire party ventures to a particular location to do battle. Many of these missions are used to advance the story. In encounter missions, Marche's group battles a rival mercenary clan by purchasing a mission or meeting them on the map. In dispatch missions, which do not involve battle, Marche temporarily sends away one member from his party. Area missions are usually a dispatch mission where Marche's clan can liberate certain regions to obtain bonuses and discounts at shops.
Some missions, typically dispatch missions, require a special item to be in possession in order to accept the mission. Others require a dispatch character to have a specific job class. In regards to items, this may mean another mission must be done to get an item that would allow you to perform the later mission.
The world map is initially empty except for the starting location; it is customized as the player wins location "tokens" after certain missions. These tokens represent different terrains and settlements, such as plains, mountains, deserts, forests, and towns, that can be placed in slots on the world map. Items are rewarded to the player depending on the placement of the tokens. Ivalice also introduces areas called jagds, lawless slums that Judges avoid. Jagd is a German word which means the hunt. Jagds are the only places in the game in which a character can die; everywhere else, they are protected from death by the Judges and are simply knocked out.
Tactics Advance also offers multiplayer capability for two players. Players may cooperate or compete using a link-cable peripheral, and also trade items and party members. Additional missions and items are also offered when players link.
Plot
[
]
Characters
The story of Tactics Advance revolves around three primary characters: Marche Radiuju, the main character who battles the dream worlds of his friends; Ritz Malheur, a stubborn girl who speaks her mind and changes
sides in her struggle for self-acceptance; and Mewt Randell, a boy whose mother died that discovers a magical entity that changes the world into the world of Ivalice. There are also secondary characters, such as Doned Radiuju, Marche's little brother who does not desire to return to the real world, since he is sick in the real world and healthy in the dream one; and Cid Randell, Mewt's father who becomes the Judgemaster of Ivalice.
Within Ivalice, there are other characters that help advance the plot. Some characters befriended Marche, such as the moogles Montblanc and Nono; Ezel Berbier, a Nu Mou troublemaker and self-proclaimed genius; and Shara, a Viera archer who befriends Ritz. There are other characters who antagonize Marche, including Babus Swain, a Nu Mou Royal mage in Mewt's service; Llednar Twem, a mysterious enforcer who replaces the Judges when they become independent of the Palace; and Queen Remedi, who is the ruler of Ivalice and was in the Gran Grimoire itself in a form modeled after Mewt's deceased mother.
Story
Ivalice is a world created by four ordinary children: Marche Radiuju, a new student and resident of St. Ivalice and its school; Mewt Randell, a shy boy still attached to the memory of his late mother; Ritz Malheur, a loud and outspoken classmate of Marche and Mewt; and Doned Radiuju, Marche's younger, handicapped brother and a big fan of fantasy novels and video games. Mewt comes across a dusty old tome in a local used bookstore and eagerly wishes to show it to his friends. Unaware that the book is the legendary Gran Grimoire, Mewt brings the book over to Marche's house along with Ritz. The old book is written in a language none of them have ever seen before, and a single inscription reads: "Alta oron, Sondus kameela". The next morning, Marche wakes up in the world of Ivalice. The fantasy Ivalice is supposedly a reincarnation of Mewt's memories from a Final Fantasy game.
Marche is separated from the others, and immediately begins a quest to return home. Even after realizing how much better his life is in the new Ivalice, he believes that none of it is real and is even more determined to return to his home. The other children, and Mewt's father Cid, slowly realize through Marche's efforts that the world has been shaped according to their wishes. Mewt is no longer being teased, is reunited with his deceased mother, and is now the Prince of Ivalice; Ritz no longer has her white albinic hair, instead having the silky red hair which she always wanted; Doned can now walk and is no longer sickly; Marche is suddenly athletic and powerful; Cid is the highest-ranking official in the nation; and all of them now live in Final Fantasy, the video game the children all love.
Eventually Marche succeeds in his quest to return Ivalice to normal. He achieves this by destroying the crystals, or world threads, of Ivalice and defeating the Li-Grim. He teaches the other children in the process that they cannot live in fantasy but must learn to live with their misfortunes in reality. The other children are wiser from the experience, as the ending reveals them all to have become happy with themselves.
In addition to the main plot, there are two side plots: the Redwing Arc and the Judge Arc. The Redwing Arc centers around the Redwings clan, a foreign crime ring, their subordinate clan Borzoi, and their smuggled foreign monsters. The other is the Judge Arc, unlockable after beating the main three hundred missions. This serves as an alternative ending where Marche stays in Ivalice, overthrows corrupt judges, and becomes next in line for Cid's judge sword.
Development
[
]
Rumors of the game's development began when Square announced its publishing agreement with Nintendo, and it was later confirmed by the producer Matsuno. The development team of Tactics Advance, Square's Product Development Division 4, was constructed from employees of Quest Corporation, and work began in February 2002. This comes after Quest announced the handover of its software development team to Square, of which the former is famed for its Tactics Ogre series. Initially thought of as a port of Final Fantasy Tactics,Final Fantasy Tactics Advance is developed with an entirely new storyline and setting, and received significant changes to make it more user-friendly for the GBA handheld console; e.g. a quick-save function.
Final Fantasy Tactics Advance uses the gameplay of Final Fantasy Tactics, but introduced certain changes such as a customizable map for the world of Ivalice. While built for the Game Boy Advance, Final Fantasy Tactics Advance's graphics are vibrantly colored and extensively detailed, and though environments and characters are wholly sprite-based, facial expressions are easily identifiable and many motion frames have been given to create a smooth animation. The game also introduced an option to switch between three display modes. Two of the modes are optimized for gameplay on Game Boy Advance and the new Game Boy Advance SP respectively, and there's also a TV mode for better color display while playing this game into a television screen by using a Game Boy Player which, must be attached to a Game Cube for this to work.
In Japan, Final Fantasy Tactics Advance's story was expanded and broadcast in Japanese radio stations. The radio drama entitled Final Fantasy Tactics Advance Radio Edition was broadcast in four radio stations within Japan from early January 2003 to late March 2003.
Reception
[
]
Final Fantasy Tactics Advance sold over 440,000 copies during its year of release in Japan, with nearly 225,000 units being sold in its first week alone. By August 6, 2004, more than 1 million units of the game were sold in North America and Europe together.
The game was well received among the gaming community, widely regarded to feature an outstanding combination of music, graphics, gameplay, and storyline. Final Fantasy Tactics Advance won Best Handheld Game at the 7th Annual Interactive Achievement Awards in 2004. It was also rated as outstanding by IGN (9.0 out of 10) and given 5 out of 5 by GameSpy. In 2007, Final Fantasy Tactics Advance was named 14th best Game Boy Advance game of all time in IGN's feature reflecting on the Game Boy Advance's long lifespan. It was also rated the 67th best game made on a Nintendo System in Nintendo Power's Top 200 Games list.
Reviewers were pleased with graphics and visuals of Final Fantasy Tactics Advance; GameSpot adding that the battles are "clear and colorful", and character jobs are easily identified, though gameplay becomes slow when too many character sprites are in one screen. The gameplay is also lauded for retaining the elements of Tactics Ogre yet offers freedom to players to develop characters as they wish. GameNOW said that the game "lives up to its legacy—and then some", and called it "easily one of the best GBA games around". Criticism was thrown to the game's menu, which was cluttered with complicated options in organizing the clan members, and did not detail out statistics for characters and equipment Some reviewers thought there are too many character jobs since some jobs overlap one another and certain abilities are redundant.
Final Fantasy franchise
Main series
Bundles
Mobile releases

Demos, Sequels, Spin-offs, Remakes & Remasters

Final Fantasy

(2002)

·

Final Fantasy

(2004)

·

Final Fantasy

(2007)

·

Final Fantasy

(2021)

·

II

(NES, North America)

·

II

(2002)

·

II

(2004)

·

II

(2007)

·

II

(2021)

·

III

(NES, North America)

·

III

(2006)

·

III

(2014)

·

III

(2021)

·

IV

(1997)

·

IV

(2007)

·

IV

(2012)

·

IV

(2021)

·

IV: Advance

·

IV: Easy Type

·

IV: Interlude

·

IV: The After Years - Return of the Moon

·

IV: The After Years

·

IV: The After Years

(2013)

·

V

(1997)

·

V

(2013)

·

V

(2021)

·

V: Advance

·

VI

(1997)

·

VI

(2014)

·

VI

(2021)

·

VI: Advance

·

VII

(PlayStation, Japan)

·

VII

(2012)

·

VIII

(2013)

·

VII: Crisis Core

·

VII: Dirge of Cerberus

·

VII: Dirge of Cerberus - International

·

VII: International

·

VII: Remake Demo

·

VII: Remake

·

VII: Remake -Intergrade-

·

VIII: Demo

(PC)

·

VIII: Demo

(PlayStation)

·

VIII: Remastered

·

XI

(2016)

·

IX: Digital Edition

·

X: Demo

·

X

(PlayStation 2, Europe/Australia)

·

X

(PlayStation 2, North America)

·

X: International

·

X: HD Remaster

·

X-2

(PlayStation 2, Japan)

·

X-2

(PlayStation 2, North America)

·

X-2

(PlayStation 2, North America, Greatest Hits)

·

X-2

(PlayStation 2, Europe/Australia)

·

X-2: International + Last Mission

·

X-2: International + Last Mission

(Ultimate Hits)

·

X-2: HD Remaster

·

XII: Revenant Wings

·

XII: International Zodiac Job System

·

XII: The Zodiac Age

·

XIII: Ultimate Hits International

·

XIII-2

·

XIII: Lightning Returns

·

XIV: A Realm Reborn

·

XIV: Starter Edition

·

XV: A King's Tale

·

XV: Monster of the Deep

·

XV: Platinum Demo

·

XV: Windows Edition

·

The 4 Heroes of Light

·

Dive II Hunt: The Adventures of Sorbet

·

Airborne Brigade

·

Awakening

·

Grandmasters

·

Type-0

·

Type-0 HD

·

Mystic Quest

·

World Wide Worlds

·

Unlimited on PC Adventure - Labyrinth

·

King's Knight -Wrath of the Dark Dragon-

·

Pictlogica Final Fantasy

·

Vagrant Story

·

Voice Fantasy

Expansion Packs/DLC

16-Bit Buddies

·

Resolution Pack

·

Angler Set

·

Assassin's Festival

·

Blazefire Saber

·

Blazefire Saber XV

·

Booster Pack +

·

Camera Kit

·

Cindymobile

·

Episode Ardyn

·

Episode Gladiolus

·

Episode Ignis

·

Episode Prompto

·

Gae Bolg

·

Gold Chocobo

·

Gourmand Set

·

Holiday Pack

·

Holiday Pack +

·

King's Knight Sticker Set

·

King's Knight Tee

·

Kingsglaive Pack

·

Mage Mashers

·

Masamune

·

Memories of KING's KNIGHT

·

Multiplayer Expansion Comrades

·

Noodle Helmet

·

Platinum Leviathan

·

Royal Pack

·

Royal Raiment

·

Russian Voice Pack

·

Season Pass

·

Travel Pack

·

Trendy Outfit

2P Serafie

·

2P Tama

·

Astraea

·

Balthier

·

Creature Pack

·

Dark Behemoth

·

English VO

·

Iris

·

Kaguya Flan

·

Kobold Mimic

·

MAXIMA Upgrade

·

Nidhogg

·

Sky Dragon

·

Sora

·

Topaz Carbuncle

Related series

Other series
Animation, Drama, Manga, Movies & CCGs

Final Fantasy Trading Card Game

·

Final Fantasy VII: Advent Children

·

Final Fantasy VII: Last Order

·

Final Fantasy X: Eternal Calm

·

Final Fantasy X-2: Last Mission

·

Final Fantasy: Legend of the Crystals

·

Final Fantasy Lost Stranger

·

Final Fantasy: The Spirits Within

·

Final Fantasy: Unlimited

[

Unlimited with U

]

·

Kingsglaive: Final Fantasy XV

·

Brotherhood: Final Fantasy XV

Cancelled