Fnf
| | | |
| --- | --- | --- |
| " | Gettin' Freaky on a Friday Night yeah! | " |
| | ~ Gettin' Freaky - Main Menu OST | |
Friday Night Funking (stylized using eye dialect; Friday Night Funkin', and also commonly abbreviated as FNF) is a open-source single-player rhythm video game for computer platforms, and available in itch.io, and Newgrounds. It is created, and programmed by Cameron Taylor, better known online as ninjamuffin99, composed by Isaac Garcia, known online as Kawaii Sprite, and designed by David Brown, known online as PhantomArcade and evilsk8r. Friday Night Funkin' prototype was developed at October 5, 2020, for the Ludum Dare 47 game jam, until initially released at November 1, 2020.

Friday Night Funkin' is a 2D game, in which you, as the character Boyfriend thats trying to date his love interest Girlfriend, that must pass through several levels, that are titled as Weeks, as Boyfriend tries every week to get the permission to date Girlfriend, but another charater is sent by the dad of Girlfriend, Daddy Dearest to rap against.

In April 18, 2020, after release of the Week 7 update, the developers began a Kickstarter campaign called Friday Night Funkin': The Full Ass Game, to raise $60,000 USD, and fund to create the full game. The campaign ended in May 18, 2021, and ended passing the goal, and managing to raise $2,247,641 USD.
Gameplay
[
]
Friday Night Funkin' is a rhythm game, that revolves around 4 notes that are displayed as Arrows. You try imitate your opponents notes, by timing when the notes should be pressed. Each level, are titled as a Week, and has 3 soundtracks that progressively gets more difficult. Friday Night Funkin' has difficulty ranges from Easy, Normal, and Hard.

Friday Night Funkin' offers a mode called Freeplay. How it works is when playing on Story Mode, you aren't able to play the song of choice, but in Freeplay, you can select any song with any difficulty, and no cutscenes.
Practice mode completely ignores loss in a song. So it gives the ability to being able to play without loosing.

The bar in the below-center is an indication of the status of your battle. Each note you miss will lower your score, and if the Boyfriend icon is completely on the right side, its icon will change to a face that is worried with eyes replaced with X's, and it indicates you are near to death, or already dead.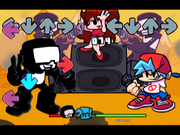 However, when your icon is going to the left side, you are gaining score, and pressing the notes right. The opponent's icon will also change to a different facial expression that will display death.
The Death screen occurs when you miss too many notes. Friday Night Funkin' is officially called its death screen Blue-balled, or Being Blue-balled as the death screen displays Boyfriend as being x-rayed with some cracked bones, his brain forming the word RETRY, his genitals being displayed with the color blue, and plays the soundtrack Game Over - Friday Night Funkin' OST by Isaac Garcia, with the genitals, and the brain syncing with the beat.
Mods
[
]
Friday Night Funkin' mods is a popular genre among the Friday Night Funkin' community. Due to the game being open-source, and editable through the files, it is possible to modify the game.

One of the most widespread mods are the V.S Whitty, Mid-Fight Masses, Tricky, and the Hex mod.
Intended Modding
[
]
This type of modding for Friday Night Funkin' is the official way, but not done, and being worked on. In the game files, there is a mod folder that contains files you can edit the game to. You can change the output of the intro text, that occurs in the start of the game.
Modding
[
]
Modding can be done by changing files from the assets folder, its possible to change the games assets, texts, and UI.

Levels
[
]
There are 7 weeks, and 8 levels to Friday Night Funkin'.
Level
Name
Soundtracks
Opponent
Date Added
Information
0
Tutorial
Tutorial
Girlfriend
October 2020
Tutorial is the first level, and not considered as a week. This level helps you understand how to play Friday Night Funkin'.
1
Daddy Dearest
Boopeebo

Fresh

Dad Battle

Daddy Dearest
October 2020
Daddy Dearest is the second level, and the first week of Friday Night Funkin'. Daddy Dearest is the father of Girlfriend, he sends other antagonists to defeat Boyfriend.
2
Spooky Month
Spookeez

South

Monster

Skid

Pump

Monster

November 1, 2020
Spooky Month is the third level, and the second week of Friday Night Funkin'. The characters was made, and voiced by David Casanova.
3
Pico
Pico

Philly Nice

Blammed

Pico
December 11, 2020
Pico is the forth level, and the third week of Friday Night Funkin'. Pico is a character that originates from the game Pico's School in 1999, and created by Tom Fulp. Pico was sent by Daddy Dearest to defeat Boyfriend.
4
Mommy Must Murder
Satin Panties

High

M.I.L.F

Mommy Mearest
December-January 2021
Mommy Must Murder is the fifth level, and the forth week of Friday Night Funkin'. Mommy Mearest is the mother of Girlfriend.
5
Red Snow
Cocoa

Eggnog

Winter Horrorland

Daddy Dearest


Mommy

Mearest


Monster

January 20, 2021
Red Snow is the sixth level, and the fifth week of Friday Night Funkin'. This week features the parents of Girlfriend, with a christmas theme.
6
Hating Simulator
Senpai

Roses

Thorns

Senpai

Spirit

February 2, 2021
Hating Simulator is the seventh level, and the sixth week of Friday Night Funkin'. Boyfriend, and Girlfriend got trapped in a video game by Daddy Dearest in order to kill Boyfriend, and Senpai is willing to steal Girlfriends affection. Senpai overtime speeds up, as he gets more angrier at his loss, until finally bursting out as his spirit form, as long ago he was trapped in the video game by Daddy Dearest. He is willing to take Boyfriend and Girlfriends bodies to escape.
7
Tankman
Ugh

Guns

Stress

Tankman
April 18, 2021
Tankman is the eight level, and the sixth week of Friday Night Funkin'. Tankman is the mascot of Newgrounds. Originally created, and voiced by Jeff Bandelin