GRimgRiMoiRe
GRimgRiMoiRe
Basic Information

Type(s)

Video Game
Vanillaware, Nippon Ichi
Nippon Ichi, NIS America, Koei
Real-time Strategy
PlayStation 2
Ratings
European

Release Date(s)

PlayStation 2
September 28, 2007
North American

Release Date(s)

PlayStation 2
June 26, 2007
Japanese

Release Date(s)

PlayStation 2
April 12, 2007
Awards | Changelog | Cheats | Codes
Codex | Compatibility | Covers | Credits | DLC | Help
Localization | Manifest | Modding | Patches | Ratings
Reviews | Screenshots | Soundtrack
Videos | Walkthrough
Achievements
GOG | In-Game | Origin | PlayStation Trophies | Retro
Steam | Xbox Live
gRimgRiMoiRe is a real-time strategy game from Vanillaware and Nippon Ichi for the PlayStation 2. It was released in Japan on 2007-04-12.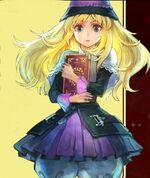 Lillet Blan is a young magician admitted to a prestigious magic school. One day she wakes to find everyone missing. The next day she awakens to find it is the first day again, and she can use this time loop to solve the mystery and prevent it from happening again.
Lillet needs to summon a rune so she can summon familiars which are creatures that do certain tasks or fight ( in every battle there are some familiars on the battlefield already). All familiars need mana to be summoned, there are 4 different types of familiars that gather mana one type from a different family, elves are from the glamour family, ghosts from necromancy, Imps are from sorcery and blobs from alchemy, some familiars can only be summoned once the rune is on a certain level, leveling up runes also uses mana, leveling up the runes also give all of one familiar a special attack, in order to win a battle you have to destroy all of the enemy's runes.