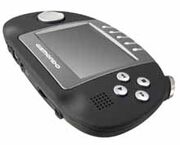 The Gizmondo was a handheld gaming console with GPRS and GPS technology, which was manufactured by Tiger Telematics. Launched in 2005, the Gizmondo sold poorly, and by February 2006 the company discontinued the Gizmondo and was forced into bankruptcy. Gizmondo was overshadowed by Stefan Eriksson's involvement in organized crime.
The Gizmondo includes a GPS module for in-car navigation which could also be used to track player movement in real-time for multiplayer games. It also contains a 0.3 Megapixel VGA camera mounted on the rear of the device. The Gizmondo can play MP3/WAV/MIDI music, WMV/MPEG4 videos and a variety of 2D/3D games. It can send email and even SMS/MMS messages, although it lacks the ability to send or receive voice calls.
The phone service to enable users to send messages was provided by pre-pay Vodafone accounts bundled with the device. It can also access the Global Positioning System for use as a navigation aid. There were plans to support a variety of location-based services, for example. GPRS and Bluetooth wireless connections were intended to provide multiplayer gaming.
The Gizmondo also had a feature called "Smart Ads." In exchange for a discount on the Gizmondo (of $170 in the US, £100 in the UK), up to three advertisements per day would be displayed on the handheld's screen. Although the ads would not interrupt game play or other functions of the unit, the user would be forced to watch them before going on to the next function or shutting down the device. However because of the closure of the company, "Smart Ads" currently do not run on the 'Smart Ads' enabled devices.
Gizmondo is powered by a 400 MHz ARM9 processor and has a 2.8 inch 320x240 pixels TFT screen and an NVIDIA 128 bit GoForce 3D 4500 GPU featuring fixed-pipeline shading, hardware transform engine and 1280KB of embedded memory (only 830KB are left when memory is allocated for the double buffers and the z-buffer).
GE (Gametrac Europe), before changing its name to Gizmondo, said it will offer mobile data communications, such as texting, multimedia messaging, WAP, email, and over-the-air game, music and ringtone downloads, but not voice.
The device would feature a tri-band radio. It supports GSM Class 4 and GPRS Class 12 connections. The GPU was added relatively late in the system's design, causing some delays for launch titles and the system, as they were redesigned.
The system's appearance and ergonomics were created by industrial designer Rick Dickinson, who worked in a similar role on various Sinclair products such as the ZX Spectrum.