The world's first cartridge-based handheld console was released in 1979 by Milton Bradley. Microvision was designed by Jay Smith, designer of the Vectrex system. Despite the system's initial success, it was gone from the market by 1981, due to the small selection of games and plethora of technical problems. Also, though it had a total of nine buttons with a different button configuration for each game, the button panel was delicate and could be damaged easily. To make things worse, the screen was really tiny, hence the name Microvision.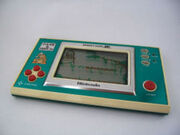 The Game & Watch series was a handheld electronic games made by Nintendo and created by its game designer Gunpei Yokoi from 1980 to 1991. Most featured a single game that could be played on an LCD screen, in addition to a clock and an alarm. Most titles had a 'GAME A' and a 'GAME B' button. Game B is usually a faster, more difficult version of game A.
Select-a-game

[

]
The Select-a-game is a handheld game system released in 1981 by Entex Industries. Entex released six games for the system before they dropped support in 1982 in favor of the Entex Adventure Vision.
The Game Boy was first introduced in 1989 as a pretty big, pretty plain, colorless portable game console. Four AA batteries got this puppy going for almost 20 hours of gameplay. And the only way to get stereo sound off the Game Boy was if you plugged in some headphones (only has one tiny speaker). Game Boy's software library included some of the best games of all time though like Tetris and Pokémon.
Lynx (1989)

[

]
The Lynx was a handheld game console released by Atari in 1989. The Lynx holds the distinction of being the world's first handheld electronic game with a color LCD display. The system is also notable for its forward-looking features, advanced graphics, and ambidextrous layout. The Lynx was released in 1989, the same year as Nintendo's (monochromatic) Game Boy. However, the Lynx failed to achieve the critical mass required to attract quality third party developers, and was eventually abandoned.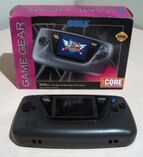 Work began on the console in 1989 under the codename "Project Mercury", as per Sega's policy at the time of codenaming their systems after planets. The system was released in Japan on October 6, 1990, in North America and Europe in 1991, and in Australia in 1992. The launch price was $149.99.
Over 250 titles were released worldwide for the Game Gear, although at the time of the console's launch there were only six software titles available. Sega made sure that a wide variety of video game genres were represented on the system, in order to give it a broad appeal. Prices for game cartridges initially ranged from $24.99 to $29.99 each.
The TurboExpress is a handheld video game console, released by NEC in 1991. It is portable version of the TurboGrafx-16 home console that came out 2–3 years earlier.

The Watara Supervision is a monochrome handheld game console, originating from Hong Kong, and introduced in 1992 as a cut-price competitor for Nintendo's Game Boy. It came packaged with a game called Crystball, which is similar to Breakout.
The console has a slightly larger screen and larger buttons, and its games sold for far less than the Game Boy's. The games were simpler than the Game Boy's, and the console did not sell well. The original design for the console changed significantly through several iterations, and the last Supervisions were sold in 1996.
Mega Duck

[

]
The Mega Duck (also known as Cougar Boy) is a handheld game console that was produced by Hong Kong-based Welback Holdings through its Timlex International division and came on the market in 1993.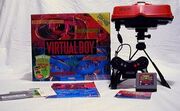 Nintendo's Virtual Boy was the first portable game console capable of displaying "true 3D graphics." Most video games are forced to use monocular cues to achieve the illusion of three dimensions on a two-dimensional screen, but the Virtual Boy was able to create a more accurate illusion of depth through an effect known as parallax. In a manner similar to using a head-mounted display, the user places their face inside a pair of rubber goggles on the front of the machine, and then an eyeglass-style projector allows viewing of the monochromatic (in this case, black and red) image. It was released on July 21, 1995 in Japan and August 14, 1995 in North America and at a price of around US$180. It met with a lukewarm reception that was unaffected by continued price drops. Nintendo discontinued it the following year.
Nomad

(1995)

[

]
Handheld version of the Genesis that used the same cartridges
The Neo Geo Pocket was SNK's first hand held video game system, released in Japan in late 1998. However lower than expected sales resulted in its discontinuation in 1999, and was immediately succeeded by the Neo Geo Pocket Color. The system only had a retail release within the Japan and Hong Kong market.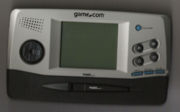 The Game.com was a handheld game console released by Tiger Electronics in September 1997. It featured many new ideas for handheld consoles and was aimed at an older target audience, sporting PDA-style features and functions such as a touch screen and stylus. However, Tiger hoped it would also challenge Nintendo's Game Boy and gain a following among younger gamers too. Unlike other handheld game consoles, the first game.com consoles included two slots for game cartridges and could be connected to a 14.4 kbit/s modem. Later models reverted to a single cartridge slot.
The Game Boy Color was a response to pressure from game developers for a new and much more sophisticated system of playing, as they felt that the Game Boy, even in its latest incarnation, the Game Boy Pocket, was insufficient. The resultant product was backward compatible, a first for a handheld console system, and leveraged the large library of games and great installed base of the predecessor system. This became a major feature of the Game Boy line, since it allowed each new launch to begin with a significantly larger library than any of its competitors.
The processor, which is an 8080 workalike made by Sharp with a few extra (bit manipulation) instructions, has a clock speed of approx. 8 MHz, twice as fast as that of the original Game Boy. The Game Boy Color also has four times as much memory as the original.
WonderSwan is a handheld game console released in Japan by Bandai in 1999. It was developed by the late Gunpei Yokoi's company Koto and Bandai. The WonderSwan was made to compete with the Neo Geo Pocket Color and the market leader Nintendo's Game Boy Color (even though the developer for the WonderSwan, Gunpei Yokoi, developed the original Nintendo Game Boy).
The WonderSwan was later replaced by the WonderSwan Color. Although some WonderSwan Color games are compatible with the original WonderSwan, many are designed exclusively for the WonderSwan Color and show a message such as "This cartridge is for WonderSwan Color only" when run on the original WonderSwan.
Game Boy Advance (GBA) is much faster, has better graphics and better sound (hence the name Advance, you catchin' on?) And you can network up to four Game Boy Advance units together for multiplayer gameplay on one shared cartridge. What's not new (and that's a good thing) is the wide selection of Game Boy games. Since the Game Boy Advance system is backwards-compatible, it can play its own line of games like Super Mario Advance, as well as all games that have already been released for the Game Boy system.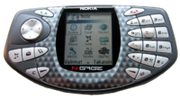 The N-Gage is a mobile telephone and handheld game system based on the Nokia Series 60 platform. It started selling on October 7, 2003. It attempted to lure gamers away from the Game Boy Advance by including cellphone functionality. This was unsuccessful, partly because the buttons, designed for a phone, were not well-suited for gaming and when used as a phone the original N-Gage was described as resembling a "taco".
In 2005, Nokia announced that it would move its N-Gage games capabilities onto a series of smartphones. These devices are available since early 2007, and games will be ready for download from the official web site starting from November.
The GameKing is an 8-bit handheld game console produced by the Chinese company TimeTop since 2003. It is based around a 65C02 CPU running at 6.0 MHz and exists in two variations, the original GameKing and the GameKing II, with mostly aesthetic and ergonomic differences.
The consoles have above-average sound circuitry capable of multi-channel music and digital sound playback, but have quite inexplicably been equipped with an incredibly poor quality black and white LCD screen, only supporting four shades of grey and having a very low (48 by 32 pixels) resolution, combined with a slow refresh rate, poor readability and adjustments, compared to the original Game Boy.
The quality of its games, graphics wise, can be compared to some of the best built-in cell phone games (excluding Java games), while their playing speed (scrolling etc.) and audio is far superior to those found on cell phones (multi-channel music and digitized samples and voices are quite common in GameKing games).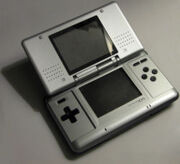 In November 2003, Nintendo announced that it would be creating a new console for release in 2004. It said that it would not be the successor to the Nintendo GameCube or the Game Boy Advance SP. On January 20, 2004, the console was announced under the codename "Nintendo DS". Nintendo chose to release very few details at that time, only saying that the console would have two separate 3 in. TFT LCD display panels, separate processors, and up to 1 gigabit of semiconductor memory. Nintendo president Satoru Iwata said "We have developed Nintendo DS based upon a completely different concept from existing game devices in order to provide players with a unique entertainment experience for the 21st century." In March, the codename was changed to "Nitro" and a document containing most of the console's technical specifications was leaked. In May, the codename was changed back to "Nintendo DS" (DS standing for Dual Screen) and the console was shown in prototype form at E3. All of the features of the console were released by Nintendo at E3. On July 28, 2004, Nintendo revealed a new design, one that was described as "sleeker and more elegant" than the one shown at E3. The codename "Nintendo DS" became the official name of the console that day.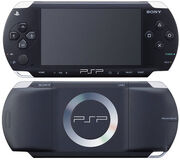 The PlayStation Portable is a handheld game console released and currently manufactured by Sony Computer Entertainment. Its development was first announced during E3 2003, and it was officially unveiled on May 11, 2004 at a Sony press conference before E3 2004. The system was released in Japan on December 12, 2004, the United States and Canada on March 24, 2005 and in Europe and Australia on September 1, 2005. It is considered the first handheld video game system to use an optical disc format (Universal Media Disc).
A new slimmer and lighter version of the PlayStation Portable, titled Slim and Lite, was announced on July 11, 2007 and Sony's press conference at E3 2007. It will be available in the US, Europe and Japan in September 2007 with various colours and a very different box packaging to the current PSP. Among these versions three were physically shown at E3 2007: a white version with a Star Wars imprint, a piano black version and an ice silver version.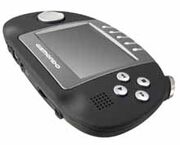 The Gizmondo was a handheld gaming console with GPRS and GPS technology, which was manufactured by Tiger Telematics. Launched in 2005, the Gizmondo sold poorly, and by February 2006 the company discontinued the Gizmondo and was forced into bankruptcy. Gizmondo was overshadowed by Stefan Eriksson's involvement in organized crime.
The Gizmondo includes a GPS module for in-car navigation which could also be used to track player movement in real-time for multiplayer games. It also contains a 0.3 Megapixel VGA camera mounted on the rear of the device. The Gizmondo can play MP3/WAV/MIDI music, WMV/MPEG4 videos and a variety of 2D/3D games. It can send email and even SMS/MMS messages, although it lacks the ability to send or receive voice calls.
GP2X (2005)

[

]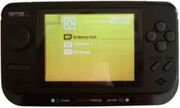 Released on November 10, 2005 in South Korea, the GP2X was designed to play video and music, view photos, and play games. It has an open architecture (Linux based), allowing anybody to develop and run software. Also, there is the possibility for additional features (such as support for new media formats) to be added in the future due to the upgradeable firmware.
A popular use of the GP2X is to run emulators, which allow one to use software from another system on the GP2X.
See Also
[
]
Rate the best and worst handheld game consoles