Hitman
Directed by
Xavier Gens
Produced by
Chuck Gordon

Adrian Askariah

Daniel Alter

Luc Besson

Written by
Skip Woods
Starring
Timothy Olyphant

Dougray Scott

Robert Knepper

Distributed by
20th Century Fox
Release date(s)
November 21,

2007

Running time
100 mins.
Language
English
Hitman is a 2007 film based on the video game series of the same name. The film was directed by Xavier Gens and stars Timothy Olyphant and Dougray Scott. Hitman was released on November 21, 2007.
Plot
[
]
The film opens with a montage shows a group of bald, blue-eyed boys being instructed in the use of firearms and martial arts.
Interpol agent Mike Whittier discovers Agent 47 in his study, where the two talk briefly. The scene flashes back 3 months, as 47 is completing a hit in St. Petersburg, Russia. He receives a communication from his Organization contact, Diana, and is told he is to kill his next target, Russian President Mikhail Belicoff, publicly.
Agent 47 succeeds in killing Belicoff using a sniper rifle to achieve a head shot from over 4 km away. However, when 47 returns to his hotel room, he's told there's a witness–Nika Boronina–he has to kill. Confronting Nika on a street, he doesn't kill her as he realizes she's never seen him before. Additionally, Belicoff's death was covered up, being portrayed in the media as a grazing wound.
Agent 47 confronts Diana about who would want Nika dead when she wasn't a witness and why Belicoff is still being portrayed as alive. Outside, Mike Whittier and his partner have been tipped off that 47 is in the hotel. They encounter the FSB, lead by Yuri Marklov, who sends in an emergency response team to capture 47. Diana calls 47 directly, informing him that it was Belicoff himself who took out the contract. The troops attack and a hotel battle ensues. Agent 47 successfully escapes, however, the Organization he works for has dispatched assassins to kill him for failing his mission.
Agent 47 kidnaps Nika–who was about to be killed by her driver–and questions her. She suggests 47 may have killed one of Belicoff's double, but 47 denies that possibility. The two try to leave by train, but are intercepted by the Organization's assassins. Agent 47 is able to defeat four of them, defeats Mike Whittier who pursued, and escapes with Nika.
Agent 47 arranges a meeting with Agent Smith from the CIA. Agent 47 makes a deal: if Smith helps him sometime in the future, 47 will kill Belicoff's brother, Udre, a slave trafficker, and arms dealer. Smith accepts the deal. Agent 47 and Nika travel to Turkey, where he succeeds in killing Udre.
The death of Udre was a set-up designed to draw Belicoff's double–who, working with Yuri and an unseen cabal, is part of a plot to have a puppet leader in control of Russia–into the open. Agent 47 kidnaps Yuri and forces him to have his own FSB agents try to shoot "Belicoff" as he delivers a eulogy for Udre. Agent 47, disguised as a soldier, takes the double and kills him in the church. He then allows himself to be taken into custody by Interpol and Mike Whittier. However, Agent Smith intercedes at the last minute, allowing 47 to escape.
There is a flash forward to a conversation between agent Whittier and 47, which is taking place at Whitter's house. They make a deal in which Whitter would help 47 in faking his own death. After the conversation is over, 47 says that he hopes to never see Whittier again, for the sake of both of them.
The scene then changes to Nika, who is shown picking up an envelope from an undisclosed sender. Inside it, there were papers and a message saying that she now owned a vineyard (she had told 47 of her childhood dream of having one). Meanwhile, 47 is watching her from afar, through the scope of his sniper rifle. He then looks at the corpse of another Hitman, lying close to him, and says "I told you should have left her alone". He then turns back, and walks away.
Cast
[
]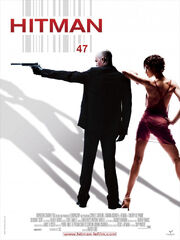 Only two characters from the games appear in the movie: Agent 47 and Agent Smith. Diana has several lines, but not by the original voice actress. The other characters are originals created for the movie.
Timothy Olyphant as Agent 47
Dougray Scott as Mike Whittier
Olga Kurylenko as Nika Boronina
Robert Knepper as Yuri Marklov
Ulrich Thomsen as Mikhail Belicoff
Henry Ian Cusick as Udre Belicoff
Michael Offei as Jenkins
Christian Erickson as General Kormarov
Eriq Ebouaney as Bwana Ovie
Joe Sheridan as Captain Gudnayev
James Faulkner as Smith Jamison
Jean-Marc Bellu as Hitman #1
Nicky Naude as Hitman #2
Abdou Sagna as Hitman #3
Ilya Nikitenko as Hitman #4
Production
[
]
In February 2003, Hitman makers Eidos and IO Interactive entered negotiations with Hollywood production companies to adapt the video game to film. Twentieth Century Fox eventually acquired the rights and hired screenwriter Skip Woods to pen the screenplay with actor Vin Diesel executive producing and starring in the film. In December 2006, Vin Diesel stepped down from the role. In January 2007, Timothy Olyphant was cast into the lead role with director Xavier Gens attached at the helm. In March, actor Dougray Scott was cast as the antagonist to Agent 47, with Olga Kurylenko, Robert Knepper, Ulrich Thomsen, and Michael Offei also joining the cast. Production began the week of March 27, 2007 in Sofia, Bulgaria and lasted 12 weeks. A second unit also shot in locations including London, Istanbul, St. Petersburg, and South Africa.
After a death of a police officer in Phillidelphia, people started to complain about Hitman movie posters, which started getting removed. The complaint arguments was that it show a man pointing a gun, with a nearly naked woman draped over him
Release
[
]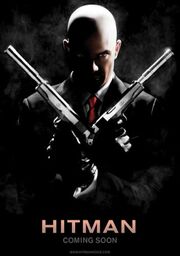 Hitman was originally slated to be released on October 12, 2007 in the United States and Canada, but the film's release was postponed to November 21, 2007. Hitman opened in 2,458 theaters in the United States and Canada, grossing $13,180,769 in its opening weekend, ranking fourth at the box office. The following weekend, Hitman opened in 12 markets, having the following highlights: $150,355 in 38 theaters in Indonesia, $224,449 in 37 theaters in Malaysia. and $244,329 in 32 theaters in the Philippines. In Taiwan, the film opened in fourth place with approximately $100,000. The film also performed weekly in Lebanon with $19,321 in 6 theaters. As of December 2, 2007, the film has grossed $30,426,328 in the United States and Canada and $1,481,361 in other territories for a worldwide total of $31,907,689.
Despite its financial success, the film has been almost universally panned by critics, the most common complaints being a lacking plot, dry acting and ultra violent, ultra serious tone. On the film review aggregate website Rotten Tomatoes, Hitman has received a Rotten rating of 13% based on 82 reviews, and it has received a Rotten rating of 6% from 19 "Cream of the Crop" reviewers from mainstream news outlets. On the similar website Metacritic, the film has received a metascore of 35 out of 100 based on 22 reviews.