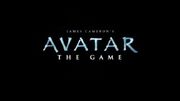 James Cameron's Avatar: The Game is an action movie-based game from Ubisoft that released with the movie of the same name. The film makers worked closely with the development team on the game to provide a 3D cinematic experience.
Gameplay
[
]
The videogame is set on Pandora, an alien planet featured in the motion picture. The game includes the Na'vi, Pandora's indigenous people and discover other life forms.
Development
[
]
On July 24, 2007, it was announced that Ubisoft would be developing Avatar: The Game in conjunction with director James Cameron as he films Avatar. According to director James Cameron, "For the movie Avatar we are creating a world rich in character, detail, conflict and cultural depth. It has the raw material for a game that the more demanding gamers of today will want to get their hands on - one that is rich in visuals and ideas, and challenging in play." It is still unconfirmed whether Sam Worthington or Zoe Saldana will be voicing their character in the game.
It was originally scheduled to be released on November 24, 2009, but Ubisoft pushed the release date back to December 1, 2009. On August 27, 2009, MovieScore Magazine reported that composer Chance Thomas had been hired to write the music for Avatar: The Game. It is unclear whether the score will contain some of the musical themes composed by James Horner for the movie.
3D Capabilities
[
]
According to Luc Duchaine, the game's senior international brand manager, the game will require a HDMI output and a 120 Hz capable set in order to avail of 3D effects. In a Nintendo Power interview, it was stated that the Wii version will use Ubisoft's Jade engine. The release of the PC demo has confirmed the PC version of the game supports 3D capabilities as well.
Screenshots
[
]