This is an

outdated

page that references or contains outdated information.
This page should be edited to include more recent information.
近藤 浩治 (Kondō Kōji)
Biographical Information

Date of Birth

August 13, 1960

Nationality

Japan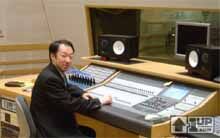 Koji Kondo (近藤 浩治, Kondō Kōji?, b. August 13, 1960) is a Japanese composer and musician best known for his scores for various video games produced by Nintendo.
Koji Kondo, born in Osaka, Japan, is a well known video game music composer that has worked for Nintendo for a long time. He was trained as a classical musician. Today, he plays the piano and is in the process of learning the Cello. He started working for Nintendo straight out of college after answering a simple recruiting ad. From there, the first game he worked on was the infamous arcade game, Golf. His musical tastes vary from Jazz to Latin music, and shows in some of his work.

Currently, he is in charge of a staff that is working on The Legend of Zelda: Twilight Princess.
Soundtracks
[
]
These are some the game soundtracks he has composed for. He may not have done every song on the following games.
External links
[
]