| | |
| --- | --- |
| | This game, video game or software features adult themes and/or content, and this article may make reference to that content for encyclopaedic purposes. |
Uncut & Uncensored
[
]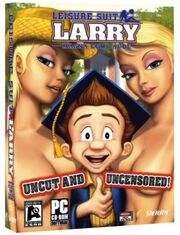 Characters
[
]
Ione – A naive, bookish introvert who goes to the same college as Larry. She is a plain girl with large glasses and a green sweater with a cat on it. She is the Dean's niece.
Charlotte - An activist who protests the science department experimenting on live animals.
Harriet – An enthusiastic blonde with a lisp who plays in the university band. Harriet is very big on school spirit.
Analisa – A feisty, outspoken Sicilian girl with possible Mafia ties.
Bilzarbra – This name-dropping waitress is an aspiring actress. She would never have anything to do with Larry without a healthy dose of deception.
Luba Licious – A popular funloving lush, Luba is known for being extremely promiscuous and occasionally bisexual. She is also Ione's roommate.
Beatrice – Larry's science professor at the college. Currently performing experiments involving live animals.
Barbara Jo – The archetypal dumb blonde cheerleader.
Zena – A stripper with pigtails, known for being the second bustiest of the girls and her nickname "Zena Zeppelins" because of same.
Suzi – A punk rocker with a taste for pain.
Zanna – A large Russian foreign-exchange student (and possible spy) with a thick accent.
Koko – The campus mime with a troubled past.
Sally Mae – A down-home southern girl with a cowboy hat and Daisy Dukes, she's a big fan of country music.
Morgan – A geeky girl who enjoys Dungeons & Dragons and spends a lot of time in the Library.
Tilly – A snobby British woman with fiery red hair who heads the sorority. She has a resemblance to actress Haviland Morris.
Uma – The host of the television show "Swingles." She often ridicules Larry.
Adult Only Rating
[
]
The uncensored version of this game got an "Adults Only" rating from the ESRB as it contains mature humour, nudity and strong sexual content. This means many stores refuse to sell the game such as Toys R Us.