Majesco Entertainment
Majesco Logo new.jpg
Type
S.A.
Founded
1986
Defunct
Headquarters
Edison, New Jersey,(USA HQ)
Products
Parent Company
N/A
Website
Majesco official site

Majesco is a video game developer founded in 1986. It first made a name as a reissuer of old titles that had been abandoned by their original publisher. By cutting the prices dramatically and, eventually, arranging the rights to self-manufacture games for both Nintendo and Sega systems, the company found a sustainable market niche.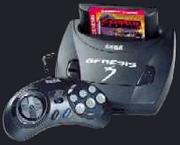 Later, they arranged with Sega to manufacture a version of its Genesis (also known as Megadrive) 16-bit console, which had been superseded by the 32-bit Saturn. They released this in 1998 as the Genesis 3, and followed up with a version of the hand-held Game Gear called the Game Gear Core System.
More recently, the company's focus shifted to in-house game development - initially under the brand of Pipe-Dream Interactive, since few believed they could make the transition successfully. Majesco now focuses on developing for newer systems, such as Nintendo's GameCube and Game Boy Advance, Microsoft's Xbox, and Sony's PlayStation 2.
External links
[
]
This

video game publisher

-related article is a stub. You can help by adding to it.