Marvel Vs. Capcom is the first of two games in the series, most well known for a fast-paced, chaotic style of play. The game is also preceded by Marvel Super Heroes Vs. Street Fighter. The game has 16 playable characters in the original version with Norimaro being dropped for the games release outside of Japan. Five alternate versions of characters exist with the hidden character Roll.
In 2012, Iron Galaxy Studios re-released the game and bundled it with Marvel Super Heroes with upgraded visuals, online game play as well as various unlockables.
Characters
[
]
Characters available from the start
[
]
Secret characters
[
]
Unstunnable War Machine
A version of Morrigan with Lilith's techniques and palette
A faster version of Hulk with his Marvel Super Heroes moveset.
A faster, after-image leaving version of Venom.

Shadow Lady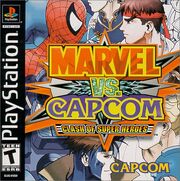 Summonable characters
[
]
There is also a very large variety of summonable characters.
Unknown Soldier
Magneto
Saki
Lou
Devilot
Storm
Thor
Cyclops
Colossus
Ton Pooh
Arthur
Rogue

Jubilee
Michelle Heart
Psylocke
Anita
Juggernaut
Iceman
U.S. Agent
Pure and Fur
Sentinel (secret character)
Shadow (secret character)
External links
[
]