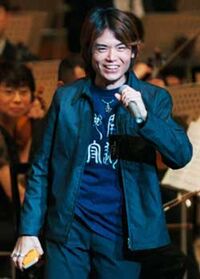 Masahiro Sakurai once worked for Nintendo and is the creator of the Kirby series and Super Smash Bros. series. He served as the director of each game in the latter series. Since then, he has become a freelance designer, founded Sora Ltd., and has recently teamed up with Q Entertainment to create the puzzle game Meteos for the Nintendo DS.
Masahiro Sakurai also writes a weekly column for the Japanese gaming magazine, Famitsu.
He most recently finished working on latest edition of Super Smash Bros. for the Wii, Super Smash Bros. Brawl. Masahiro Sakurai used a team of dozens, ranging from Nintendo veteran designers, as well as people from Game Arts to work with at a new studio at Tokyo, Japan, to complete the game.
Games credited
[
]