Template:Handheld Platform Top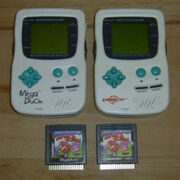 The Mega Duck WG-108 (also known as Cougar Boy) is a handheld game console similar to the Nintendo Game Boy, or the Watara Supervision.
The "Mega Duck" was produced by several companies, Creatonic, Videojet, and Timlex, and came on the market in 1993 to be mainly sold in France, the Netherlands and Germany for about €60 (fl. 129,- ). In South America, mainly in Brazil, the Chinese-made Creatonic version was distributed by Cougar USA, also known as "Cougar electronic organization [sic]", and sold as the "Cougar Boy".
The cartridges are very similar to the ones of the Watari Supervision, but slightly less wide, and having fewer contacts (36 pins, the Watari has 40). Conceptionally the electronics inside the Supervision and the Mega Duck, are also very similar. the position of the volume and contrast controls, the buttons and connectors are virtually identical. However, the LCD of the Supervision is larger than the Mega Duck's.
The cougar boy came with a 4-in-one game cartridge, and a stereo earphone.
With an external joystick (not included) two players could play against each other simultaneously.
List of games
[
]
| Order Code | Name | Game theme |
| --- | --- | --- |
| CB001 | THE BRICK WALL | Breakout (brick) game |
| CB002 | STREET RIDER | F1 racing game |
| CB003 | BOMB DISPOSER | Bomberman clone |
| CB004 | VEX | Unknown |
| CB005 | SULEIMAN'S TREASURE | Adventure? |
| CB006 | ARCTIC ZONE | Shoot icecubes |
| CB007 | MAGIC MAZE | Maze game |
| CB008 | PUPPET KNIGHT | Jousting Knight |
| CB009 | TRAP AND TURN | Ball game |
| CB010 | PILE WONDER | Box pushing game |
| CB013 | BLACK FOREST TALE | Little red riding hood theme game |
| CB014 | ARMOUR FORCE | Robots |
| CB018 | SNAKE'S ROY | Monster |
| CB019 | RAILWAY | Kids Railway |
| CB029 | MAGIC TOWER | Platform game with scissors, stone, paper theme |
| CB030 | WORM VISITOR | Frogger clone |
| CB035 | FOUR IN ONE | Four games see below |
| CB035a | ELECTRON WORLD | Shooter |
| CB035b | DICE BLOCK | Dominoes |
| CB035c | TROUBLE ZONE | Tetris with numbers ? |
| CB035d | VIRUS ATTACK | SF shooter |