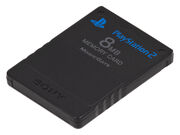 As games moved away from the cartridge format to CD-ROM, DVD and other read-only media, the place for saving games became small storage cartridges called Memory Cards. Memory cards would plug into the gaming console or controller, and store your game's saves, info, and other files, allowing you to save your progress and play again from where you left off.
For consoles without hard drives, memory cards are the primary source of storing your saved game data.
Function
[
]
While you did have to pay extra to save a game, memory cards were very beneficial and essential for modern gaming. Memory cards allowed you to move saved files from one console to another, and you could save your in game progress, so you could pick up where you left off. And the use of memory cards allowed you to use your own save features on a game, where originally saved data was stored with the game itself on the cartridge.
Legacy
[
]
As more and more game systems come with hard drives built into the console, the need for memory cards has dwindled, almost to a halt. As the curtain begins to close on the memory card, and make way for built in, or in some cases detachable hard drives, the memory card will always be remembered for it's part in the evolution of gaming, and the opportunities it presented to gamers. And for these reasons, the memory card will always hold a special place in the heard of gaming.
Gallery
[
]