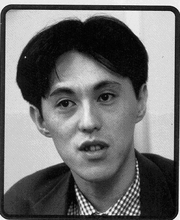 Naoto Ōshima (大島 直人 Ōshima Naoto) is a Japanese national and former Sega employee who designed the characters of Sonic the Hedgehog and Dr. Eggman. Ōshima is the president of Artoon, a small Japanese game developing company. Ōshima gained renown at Sega's Sonic Team for creating characters and playing integral roles in the development of games like Phantasy Star, NiGHTS Into Dreams, and Sonic Adventure.
In 1998 Naoto Ōshima left Sega due to the failure of the Sega Saturn and the company's loss of $350 million. There he went on to work on such games as Pinobee and Blinx: The Time Sweeper, and in 2004, the sequel to Blinx, Blinx 2: Masters of Time & Space.
He is occasionally credited under the nickname "Big Island", which is a literal translation of his surname.