Need for Speed II is a 1997 racing video game, developed by Electronic Arts Canada and published by Electronic Arts. It is a part of the Need for Speed series and sequel to The Need for Speed (1994), significantly deviating from the emphasis of realism in The Need for Speed to arcade-like gameplay, though it introduces the car tuning. As does its predecessor, Need for Speed II features several exotic cars, and includes tracks set in various parts of the world. The game also opted to remove police pursuits introduced in The Need for Speed.
Gameplay
[
]
There are three main game types. The first two are single race and tournament and the last is a knockout race. Single races allow players to become familiar with the circuits and increase their skill of any one of the six tracks. The six tracks are called Mediterranean, Mystic Peaks, Proving Grounds, Outback, North Country, and Pacific Spirit. Cars that are playable from the start include the McLaren F1, Ferrari F50, Ford GT90, Jaguar XJ220, Lotus GT1 and Lotus Espirit V8, Italdesign Cala, and the Isdera Commendatore 112i. The game features extensive multi-player options including two to eight players over a LAN, by modem or serial connection and with split-screen racing.
In a single race the player selects the opposing car, while all cars compete in a tournament and at the start of a knockout race. There is also two playing styles—arcade or simulation. Arcade mode improves handling while simulation mode is intended to provide more realism. The number of laps can be chosen from two, four or six. Automatic or manual transmission as well car paint color are selectable in all game types.
A tournament race involves playing all tracks in order with the starting track able to be selected. Only after successfully completing a tournament in first place can knockout races can be played. Knockout races always involve doing only two laps of all six tracks with all other cars. These disqualification races always start on the easiest circuit and continue through each map, eliminating the slowest car after each race. After advancing through all the tracks another circuit is revealed. Monolithic Studios can then only be played by completing all knockout races first.
Features
[
]
As in the original Need for Speed, the game features detailed specifications, history, and audio commentaries on each vehicle. The largest feature are several full motion video (FMV) segments for each of the cars, several of them being the professional produced videos for the concept vehicles. Additionally, each vehicle interior could be viewed through genuine photographs taken in a 360 degree panoramic view. This marks the last time such extravagant features are to be found in the Need for Speed series as future games render any material completely in 3D.
It is also possible to enter a number of codes at the start menu which if entered correctly, would make a swooshing noise. These codes replaced the chosen car with a vehicle from the games backdrop traffic. These vehicles could then be raced instead and had more realistic performance. Background vehicles included a Volkswagen Beetle, Volkswagen Variant, Mazda MX5, Jeep Comanche, Volkswagen Transporter, Yellow School Bus, Citroën 2CV, Jeep YJ, Toyota Landcruiser, Audi Quattro, two Unimogs, BMW 530i, Mercedes-Benz SL 500, and Volvo 850 station wagon.You could also drive various parts of the scenery including a large green T-rex, a little wooden kiosk and a western style wagon. The scenery items made no engine noise but would always make a tire screech when moving off the start line.
Need for Speed II: Special Edition

[

]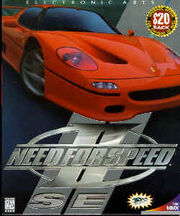 Released on November 6, 1997 in the United States and February 2, 1998 in Japan and Europe, the special edition of NFS II includes one extra track, 6 extra cars, a new driving style called "wild", and 3dfx Glide hardware-acceleration support.
Because the Voodoo Graphics and the Voodoo Rush were the only 3dfx cards available at the time of the game's release, and because Electronic Arts did not future-proof the game's installer, later 3dfx graphics card models such as the Voodoo 2 are not detected during the NFS II SE installation process (a pop-up will confirm 3dfx detection) and subsequently, the files required for 3dfx support in NFS II SE are not copied over to the hard-drive. Solutions to this have been made available on Internet, consisting of modifying files, modifying operating system settings, and obtaining user-made applications. Glide wrappers are also available for non-Voodoo graphics cards to run the game with hardware-acceleration.
Besides smoothing out the in-game textures, the 3dfx version of the game also features additional visual effects not found in the software version, such as car reflections, weather, improved fog, shading, improved skybox rendering and transparent in-game menu overlay featuring a rotating view around the player's car. These visual enhancements are standard in both the software and hardware accelerated versions of Hot Pursuit and High Stakes.
NFSII SE Internet (Patch)
[
]
Updates:
Support of TCP network protocol.
Ability to play network games with a "peer to peer" packet transfer model.
Fix in Force Feedback chugging.
Fix in Videos by-passed when a fluttering or uncalibrated joystick was plugged in.
Development
[
]
Need for Speed II was developed by EA Canada. The lead programmer for the game was Laurent Ancessi with Wei Shoong Teh and Brad Gour as senior programmers. To ensure the physics of fast car handling and performance were as accurate as possible the programmers collaborated with the manufactures of each vehicle
Reception
[
]
Most reviews were favourable although some thought the game wasn't as fun as the first game in the series. A GameSpot reviewer liked the game but felt most of the roads were "outrageous" and that the cars would be unfamiliar to many. An Adrenaline Vault review described the game as a "good overall driving experience" with easy installation, realistic sound effects and both an excellent interface and music. Another review like the crisper graphics, smoother animation, rich colors and increased detail compared to the original.
Criticism of the game stemmed from it being easier to play and therefore less realistic than its predecessor. An IGN review felt the game was not as good as the original. Some reviewers felt the steering was a little "jerky" and one went as far as to describe the graphical details as poor. Another issue was that the game required a fast computer at the time, to display the graphics at the highest setting. A reviewer for Computer and Video Games didn't appreciate the combination of super realist cars being driven on fantasy tracks and thought that the crashes "look and feel wrong".