Ninja Gaiden Sigma is the sixth game in Tecmo's Ninja Gaiden series. It is a remake of Ninja Gaiden Black. It was first revealed in Famitsu magazine in September 2006. In its first week Ninja Gaiden Sigma sold 46,307 units in Japan.
Changes
[
]
Contrary to claims of this being the "more complete" version, almost all of the bonus features from the two previous versions were excluded from this version. Unlockable costumes were reduced to only two, and the old NES and arcade games which can be unlocked previously were eliminated. The introductory movie chronicling the legend of the Dark Dragon Blade and the Dragon Sword was also no longer in the game.
Graphics were overhauled to high definition standards. Vast changes were made to the layout of a few environments. A great number of new save and shop locations were added, and Rachel's three chapters were simply inserted amongst Ryu's Story Mode chapters. New foes, like the biker MVAPs, the fish-men girtablilu, and the wisp-like phantoms, were introduced with the two new bosses, Gamov and Alternator, with quite a few changes made to the specifications (AI, damage, etc.) of the old foes. The player can fight these foes with the new weapon, a pair of katanas, the Dragon's Claw & Tiger's Fang.
Ryu's reverse wind technique was replaced with that of his ninja foes. He can now fight on water, and shoot arrows in mid-air. The most prominent change allowed the player to use restoration items without going through the menus. The controller can also be shaken to increase a casted ninpo's power. If the player had played the demo before starting the very first game on the retail version, a bonus amount of yellow essence will be awarded based on the player's achievements in the demo.
From August 30, 2007 onwards, Survival Mode is available in the form of three separate packages for Ninja Gaiden Sigma on the PlayStation Network, each costing a small fee to download. Each package adds a set of themed missions (Weapon Master, Speed Master, Rachel Master) to the new Survival Mode option. The player goes through the missions without any restoration item, and keeps fighting enemies until the character's life is reduced to zero. Online rankings primarily keep track of the player's individual mission records, in terms of the number of kills.
Development
[
]
On June 7, 2007 Tecmo opened the website to fans.
On June 6, 2007 Ninja Gaiden Sigma missions were revealed to Famitsu. It features various gameplay screenshots of Rachael and Ryu.
On June 5, 2007 Tecmo released an Ad for Ninja Gaiden Sigma. The ad features a girl playing the game at a store's display stand and holding up a line.
On May 3, 2007 Tecmo released the Boxart for Ninja Gaiden Sigma.
On April 26, 2007, a demo of the game was released on the PlayStation Network American and Japanese stores. To the dismay of many Ninja Gaiden veterans, the scoring system of the demo has a glitch which allows players to get exorbitantly high scores. The demo is 983 MB and contains the first chapter of Ninja Gaiden Sigma, ending just after your fight with nunchaku master Murai.
On April 21, 2007 a trailer was released to GameTrailers which shows segments with Ryu and Rachael fighting different opponents.
Ninja Gaiden Sigma Collector's Edition
[
]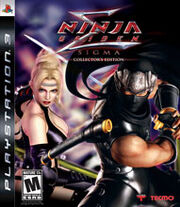 The Collector's Edition was announced April 24, 2007. It contains a 2-disc set with special hi-res packaging, a behind the scenes DVD from Team Ninja, and special codes to unlock Ryu and Rachael mission modes. The Collectors Edition is priced at $69.99 US dollars and is exclusive to Gamestop.
Praise
[
]
Like Ninja Gaiden and Ninja Gaiden Black, Ninja Gaiden Sigma has received positive reviews and scores. It also received the Editor's Choice Awards from IGN.
46,307 units[1] of Ninja Gaiden Sigma were sold in the first week of its release in Japan, making it the third highest selling game during that period. Tecmo also announced that they have sold 500,000 units worldwide.[2] The figure is the company's shipment amount to retailers worldwide, and does not reflect sell-through numbers.
Famitsu: 33 out of 40.
GameSpot: 9.0 out of 10.0
IGN: 9.3 out of 10.0
Electronic Gaming Monthly: 8.67 out of 10
Play US: 8.5 out of 10.
Game Informer: 9 out of 10.
Gametrailers: 9.1 of 10.
Play Station Magazine: 9 out of 10
Play UK:8.8 out of 10.
Eurogamer: 7 out of 10.
Play Station Magazine 3 UK: 80 out of 100.
Games Masters UK: 83 out of 100
Pro-G: an 8 out of 10
Critisism
[
]
The game was criticized for its camera problems.
References
[
]
External links
[
]