The Nintendo DS Lite is a revision of the popular Nintendo DS dual-screen portable handheld game console developed and manufactured by Nintendo. This new edition is smaller and lighter than the original DS, with a higher-quality screen with four brightness settings. The system launched in Japan on March 2 with three different colours, and launched in North America on June 11, 2006.
Difference between DS Lite and regular DS
[
]
The stylus is stored horizontally in the system's right side, instead of the original's vertical/back orientation.
The DS Lite ditched the Game Boy Advance SP and Nintendo DS AC adapter port for the more compact Game Boy Micro-like AC adapter port.
The Game Boy Advance slot on the DS Lite has a protective, removable slot cover to protect the port when not in use. And most likely to make gaming a bit more comfortable on the fingers that grip down there.
The headphone jack and volume switch are in the identical position as the standard DS, and remain unchanged.
Power is now activated by a slider switch on the right side, just above the Stylus slot. It is no longer a button press. To prevent players from accidentally turning on or off the system, the slide switch must be slid towards the right and held for two seconds.
The internal Model name for the DS Lite is USG. Previous model names for past Nintendo handheld systems include DMG for the original Game Boy, CGB for Game Boy Color, AGB for Game Boy Advance, AGS for the GBA SP, OXY for the Game Boy Micro, and NTR for the original Nintendo DS.
Uses same screen display tech as GBM and New SPs.
Only three hours to fully charge a DSLite.
4 brightness setting:
Lowest - 15-19 hrs
Low - 10-15 hrs
High - 7-11 hrs
Very High - 5-8 hrs
Launch Oddity
[
]
As early as May 30, 2006 stores such as Wal-Mart and Target were reported to have DS Lites already in stock as a result of being given shipments early and not wanting to wait until June 11 to start selling them.
On May 30, 2007 Nintendo announced 2 new DS lite colors: Metallic Rose and Gloss Silver which were scheduled to be released in Japan on June 23, 2007.
Colors
[
]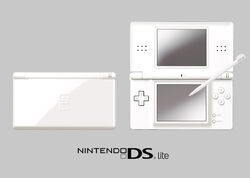 The Nintendo DS Lite comes in 13 colors: Onyx Black, Gloss Silver, Metallic Rose, Ice Blue, Enamel Navy, Crystal White, Polar White, Crimson Black, Coral Pink, Cobalt Blue, red, green and turquoise.
See also
[
]
External Links
[
]