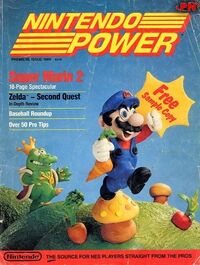 Nintendo Power is a gaming magazine created by Nintendo Co. in order to spread news of products created and endorsed by the company. Nintendo Power was first published in July of 1988.
It often features letters from readers and, before the revamp of 2005, lots of fanmade artwork. Many issues have miniature walkthroughs for a new and/or upcoming game.
The magazine used to be criticised by gamers for it's inflated reviews and superfluous content. Everything was seen by many to be completely skewed in favor of Nintendo, even the games that weren't very good. In June of 2005, Nintendo Power underwent a makeover, including more competent reviews and more in-depth features to answer these criticisms and make it more of a respectable publication. Some felt that the redesign made the magazine less unique and more like every other gaming magazine, such as Game Informer or Electronic Gaming Monthly.

The publication will cease after December 2012.