PlayStation 3
Basic Information

Type(s)

Home Console

Generation

Seventh
Sony Corporation
PlayStation 2
PlayStation 4
Xbox 360, Wii
80 million as of November 2, 2013
Grand Theft Auto V
Technical Information
40, 60 or 80 GiB Hard Drive
Blu-ray, DVD, 

PlayStation 2 DVD-ROM

, 

PlayStation 2 CD-ROM

, PlayStation CD-ROM
Input(s)
PlayStation 3 Sixaxis Controller,DualShock 3 Controller
Features
Blu-ray player
DVD Player
Video Player
Internet Browser
Chat
Trophies System
PS2 and PS Memory Card Creator
European Release
March 23, 2007
North American Release
November 17, 2006
Japanese Release
November 11, 2006

Awards

|

Covers

|

Credits

|

Gallery

|

Help




Patches

|

Reviews

|

Screenshots

|

Videos
The PlayStation 3 (often and officially abbreviated as PS3) is a video game console developed by Sony as a successor to the PlayStation 2. It was released first in Japan on November 11, 2006; November 17, 2006 in North America; and March 23, 2007 in Europe and Australia. It competes against the Xbox 360 and Wii as part of the seventh generation of video game hardware.
It was discontinued in North America in October 2016 and in Japan in May 2017.
Announcement and Launch
[
]
The PlayStation 3 was officially unveiled at E3 2005 on May 16, along with the Sixaxis Controller, which would remain the official controller until 2008, when it was replaced by the DualShock 3 Controller.
It was first released in Japan on November 11, 2006 at 07:00. According to Media Crate, 81,639 PS3 systems were sold within 24 hours of its release. It would later be released in North America on November 17. Reports of violence surrounded the release of the PS3, with campers being robbed at gunpoint and a drive-by shooting with BB guns being a few examples of the violence over the systems.
On March 23, 2007, the PlayStation 3 was released in Europe, Australia, the Middle East, Africa, and New Zealand - where it sold about 600,000 units in its first two days.
Features
[
]
Hardware
[
]
The PlayStation 3 features a Blu-ray Disc drive for games, Blu-ray movies, DVDs, CDs, and other optical media. Originally, the PS3 was made available with hard drives of 20 and 60 GB; but various sizes up to 500 GB have been made available over the years. All PS3 models can have their hard drives upgraded.
The console uses the Cell microprocessor, designed by Sony, Toshiba, and IBM, as its CPU. The system has Bluetooth 2.0, Gigabit Ethernet, USB 2.0, and HDMI 1.4 built in. Wi-Fi networking is also built-in on all but the 20 GB models.
Controller
[
]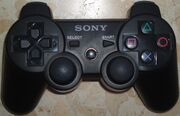 At E3 2005, the Dual Shock 3 controller with a crescent-shaped design was shown for the PlayStation 3. However, the model was changed to one similar to the Dual Shock 2 controller of the PS2 because of negative response from gamers. Sony later introduced the Sixaxis controller which exhibits six degrees of freedom. The controller is also as lightweight as the Dual Shock 2, making the Xbox 360 controller look like a paperweight. The controls are the same as the old Dual Shock controller but the vibrating features have been removed and replaced with a motion sensor. The controller also uses wireless Bluetooth technology and can be wired and charged with an USB cable.
Software
[
]
Pricing
[
]
On July 1, 2007 Sony dropped the price of the PlayStation 3 from $599 to $499 for the 60 GiB model. This model was later discontinued.
Packages
[
]
| Name | Info | Image |
| --- | --- | --- |
| MotorStorm Bundle | On Monday July 9, 2007 Sony announced that the 80GB PS3 will be dropped to $599 and bundled with MotorStorm in August 2007. | |
| Australian PlayStation 3 Starter Pack | This Starter pack was sold for £425 in Australia from August 2 to 31, 2007 and in New Zeland from August 1 to September 30, 2007. It includes MotorStorm and Resistance: Fall of Man, a 60GB PS3, and a extra wireless SIXAXIS controller | |
| PAL PlayStation 3 Starter Pack | On September 4, 2007 Sony announced that a PAL starter pack would be sold in Europe which includes Heavenly Sword, Formula One Championship Edition, a 60GB PS3 and an extra SIXAXIS controller | |
Exclusive Titles
[
]
Exclusive games to PlayStation 3 include:
Aguanaut's Holiday : Hidden Memories

Ar Tonelico Qoga: Knell of Ar Ciel

Boku no Natyusasumi 3

Buzz!: Quize TV

Buzz!: Quize World

Derby Time Online

Everybody's Golf 5

The Eye of Judgement

Eyedentify

EyePet

The Fight: Lights Out

G1 Jockey 4 2007

G1 Jockey 4 2008

Gran Turismo 5: Prologue

Janeline R

Katamari Forever

Makai Wars

Metal Gear Online

MLB 08: The Show

MLB 09: The Show

MLB 10: The Show

Mobile suit Gundam: Battlefield Record U.C 0081

Monster Madness: Grave Danger

MotorStorm 1

MotorStorm 2: Pacific Rift

MotorStorm 3: Apocalypse

NBA 08

NBA 09: The Inside

Neptune

Ninja Gaiden Sigma 2

One Piece: Pirate Warriors

One Piece: Pirate Warriors 2

Pain

Prince of Persia Trilogy

Ratchet and Clank Future: Quest for Booty

Ratchet and Clank Future: Tools of Destruction

Ratchet and Clank Future: A Crack in Time

Ratchet and Clank: All 4 One

SEGA Golf Club

SingStar

SingStar Vol. 2

SingStar Vol. 3: Party Edition

Siren: Blood Curse

The Sly Collection

SOCOM: U.S Navy SEALs Confrontation

SOCOM 4

Supercar Challenge

Tales of Symphonia Chronicles

Tales of Xillia

Tales of Xillia 2

Tales of Zesteria

Tom Clancy's Splinter Cell Classic Trilogy HD

The Tomb Raider Trilogy

Trinity Universe

Vib-Ribbon (return)

White Knight Chronicles

White Knight Chronicles 2

Yakuza 3
External Links
[
]
See also
[
]
Sony Hardware
Consoles

Peripherals