The PlayStation 4 (PS4) is a home video game console manufactured and developed by Sony, with hardware being supplied by Foxconn. Announced as the successor to the PlayStation 3 on February 20, 2013, it was released in North America on November 15, 2013 and in Europe on November 29, 2013. It was released in Japan on February 22, 2014. A console of the eighth generation, it competes with Microsoft's Xbox One and Nintendo's Wii U and Switch.
The new DualShock 4 Controller features a touchpad, a new addition to the standard features found on the DualShock 3 Controller. Disc-based gameplay is supported, and games use a dual-layer 50 GB BD-ROM disc for storage; these games must then be installed on the hard drive. At launch, the hard drive was 500 GB, but this can be easily upgraded. The current known maximum is 2 TB, limited by hardware availability more than any known software-based limitations. At launch, the console came bundled with the PlayStation Camera and an additional DualShock 4 Controller.
The PlayStation 4 is not currently backward-compatible with PlayStation, PlayStation 2 or PlayStation 3 discs, although the system's firmware does have built-in support for playing PlayStation and PlayStation 2 video games. Sony confirmed that some older PlayStation 3 titles will be playable via PlayStation Now, with PlayStation 2 and PlayStation 4 video games being added mid-2018 to PlayStation Now.
Its successor, the PlayStation 5, was released in November 2020.
Launch titles
[
]
North America
[
]
Europe
[
]
Japan
[
]
Hardware
[
]
System Specifications
[
]
Technical Specifications
CPU
Eight-core x86-64 AMD "Jaguar"
RAM
8 GiB

GDDR5

RAM
GPU
1.84 TFLOP, AMD next-generation "Radeon"-based graphics engine
Internal

Storage

500 GiB 2.5" SATA HDD (1

TiB

later offered, 2

TiB

maximum upgradeable capacity by user)
External

Storage

Up to 4GB Supported

Optical Drive

6x

CAV

BD-ROM, 8x CAV DVD-ROM
Networking

Ethernet

(10/100/1000

Mbps

), IEEE 802.11b/g/n,

Bluetooth

2.1 (EDR)
Connectivity

HDMI

, 1 x Digital Audio, USB 3.0 x 2
Controller
[
]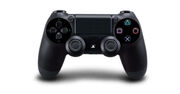 The DualShock 4 is the primary controller for the PlayStation 4; it maintains a similar design to previous iterations of the DualShock series, but with additional features and refinements. The caps of the analog sticks were given a concave design, the shape of the triggers and shoulder buttons were refined, and the D-pad buttons were given a steeper downward angle to provide a resting space in the center for the user's thumb, among other tweaks.
A major addition to the DualShock 4 is a touchpad that is capable of detecting up to two simultaneous touch presses and can also function as a button. The "Start" and "Select" buttons were replaced with "Options" and "Share" buttons, the latter is designed to allow access to the PlayStation 4's social features (including streaming, video recording, and screenshot tools). The DualShock 4 is powered by a non-removable, rechargeable lithium-ion battery, which can be charged via its micro USB connector. It also features an internal speaker and a headphone jack for headsets or headphones; the console is bundled with a pair of headset earbuds.
The controller's motion tracking system is more sensitive than those of the PlayStation 3's controllers. An LED "light bar" was additionally added to the front of the controller; it is designed to allow the PlayStation Camera accessory to further track its motion, but can also be used to provide visual effects and feedback within games (such as reflecting a player's low health by turning red).
Camera
[
]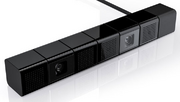 The PlayStation Camera is an optional motion sensor and camera for the PlayStation 4, similar to the Xbox One's Kinect. It includes two 1280×800 pixel lenses operating with an aperture of f/2.0, with 30 cm focusing distance, and an 85° field of view. The dual camera setup allows for different modes of operation, depending on the initiated and running application. Together, the two cameras can be used for depth-snesing of its surrounding objects in its field of vision. Alternatively, one of the cameras can be used for generating the video image, with the other used for motion tracking.
The PlayStation Camera also features a four-channel microphone array, which helps reduce unwanted background noise and can be used for voice commands. With the PlayStation Camera connected, different users can automatically log-on to the system via face detection.
Images
[
]
References
[
]
See also
[
]
Sony Hardware
Consoles

Peripherals