R.U.S.E. is a real-time strategy video game developed by Eugen Systems and published by Ubisoft which was released for Microsoft Windows, PlayStation 3 and Xbox 360 in September 2010. R.U.S.E. is a strategy game with systems that focus on information warfare and are intended to be superior over brute force. Players can use a series of ruses and decoys to trick their enemies and change the outcome of battles.
Story
[
]
R.U.S.E. takes place within the World War II time period.
There are two campaigns in the game, the first takes place from the point of view of Major Joseph Sheridan of the United States Army.[1] A Yale dropout, Joe Sheridan later joined the US Army and then assumed control of the First Armored Division. The game follows Major Sheridan as he battles from Africa to Germany. The second takes place from the point of view General Major Erich Von Richter in the Wehrmacht, whose dreams of military perfection on the battlefield were realized with the invention of Blitzkrieg. The game follows General Richter who, while battling allied generals, is trying to uncover a traitor in the upper ranks of his command.
Gameplay
[
]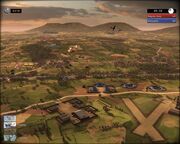 Factions
[
]
The player can only play as the United States or Germany in the campaign mode (although units from other factions are sometimes under the player's control in several missions), but other factions are present in the game and can be played online. The factions include the United Kingdom, United States, Nazi Germany, Italy, France, and the Soviet Union.[2] Each possesses a unique balance of strengths and weaknesses, which allows for more dynamic gameplay.[3]
Ruses
[
]
R.U.S.E. employs a system of ruses that allow the player to fool or bluff an opponent. The ruses are divided into three different categories: those that reveal information (such as Decryption), those that hide information (such as Radio Silence), and those that allow for fake structures/units, designed to trick the enemy (the Decoy Offensive).[4]
Multiplayer
[
]
R.U.S.E. features an online multiplayer component and allows for dedicated servers . It contains both cooperative and competitive multiplayer, and provides for ranked matches.
Development
[
]
Features
[
]
The game supports multitouch screens and Playstation Move. R.U.S.E. was originally going to use Ubisoft's permanent internet connection DRM, but this was removed in favor of Steamworks.
Reception
[
]
R.U.S.E. received generally positive reviews upon release. The PC, PlayStation 3, and Xbox 360 versions have Metacritic scores of 76%, 76%, and 78% respectively.
References
[
]
External links
[
]