Retro Studios is an up-and-coming game development company located in Austin, Texas. They were founded in 1998, as a wholly owned subsidiary of Nintendo Company, Ltd. Retro Studios, in collaboration with Nintendo, produced its first game, Metroid Prime, which was released in Fall of 2002. The team went right back to work producing its sequel, Metroid Prime 2: Echoes, which was released in Fall 2004.
Awards
[
]
Retro Studios and the first two Metroid Prime games have received numerous awards.
Metroid Prime 1 Awards
[
]
Console First Person Action Game of the Year, Academy of Interactive Arts and Sciences
Game of the Year, Game Developer's Choice Awards
Excellence in Level Design, Game Developer's Choice Awards
Editor's Choice Platinum Award, Electronic Gaming Monthly
2002 GameCube Game of the Year, GameSpy
Game of the Year, Edge Magazine
Best Adventure Game, Edge Magazine
Audio Achievement of the Year, Edge Magazine
Metroid Prime 2 Awards
[
]
Retro Studios Awards
[
]
Rookie Studio of the Year, Game Developer's Choice Awards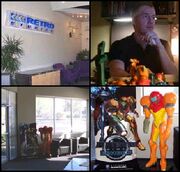 History
[
]
Retro Studios Inc. was created by Jeff Spangenberg in October of 1998. Jeff was previously known for starting Iguana Entertainment, another game developer that he had left, which created the Aero the Acrobat and Turok games, among others. Spangenberg created Retro after leaving Iguana due to a conflict with publisher Acclaim. Upon hiring a team of 25 or so, Spangenberg managed to convince Nintendo of America to fund the studio. Nintendo's funding brought cutting edge technology to the studio, including a motion capture studio.
Initially, Retro was working on several titles for the unreleased Nintendo GameCube: A football sim, an action adventure game, and a car combat game, all of which would be GCN exclusive. Several people from Nintendo, including Shigeru Miyamoto, visited Retro's offices in Texas to check up on the progress on the titles. They were mostly unsatisfied with everything Retro was working on. Despite this, Retro was given the Metroid license, causing them to cancel almost all of their other projects.
By 2001, Retro was facing many problems with creating a Metroid game and developing their Action/RPG title, Raven Blade. In 2002, Raven Blade was also cancelled, and Nintendo bought Retro Studios from Spangenberg so they could step in and straighten out the whole mess. Former members of Retro Studios allege that Spangenberg did little in managing the studio and generally lived the fast playboy life at night. Spangenberg has since gone on to create Topheavy Studios, creator of The Guy Game.
Now that Nintendo owned the developer and they were focused on one game, Nintendo installed one of their own as Retro Studios President: Michael Kelbaugh. From then on, they managed to get through all of the problems and put out the award winning Metroid titles. They have also worked on Metroid Prime 3: Corruption for the Wii and Metroid Prime: Hunters for the Nintendo DS.
"The Retro Team is composed of industry veterans and leaders with decades of experience in creating edgy, fun, and compelling games for the global market. They have lovely singing voices, and only use their powers for good. Their kung fu is mighty, and the Force is always with them."
 — The official Retro Studios website
External links
[
]