Solid Snake
| | | |
| --- | --- | --- |
| " | I'm no hero... Never was. I'm just an old killer... Hired to do some wet work. | " |
| | ~ Solid Snake | |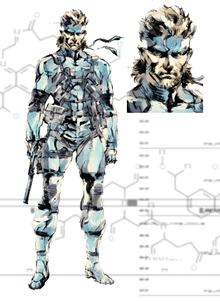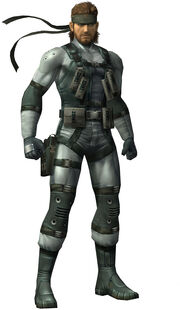 Solid Snake is a main character throughout the Metal Gear series of games. He is a highly trained agent specializing of stealth missions. He likes cigarettes. His real name is Dave, and has a relationship with either Meryl Silverburgh or Otacon. In Metal Gear Solid, he claims that besides Roy Campbell, the only other person he would call a friend is Frank Jaeger, also known as Gray Fox. His voice is done by David Hayter.
He is one of the cloned sons of Big Boss. The other surviving ones being Liquid Snake and Solidus Snake.
Much as Metal Gear began as a pastiche of action movies of the time, Solid Snake began as a pastiche of contemporary action movie heroes. For example, on the cover artwork of the original Metal Gear, he resembles the Michael Biehn incarnation of Kyle Reese in The Terminator, and the in-game portrait of Snake in Metal Gear 2: Solid Snake resembles Mel Gibson in the game's opening sequence.[1] Solid Snake was even named after another fictional special forces operative: Snake Plissken, Kurt Russell's character in Escape from New York.[2][3] In Guns of the Patriots, Snake is modeled after Lee Van Cleef, who appeared in Escape from New York.[4] His real name, David,[5][6] is a tribute to the film 2001: A Space Odyssey that has a character with the same name.[7] Kojima later described Snake's role in the original Metal Gear as the "player's presence", contrasting the defined personality Solid Snake acquired in Metal Gear Solid.[8] Kojima also noted the influence of anime character Lupin III on the personality of Solid Snake, stating that in "MGS, Snake became this sharp-tongued, Lupin III-like guy who flirted with women and told lots of jokes".[9]
In addition to expanding Solid Snake's backstory, as the first Metal Gear game to feature voice acting, Metal Gear Solid established his characteristic voice and appearance.[10] Yoji Shinkawa's Solid Snake design, characterized by his navy blue bandanna and "sneaking suit", would serve as the template for all future incarnations of Snake in later Metal Gear games. According to Shinkawa, Snake's physique in Metal Gear Solid was based on that of action star Jean-Claude Van Damme, while his facial appearance in the same game was inspired by actor Christopher Walken. Shinkawa described his rendition of Solid Snake from Metal Gear Solid as a "middle ground" between the younger Snake who graced the cover artwork of the first Metal Gear and the middle-aged Snake from the MSX2 version of Metal Gear 2.[3][11] For the initial events from the Big Shell chapter from Metal Gear Solid 2, Snake's visual appearance was sightly modified with his hair being more blonde.[12] Solid Snake became one of the characters easiest to draw by Shinkawa as he notes that his appearance is consistent despite suffering minor changes across the games.[13]
Solid Snake's character was very well received by gaming media. Retro Gamer included him in the section "top ten forces of good" in their 2004 list of top 50 retro game heroes.[14] In 2005, Electronic Gaming Monthly listed Solid Snake as number one as the top ten video game characters of all time.[15] He was ranked 17th in UGO Networks's 2010 list of the best heroes in entertainment.[16] Snake appeared in multiple GameFAQs "Character Battle" contests, and was runner-up in two, the "Character Battle V" in 2006,[17] and the "Character Battle VII" in 2008.[18] In an Oricon poll from 2008, he was voted as the most popular video game character in Japan, tying with Nintendo's Pikachu.[19] In a Famitsu poll in 2010, Snake was voted by readers as the most popular video game character.[9] His character was amongst the last 16 contestants on the greatest video game hero on GameSpot contest held in 2009, and lost out to Gordon Freeman on a tiebreaker.[20] In the Guinness World Records Gamer's Edition from 2011, Snake was voted as the fourth most popular video game character.[21] In 2011, Empire ranked him as the 19th greatest video game character, adding that "beginning as an action pastiche, he swiftly evolved into his very own character".[22]
↑ Metal Gear Saga Vol. 1. [DVD]. Konami Digital Entertainment, Inc.. 2006.

 

↑ Kent, Steven. Hideo Kojima: Game Guru, Movie Maniac. Gamers Today. Archived from the original on 2001-07-27 Retrieved on 2005-07-15
↑ 3.0 3.1 Hodgson, David S.J. (1998). Metal Gear Solid: Official Mission Handbook. Millennium Publications Inc.. p. 142.

 

↑ Parish, Jeremy. Gear Up! A Metal Gear Retrospective. 1UP.com. Retrieved on February 18, 2012
↑ KCEJ. Metal Gear Solid. "Meryl: So...where to, Snake?//Snake: David. My name is David... Meryl: Okay, so where to, Dave?"
↑ Kojima Productions. Metal Gear Solid 4: Guns of the Patriots. "Big Mama: My, how you've grown...David..."
↑ Kojima Productions. The Document of Metal Gear Solid 2. (Konami). Level/area: Making of Metal Gear Solid 2: Sons of Liberty. (2002)
↑ METAL GEAR SOLID 4 INTEGRATED SITE. Archived from the original on 2008-03-04
↑ 9.0 9.1 Glifford, Kevin (February 10, 2010). Snake Beats Mario, Is Coolest Video Game Character Ever. 1UP.com. Archived from the original on 2015-01-10 Retrieved on March 10, 2010
↑ Chen, David. Retro/Active: Kojima's Productions. 1up.com. Retrieved on 2005-07-15
↑ Yoji Shinkawa's Art Gallery from the official Metal Gear Solid website

(Japanese)

. Konami (July 9, 1998). Archived from the original on 2006-07-16 Retrieved on 2006-07-19
↑ Yoji Shinkawa Interview: Segment 4. Konami. Retrieved on March 2, 2012
↑ Payton, Ryan. The KP Report Session 027. Kojima Productions Report. mp.i.revo. Retrieved on February 17, 2012
↑ Retro Gamer, page 36.
↑ EGM Staff (2005-11-28). Top Ten Video Game Characters. Electronic Gaming Monthly. 1UP.com. Retrieved on 2010-01-13
↑ Best Heroes of All Time. UGO.com (2010-01-21). Retrieved on 2010-03-11
↑ Fall 2006: The Great GameFAQs Character Battle V. GameFAQs. Retrieved on 2007-09-23
↑ Fall 2008: The Great GameFAQs Character Battle VII. GameFAQs. Retrieved on 2011-01-05
↑ Ashcraft, Brian (2009-10-04). And Japan's Favorite Video Game Characters Are...?. Kotaku. Archived from the original on 2011-02-10 Retrieved on 2009-09-12
↑ Behind the Hero-Snake. Gamespot.com. Retrieved on 2013-08-04
↑ Top 50 video game characters of all time announced in Guinness World Records 2011 Gamer's Edition. Gamasutra (February 16, 2011). Retrieved on July 9, 2011
↑ The 50 Greatest Video Game Characters - 19. Solid Snake. Empire (May 26, 2010). Retrieved on August 2, 2013