Street Fighter (series)
Basic Information

Type(s)

Series
Capcom, Dimps
Capcom
Fighting
Arcade, Game Boy, Game Boy Advance, Game Boy Color, PlayStation, PlayStation 2, PlayStation 3, PlayStation 4, SNES, Wii, Xbox, Xbox 360, Xbox One and ZX Spectrum
The Street Fighter series is the longest running series of fighting games. It has since become one of the most familiar franchises and a Capcom trademark. Street Fighter II in particular revolutionized the entire genre of fighting games.
Games
[
]
Street Fighter II: Turbo

Super Street Fighter II: Turbo HD Remix

Street Fighter III: 2nd Impact - Giant Attack

Street Fighter III: 3rd Strike - Fight for the Future
Characters
[
]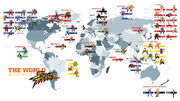 Related Games
[
]
X-Men Vs. Street Fighter

Marvel Super Heroes Vs. Street Fighter

Marvel Vs. Capcom

Marvel Vs. Capcom II

Capcom Vs. SNK

Capcom Vs. SNK: Pro

Capcom Vs. SNK II