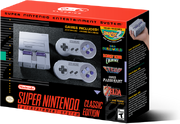 Super Nintendo Entertainment System Classic Edition, colloquially known as SNES Classic, is a dedicated console by Nintendo that emulates the Super Nintendo Entertainment System (SNES). It was launched on October 5, 2017 in Japan, and later on September 29 in North America and Europe, then following day on September 30 in Australia. The console, aesthetically, is a miniature replica of the SNES, and it includes a static library of 21 built-in games, including the never-released Star Fox 2, from the licensed SNES library, supporting save states for all of them.
Products included
[
]
Miniature Super Nintendo Entertainment System replica with 21 pre-loaded Super NES games
Two wired Super NES Classic Controllers.
One HDMI cable
One USB cable with AC adapter
Operations manual (with a poster on the back!)
New features
[
]
Rewind - An all-new feature lets you rewind a minute or more based on your game's last suspend point. Each game can save up to four suspend points.
My Game Play Demo - This new demo mode will replay your saved Suspend Points as part of the demo game footage instead of using built-in demos.
Frame - Wrap a cool border around your game with the new Frame feature. Some of the frames change color based on the game being played.
Included games
[
]
External links
[
]