TGS 2005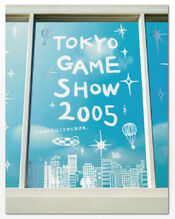 2005's Tokyo Game Show was held on September 16th through September 18th and took place at the Nippon Convention Center in Tokyo, Japan. TGS 2005's theme was "Your front row ticket to the next generation of gaming". 131 exhibitors appeared with attendance totaling 176,056 visitors. [1]
Though Microsoft and Sony had a presence on the show floor, the elusive Nintendo, as usual, stayed away from TGS except for a keynote speech given by Satoru Iwata. During his speech, Satoru Iwata revealed the controller to Nintendo's next gen console, codenamed: Revolution.
Microsoft, the ever eager schoolgirl of the gaming world, revealed some info a little early, as they did with E3 2005. They held a press conference on the 15th of September, one day before the start of the expo. Here, Microsoft announced that production had begun on the Xbox 360. They also announce the 360's release dates for Japan, Europe, and North America and the price for the Japanese 360.
TGS 2005 kicked off with a keynote speech by Robert J. Bach, chief Xbox Officer and Senior Vice President of Microsoft's Home and Entertainment Division followed by a keynote speech by Satoru Iwata, President of Nintendo. Here, Nintendo revealed the Nintendo Revolution's controller as many had hoped, and as rumors suggested they would.
It was expected that there would be some playable PlayStation 3 games at TGS yet none were. There was, however, a PS3 controller, clearly marked as a prototype, in front of a theater showing PS3 trailers. [2] Sony at least announced a lot of support (102 games and 71 publishers) for its upcoming console.