Talk:Ohzoku/Game mechanics
On the grounds that a picture is worth a thousand words, I thought it might help to sketch the layout of the mission selection screen.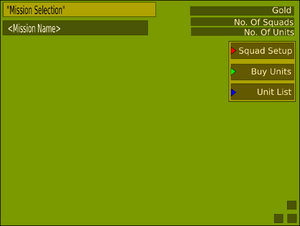 Afker, I made this bu drawing shapes over the top of a screencap, and then deleting the screencap. If that gives you any copyright concerns (I can't see why it would) then feel free to delete the image. otherwise, I'll leave it to you to incorporate this into the main page.
If this is helpful, I'll probably do similar layouts for the other main screens as well. --DocClox 11:44, 20 July 2007 (UTC)
This is PERFECT!!! Exactly the type of workaround I mentioned on AliceSoftWiki
Thanks a lot for doing this! (-: -Afker 21:39, 20 July 2007 (UTC)
Not a problem. I was halfway inclined to do a set like this for my own reference, and if I was going to go to the effort, I might as well share the wealth.
Here's a mockup for the squad formation screen
I wasn't sure what to put in the boxes at the top. I've still got the SVG file I used to do these, so it's very little effort to add or tweak bits if need be. --DocClox 16:43, 21 July 2007 (UTC)
Those are also the Setup, Buy, and Unit List buttons. -Afker 22:24, 21 July 2007 (UTC)
Yes, I really should have been able to figure that out for myself. Funny how an unfamiliar language can encourage you to turn of your brain.
Amended version uploaded. I'll keep doing these as and when I get aspare half hour to fiddle with them