ToeJam & Earl
ToeJam & Earl
Basic Information

Type(s)

Video Game
Johnson Voorsanger Productions
SEGA
ToeJam & Earl
Action, Adventure
Genesis, GNU/Linux, Wii, Mac OS and Microsoft Windows
Virtual Console
Wii
Retail Features
Ratings
Play Information
1-2
Main Credits
Greg Johnson
European

Release Date(s)

Genesis
1991
North American

Release Date(s)

Genesis
1991
Brazilian

Release Date(s)

Template:Releaes
Japanese

Release Date(s)

Genesis
March 13, 1992
Awards | Changelog | Cheats | Codes
Codex | Compatibility | Covers | Credits | DLC | Help
Localization | Manifest | Modding | Patches | Ratings
Reviews | Screenshots | Soundtrack
Videos | Walkthrough
Achievements
GOG | In-Game | Origin | PlayStation Trophies | Retro
Steam | Xbox Live
ToeJam and Earl, two funky aliens crash land on planet Earth. They must collect all of the pieces of their rocket ship before returning to their home planet, Funkotron.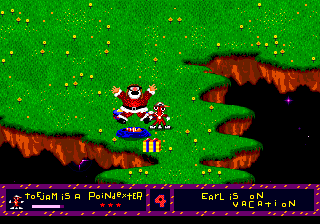 ToeJam A three legged red alien who's best bud is Earl.
Earl A large orange alien who sucks at driving a rocket.