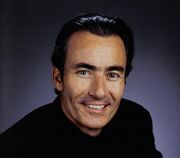 William M. 'Trip' Hawkins III (born 1953) is a Silicon Valley American entrepreneur and co-founder of Electronic Arts, The 3DO Company and Digital Chocolate.
Hawkins was the Director of Strategy and Marketing at Apple Computer in 1982 when he left to found Electronic Arts (EA), a video game publisher. Electronic Arts had a successful run for many years under Hawkins' leadership. It is now the world's largest video game publisher.
Though he remained Chairman of the Board, Hawkins transitioned from EA in 1991 to form 3DO, a video game console company. 3DO was formed in partnership with several other companies including EA. Upon its release in 1993, the 3DO was the most powerful video game console at the time.