Uplink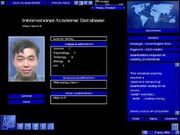 Uplink is a video game released in 2001 by the British software company Introversion Software. On 23 August 2006, it was made available for purchase on Valve's Steam service. It is best described as a simulator of the cinematic depiction of computer hacking.
In the game, the player assumes the role of a hacker in the year 2010, who begins work for the Uplink Corporation, which is a worldwide company providing work for hackers. The player amasses money, software, Gateway hardware and skill in the course of performing jobs for various clients, and hacking servers of global corporations for profit. The storyline of the game begins with the player receiving an e-mail from a deceased top ranking Uplink agent concerning the research done by the Andromeda Research Corporation, related to the Andromeda organization which proclaims the destruction of the Internet. It is constructing a computer virus known as Revelation using artificial life research as a base in an attempt to destroy the world wide net. One of the companies, Arunmor, attempts to cross their plans by developing Faith, a counter virus that can purge Revelation. The player can choose between two companies or even ignore the plot in its entirety, concentrating on freelance hacking, in which case the storyline plays out without the player's participation.
Uplink focuses on emulating highly stylised, Hollywood-esque hacking, as seen in movies such as Hackers, Sneakers, WarGames and Swordfish. References to these movies can be found throughout the game, including joke servers for companies such as Steve Jackson Games (which has been raided by the Secret Service) and a nuclear missile control system from WarGames. It also features at least two references to the movie Sneakers, including one which can be found in the first version of the game (and was later removed in an update released by Introversion) which is a cheat code in which the user has to enter TooManySecrets (an anagram to the phrase "Setec Astronomy") as the username thus allowing him to access a cheat menu. In addition, the voice print sections use the phrase "Hello. I am the system administrator. My voice is my passport. Verify me." which is similar to the one Sneakers used.
Most of the 'hacking' is of the form: "there is a security system of type X, level Y that is stopping me from accessing or changing something I need to access or change, so I need to have an anti-X program of level Y+". There is some need for rapid selection of programs to run, but there is no actual difficulty in running them (provided that one can afford them).
The game has a certain number of unusual features, including an in-game IRC function to talk to other players. This feature is often mistaken for multiplayer by some, due to the fact that in the original versions it was labeled 'Network'.
Uplink has generated a certain amount of controversy because of its theme, which some claim influences players to become hackers. The controversy exists even despite the game itself being highly unrealistic, since real hacking requires extensive knowledge and computer skills.
The game uses several songs originally made in S3M, mod and xm format. The original song files are included on the bonus CD-ROM of the game, a disc that was originally given as a free addition to those who referred the game to others. The disc also includes several songs which were rejected.
The game was released for Microsoft Windows and Linux directly by Introversion, and ported to and released for Mac by Contraband and Ambrosia Software respectively. Chris Delay stated in an interview with PC Gamer UK that they did not pay for advertising of the game at all — it became known purely by word of mouth. A version released in the US was published and distributed by Strategy First under the title Uplink: Hacker Elite. Legal proceedings were undertaken when Strategy First filed for bankruptcy and ceased paying Introversion royalties, but the Hacker Elite version remains available from various sources. The game is now also available via Valve's Steam online distribution service.
Uplink has a strong modding community, with themes, gateways, new sound and image packs, and other additions being made. A few themes have also been made for the GNOME Desktop System. In mid-2003 Introversion began selling the source code for the game, along with other tools on the Uplink Developer CD. This has led to a large number of gameplay modifications including new skins and graphics, new sounds and music, mission types, new entities to hack such as the FBI Mod, which adds an FBI server to the game,[1] along with new security systems and missions, and total conversions such as Uplink: The Mod (outdated) and Onlink (current).
A version released in the US was published and distributed by Strategy First under the title Uplink: Hacker Elite. Strategy First ran into financial difficulties, and ceased paying royalties to Introversion shortly before filing for bankruptcy protection, but continued to sell the game in competition with Introversion.
On 20 January 2006 Introversion announced they were taking legal action against all retailers of Uplink: Hacker Elite,[2] except Stardock.[3] It transpired that, while filing for bankruptcy would have caused a breach of contract, Strategy First persuaded Canadian courts to grant a moratorium preventing termination of the contract.[3] Strategy First has resumed paying limited royalties.
Stores and services currently reselling Hacker Elite in North America include:
As some versions of Uplink: Hacker Elite have been modified, many game mods and patches will not run with the Hacker Elite version.